Real Life Stories
Published February 2, 2009
Using a Wiki and More to Teach ESL English Language and Literature
For me one major benefit of IT is that it can create a community of learners. It also allows students to do writing activities individually or in pairs, take notes, do research and share their work with their peers. Most students enjoy using IT too because it provides a paperless environment.
I got excited about the use of a wiki in the classroom after attending a Rascals session two years ago. I first used the tool, pbwiki.com, but I moved to WetPaint.com because I found its interface and many features more attractive. I also liked its safe, private environment to which I could invite students. To get started yourself, go to the WetPaint education site . It allows you to create an educational wiki that does not have Google ads.
Creating Content
The WetPaint site has tutorials, tips and educational examples that make creating course content very easy. My wiki includes the mandatory content such as my course plan, a weekly lesson plan, which includes activities and assignments, as well as evaluation guidelines and dates. I love the flexibility of tweaking my lesson plans almost on a weekly basis. Students find these pages very handy; they know what to expect and what was done if they miss a class. I also enjoy creating web links to teaching and learning tools on the Internet.
In the first class of each group I create a "Class list" page on my wiki which includes the e-mail address and blog address of each student (more about blogs later). I use the students' e-mail addresses to invite them to become members on my wiki. I could use the DECclic learning platform at the Cegep for this, but I find it more convenient to use my wiki to contact students. If you wish to see my wiki page, please send me your e-mail address.
Navigational Features
The wiki has a number of neat navigational features, including the Home page, Discussion forum, What's New, a Photo section, a Members list, a To-dos feature, and the Invite function. The Discussion forum is a wonderful communication tool for changing information. However, you have to make specific requests of students for it to work. For example, I have students open a new thread (and contribute to the thread) when doing group work. The Members section is fun for students because they can include a photo and their own personal profile.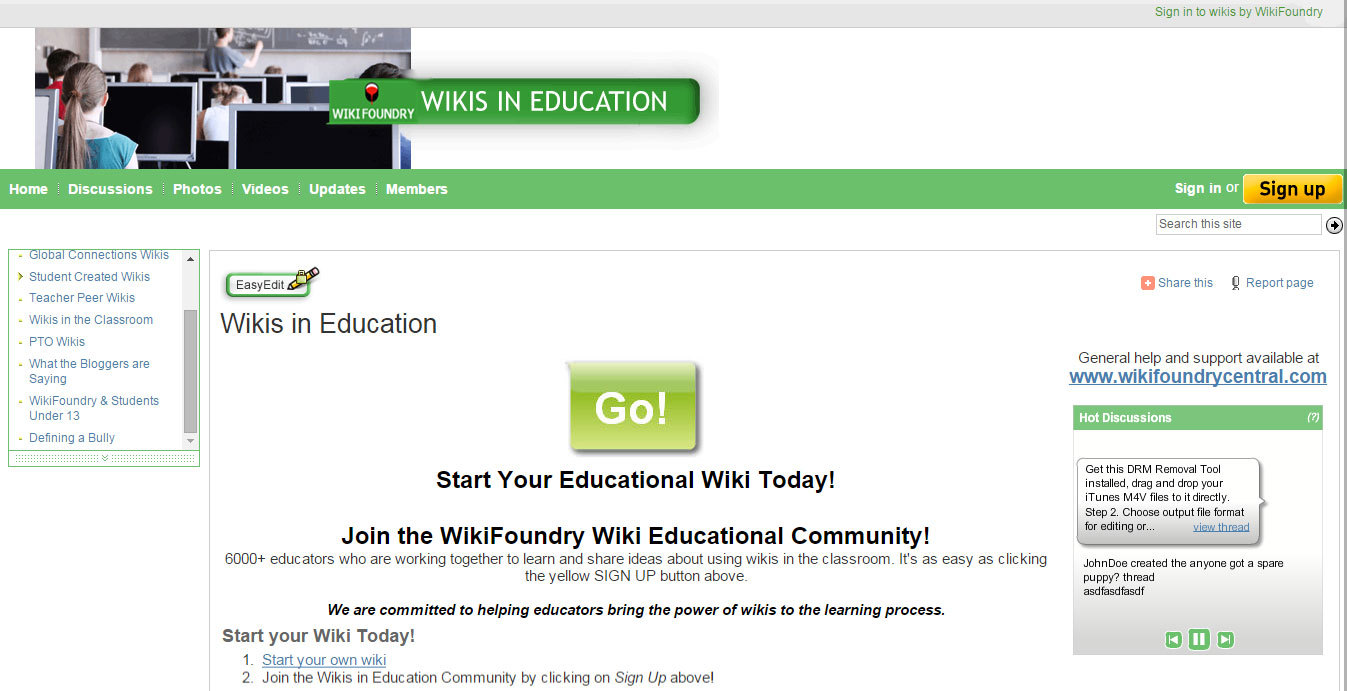 Wikis in educaiton home page
The left-side navigation bar is a key tool for showing pages on the site. Right from day one of class I have students practice finding information on the wiki by doing a "Wiki treasure hunt." Students have to find information about the course plan and content by typing a keyword into the "Search this site" box. For example, if students type in "thesis statement" they can access a list of 12 pages containing this keyword. With a little ingenuity, students can find any topic we talk about in class on the wiki.
Connecting Student Blogs to the Wiki
In the first class I also have students set up a Google account; it is a quick and simple process. Students now have access to the wide world of Google Apps, including blogger.com (https://www.blogger.com/start), "docs," calendar and Gmail. I then have students create a blog, another uncomplicated procedure that takes a few minutes as well. The next step is to have students write their blog address on my wiki "class list."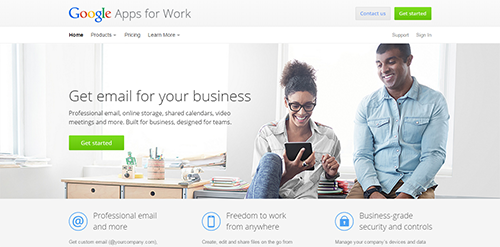 Google apps website
Getting Student Feedback
In the last class, I asked students for feedback on their use of the wiki and blog during the term. I created a questionnaire at surveymonkey.com (http://www.surveymonkey.com/) asking a variety of questions. Here is a sample of some of the findings. 95% of the students agreed or agreed strongly with the statement that the wiki was very useful in knowing about assignments, activities and evaluations. Most students agreed that the wiki allowed quick access to important information. However, students would sometimes forget their password or not have access from home. Most students enjoyed using the blog as an electronic notebook; it was easy to use to do activities and tests.
In the last question I asked students to give advice to future students about using the wiki. Here are some worthwhile tips:
Check the wiki regularly to know what to read for next class;
Compare your blog with others to make sure you do not forget any assignments; and
Do not post anything stupid on the forum.
If you would like more information about using a wiki in your class, please contact me by clicking on the link above. Share your experiences using wikis in class in the Comments section below.