Real Life Stories
Published November 14, 2010
| Building and Public Works Technology
The Ultimate Agents of Change
Revit is software that works on the principle of BIM (Building Information Modeling). This allows architects to build a virtual 3D model of a building. Contrary to the current industry software standard Autocad which uses vectors or lines to draw the building, Revit uses intelligent objects that can be described and embedded with certain parameters. For instance, if you're going to have an exterior wall of a building, the wall's materials can be defined in detail. Then you can insert objects into this wall, such as windows and doors, which can be moved. As you design the foundations, four walls of the building and the roof, you can quickly find out quantities for materials and elements such as windows, and how many square feet of glass or brick you are using as well as a host of other very useful information.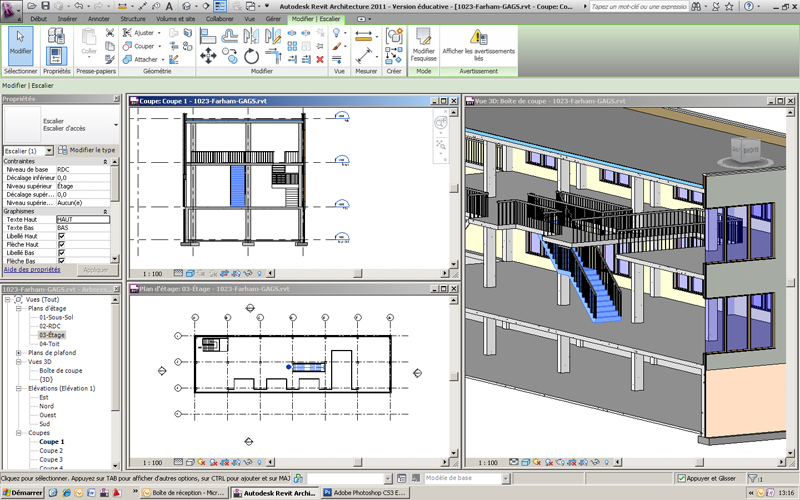 Drawing created with Revit. Image courtesy of Stéphane Gagné.
Drawing created with Revit. Image courtesy of Stéphane Gagné.
Another useful result is that when you have a model of your entire building, any changes get automatically registered throughout your documents because they are all generated from this one base. Building sections are generated from slices taken through the 3d model. The four elevations are already modelled as views from the exterior. The quantity information can be used for cost estimating and for specifications writing. In effect, Revit fosters an integral approach to design, and this includes all the consultants, such as mechanical and electrical engineers, who also integrate their ducts and other equipment into the building model.
The Royal Architectural Institute of Canada and the Ordre des architectes du Quebec had determined some time ago that the profession was heading towards BIM, and a lot of promotion was done to encourage its adoption. The CHUM and other large projects around Montreal are all being done on Revit, a BIM software. Small offices are also on board because of the productivity gains. Revit was originally an independent company whose software was designed by architects for architects. When it started to gain acceptance, Autodesk, Autocad's parent company, recognized it as the way of the future and bought out the company to stay competitive.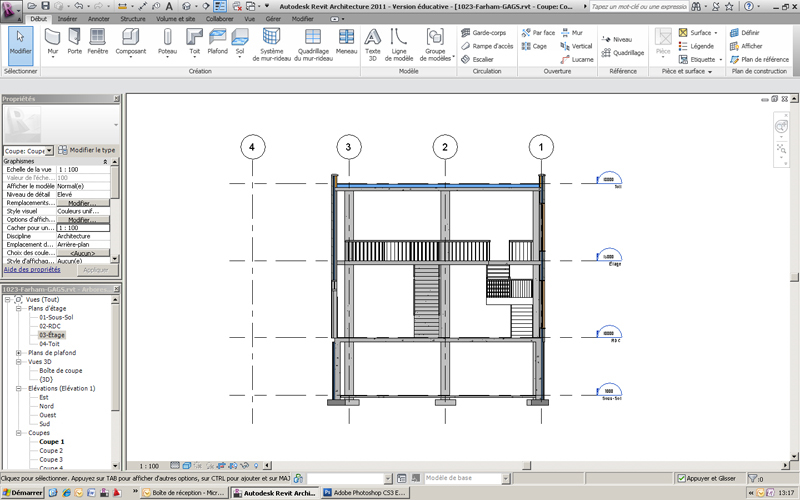 Example of view available with Revit.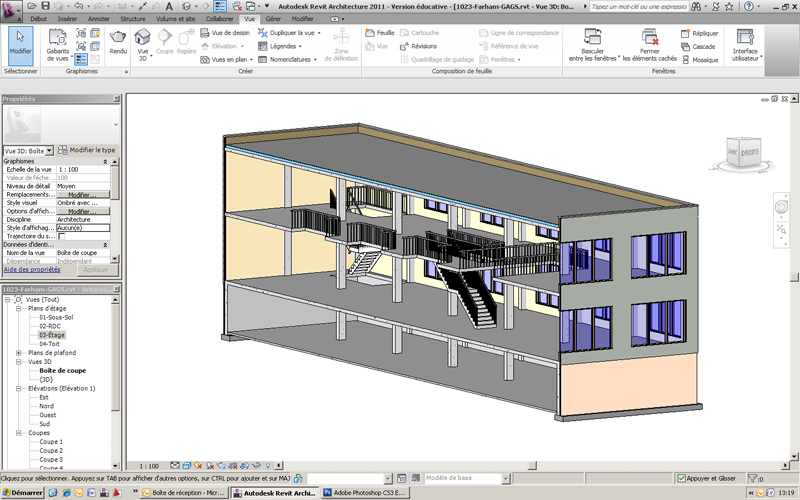 Example of view available with Revit.
Vieux Montreal is one of the first architectural technology departments to introduce Revit in its coursework. The departement began investigating the software after getting calls from employers who wanted graduates proficient in Revit. About two or three years ago, even students began to ask about it. The BIM concept at the heart of Revit is what propelled this as it is an intergral approach to building design and documentation. It quickly became apparent that changes needed to be planned now, given that transforming the curriculum wouldn't happen overnight.
The first step was to set up an introductory course presenting the general concepts of Revit so that teachers could learn what the software was all about. After this, a four day course was set up which went into more detail. Once the teachers were up to speed with the basics, the dilemma was where to introduce the technology into the curriculum. It was decided to introduce it as a pilot in the 5th year project course this year so that spring 2011 graduates would at least have one year of exposure to Revit before going out on the job market. The next challenge now is how it will be integrated into other project-based courses given in earlier years. The department decided to gradually introduce Revit into the project development courses and retain Autocad in construction courses where drawing details is still a better match with the nature of Autocad.
It is certain that there will be a convergence between the two programs some time in the future, but Autocad is still an industry leader and is not about to disappear tomorrow. REVIT, however, is gradually taking on those Autocad capabilities it needs, so the merge may happen more quickly than we think. When computers were first introduced in architectural offices in the Eighties, they were very slow, and conventions, such as colours to represent line widths, were necessary but hardly intuitive making the visual aspect of drawings harder to interpret. Students spent weeks learning things that had taken them minutes by hand.
Students at work.
At CVM in order to speed-up the Revit learning process, several drawing and element prototypes were built-in so students can begin with a tool-box that is ready to work with and avoid the negative introductory experience that happened when Autocad started to be taught. These prototypes include conventions to make wall types and other building elements with embedded instructions on how to draw them in plan, section or elevation. This initial housekeeping was done by a consultant for the department, as in the industry, where a technician that starts in a firm would not have to devise the drawing system from the ground up. Teachers are using a methodology similar to the way they were taught the software themselves, and there are books a number a books available with exercises.
Another advantage of Revit is the fact that it can be used throughout the creative process and seemlessly continue on afterwards with the documentation phase. Even now, Autocad's basic functions are not totally user friendly for the design phase. REVIT on the other hand can be used at a conceptual level to develop even just working with the volumes. You can also use the file to add rendering materials and light to do presentation quality perspectives and export them into Photoshop. Afterwards, once you have settled on the basic building design, you can save the file and later develop it into working drawings. With Revit, you will worry less about the tool and have more time to think about technology and construction. Students begin the building in roughly the same order that they learned about components in construction courses. They set up foundations and then set up both horizontal and vertical grid lines for the structural system while establishing parameters for the basement. You draw your footings and foundation walls providing information as to width and height.
I've been invited by a colleague who is coordinator of the Architecture Department at Vanier Zoya Duba to exchange on the CVM experience of integrating Revit. All the architecture departments at the collegial level must eventually work towards adopting the BIM approach possible with the software that is now taking over the industry. This is exactly what happened when Autocad replaced the traditional pencil and drafting table, and as with Autocad, I have a feeling that even though industry mandated this development, it will be our graduates who will be the ultimate agents of change.