Real Life Stories
Published February 19, 2019
| Multidisciplinary
The Pomodoro Technique
When presenting my course during the first class of the semester, I used to tell my students I would rigorously respect the start and end times of our classes while scheduling breaks in a more flexible manner depending on that week's content and activities. I'd never questioned this practice until I was stuck in a rather tedious meeting without knowing how long it would go on for. Time seemed to take on another dimension in the absence of precise markers. Realizing my students might feel the same way, I decided to look for a more effective method to organize and manage time in my classes. I found this in the Pomodoro technique.
The Pomodoro Technique
The origins of the Pomodoro technique lie in Italy. It was developed in the 1980s by Francesco Cirillo, then a university student looking to increase the efficiency of the time he could allocate to study. It is named after the tool he used to achieve this – the pomodoro or tomato-shaped timer that was ubiquitous in many a kitchen at the time. About 3 decades later, the Pomodoro technique's popularity has only increased. In Quebec, for instance, Thèsez-Vous organizes writing retreats based on the Pomodoro technique for university students.
The original technique increases productivity by dividing (part of) the day into focused chunks punctuated by short breaks:
Write a list of the things you want to accomplish.
Set a timer for 25 minutes and start working; focus on one task at a time.
If a distraction arises (a thought, an incoming text message or email, …), take a quick note of it, then keep working.
At the end of a 25-minute pomodoro, take a 5-minute break.
Repeat this cycle 4 times, then take a 20- to 30- minute break before you start over.
Not only is this 5-step procedure easy to use, but it is also easily adaptable to each individual, and can be followed as strictly or minimally as necessary.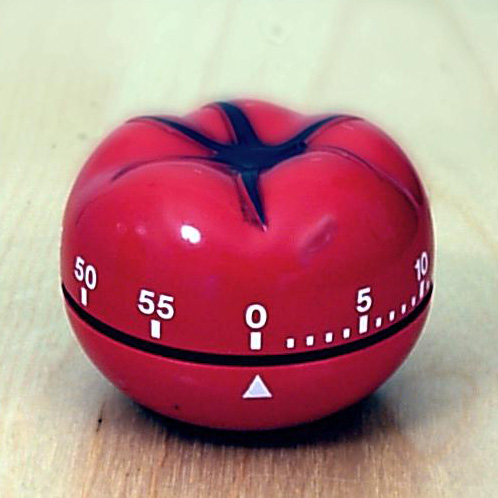 A tomato-shaped kitchen timer. Image source [CC BY-SA 2.5]
Adapting the Pomodoro Technique to the College Classroom
By implementing the Pomodoro technique in class to facilitate a more positive experience of time, I hoped to increase focus, productivity and motivation. Of course, using the Pomodoro technique as a group required some adaptation from the individual use it is primarily intended for. I did this as follows:
I divided a 3-hour class into 5 pomodori with a 15-minute break between blocks 3 and 4, and a 5-minute break between the other pomodori.
This left me with 20 minutes of time I could allocate more flexibly, for instance to give instructions on a task while still allowing students to work on it for a full 25 minutes, to answer students' questions, or to debrief at the end of the class.
Each pomodoro was dedicated to one specific objective (theory or practice), either teacher-set or student-set (e.g. students got 3 pomodori to work on an essay and needed to set specific objectives for themselves for each block).
I asked students to briefly self-reflect on their accomplishments at the end of each pomodoro. What had they set out to do and what had they actually been able to do in 25 minutes?
I consistently used a timer, both during work sessions and breaks. To ensure the time-based approach increased motivation rather than stress, I made the objective realistically achievable by all with individual modulation; e.g., by marking part of a task to be completed as optional.

I divided a 3-hour class into 5 pomodori with a 15-minute break between blocks 3 and 4, and a 5-minute break between the other pomodori.
A Tomato-Timer for Every Taste
Since time management occupies a central place in the Pomodoro technique, using a suitable timer is key. Whereas Francesco Cirillo used a low-tech kitchen timer, today, there is a plethora of Pomodoro-related apps and websites. I tested several options, and can recommend 3 free tools, each offering different possibilities:
Marinara Timer is a website-based Pomodoro timer that also allows users to put together their own sequence of work periods and breaks. Once the timer has been started, it can be shared with others by providing them with a code. This makes it possible for students to check the class timer on their mobile device, for instance if you are projecting other content, or while working in small groups.
Flat tomato is an easy-to-use iOS app that offers a stylistic interface. It allows users to customize the duration of work periods and breaks while applying the principle of alternating work periods, short breaks and long breaks. It is also possible categorize tasks across different projects and obtain statistics about the work completed. Additional themes and functions are available through in-app purchases.
Classroom screen generates a background that can be projected on a screen or interactive whiteboard. It integrates several classroom management tools, including a timer function, a random student name selection tool, a QR code generator, a tool to measures noise levels, etc.
Example of my classroom screen, set up with the Pomodoro timer, a volume meter and an icon reminding students of the type of work to focus on.
Outcomes
I was used to seeing students distracted while working on certain tasks that regularly recur in an English as a Second Language course; e.g., grammar exercises and small-group discussions. I was astonished to see how much more motivated and focused they were during the in-class pomodori, even though this principle did not change the tasks themselves:
The on-screen timer encouraged and motivated students who got distracted to press on and continue working for the remainder of the pomodoro. At the end of our 5-minute breaks, some students even counted down the last few seconds to the start of a new pomodoro!
In today's digital era, students are used to dealing with distractions of all kinds, and many were surprised and excited to observe how quickly they could finish a task when working on it intently.
Budgeting time for each task encouraged students to be more active and push themselves, since I worked with them to estimate how long the task would take, ensuring it was both ambitious and realistic.
Most revelatory, though, was the way the in-class pomodoro system made my students better at time management in general; it helped them discover how much time they needed to complete different types of tasks. They reported this also helped them plan homework or assignments for other courses more effectively.
Adaptable and Inclusive
The Pomodoro technique has proven to be beneficial for everyone in the classroom, including myself as a teacher, since it makes me think of course content in terms of very specific objectives that are easy to scaffold. While it is especially useful for students who struggle with time management or focusing for long periods of time, this approach helps everyone plan and estimate their time more accurately. This increases accountability and yields a more satisfying, and thus more motivating, student experience.
How can you adapt the Pomodoro technique to fit your classroom?