Real Life Stories
Published May 16, 2021
| French (Second Language)
The HyFlex classroom: a paperless classroom?
During the pandemic, I taught a few HyFlex classes. Wanting to take advantage of all the technological means at my disposal, I found instead that students who came to class physically chose to do so precisely to take a break from the digital world.
In April 2021, after 17 years of teaching, I can say that I have taught the most high-tech classes of my life: 4 screens, 2 cameras, wireless mouse and keyboard, in an environment worthy of a science-fiction scenario where you had to wear face masks and disinfect the classroom before and after the students attended class. Strangely enough, I was not afraid to give HyFlex lessons. I thought: the important thing is to have the students back, in any way possible.
I still did my research before designing my courses:
academic articles
educational journals
interviews with colleagues from other colleges
etc.
During this research, one memory stood out: just before the pandemic, a student had sent me a travel photo of a classroom in Nepal.
The photo of a Nepalese classroom taken by my former student Taylor Winlo
The photo showed a dark room in a modestly furnished stone house with 2 long benches and 2 tables. A whiteboard that looked a bit worn was hanging on the stones. And that was it. Every time I prepared my HyFLex lessons, I thought of this image of simplicity in the pedagogical relationship: the teacher, the student, and the subject. No media between the two. A direct relationship, with no frills.
A first experience of distance learning in 2014
I started teaching online courses in 2014. With 2 other colleagues from the French department, we took the leap and explored hybrid courses. I remember our excitement, our phone calls minutes before class, and all the things we were trying to do using interactive whiteboards, polls, or chat. We were happy to discover new ways of interacting with students. Then, over the years, technical problems caused me to move away from this mode of teaching.
Health emergency and educational emergency
In 2020, the pandemic arrived.
Despite my previous experience in hybrid courses, I had to redesign the courses from scratch, given:
the new 100% online modality
the new tools available:

screen sharing
teamwork in small breakout rooms
online games and quizzes
In the winter of 2021, I joined my college's Distance Learning Community of Practice and heard the word "HyFlex" for the first time. Teaching HyFlex courses seemed the only way to get back into the classroom quickly and break the isolation of some students. It seemed to me to be a pedagogical emergency.
Integrating technology into teaching: a balancing act
I am not afraid of technology; it is undoubtedly a great advantage in today's world. I know that teaching can largely do without it as it has done for centuries, but I also know that many interesting activities can be done with technology and that it opens up new horizons for both teachers and students. I have no nostalgia for the past, no fascination for the present. I try to make the best of the tools that are available to me to teach. So, what to choose for the HyFlex classroom?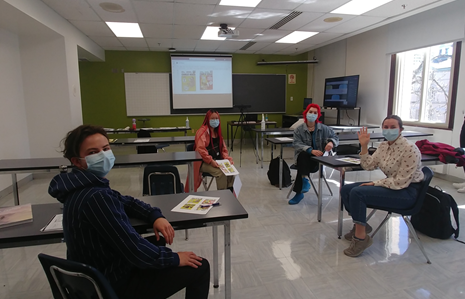 Students attending my HyFlex class in-person
HyFlex experts propose all kinds of virtual interactions between in-class and distance learning students. One of the suggestions is that students from both groups use the same platform for discussions, which implies that the students in the classroom have a computer and are connected to the platform. This is where I started to face a dilemma: despite what the literature said, I felt that the few students who were going to come to my course were looking for something other than screens, platforms and Zoom rooms. I tried to do the right thing, to be a modern teacher by trying to get all the students to collaborate, especially through an activity with Kahoot.
Thanks for the paper!
I was surprised when I gave the in-class students a few printed sheets, because I was concerned that they would have a poor view of the screen where the Kahoot would be projected. I told them that they could connect via their phones with the rest of the class online or, if they preferred, fill in the questionnaire on paper. In all three groups, the answer was the same: "we prefer paper". I had not anticipated this unanimous reaction.
At the end of the course, I don't remember which student said to me as we were leaving: "Thank you for the paper". I was quite moved and disconcerted. Those words stayed in my head. So that's what it was. They had come to see human beings, to be physically in contact with one another, and to take a break from screens and virtual platforms. They wanted to return to a direct, simple, and fundamental pedagogical relationship. Touching paper, holding a pencil, meeting eyes. A sober classroom, like the one photographed by my student, would have been enough for them.
At a time when it is fashionable to advocate a high-tech, paperless classroom, it seems to me that it is important to always keep in mind the traditional, artisanal aspect of our profession, which is not necessarily at odds with the use of technology for certain activities.
In addition, it should be considered that, in a HyFlex approach, students who choose to come to class may do so because they are naturally less interested in technology. It is worth trying to cater to their needs as well as to those of more technologically inclined students.
Getting back to basics
Technology, although it can be very useful in today's classrooms, is not the be-all and end-all of teaching. It is important to reassert the value of pre-digital, experiential knowledge that comes from direct human relationships. This also poses a big challenge for the return of teachers to the classroom after the pandemic, because as one in-class student in the HyFlex classroom told me: "if in class, you do the same thing as online, there is no point in coming..."
Let's be creative! Let's think together about our future classrooms so that the artisanal aspect of our profession can coexist with its technological component. The pandemic context forces us to rethink our teaching tools from top to bottom. It is not a question of regressing and cultivating a nostalgia for past teaching methods, but of going back to basics and carefully choosing the tools that enhance our teaching and our students' learning. Paper, pencils and chalk have not yet said their last word!