Real Life Stories
Published January 30, 2011
| Multidisciplinary
Platform Series: LEA
The following account is the second in a small series of stories on digital learning environments used in colleges. As part of a Performa course (APO-253: Les outils de LÉA et les outils complémentaires), Pedagogical Advisor Chantal Desrosiers compiled the reactions of the teachers registered in the course.
Teachers appreciate the platform's features.
The meeting of coordinators of Cégep de Trois-Rivières highlighted the ease of use of the platform when it was adopted in September 2009. Since then, many teachers have used its tools in their teaching. /p>
1. Basic Management and Document Distribution
Key Resources: Online distribution of class documents and assignments, class forum, grades, actions by my students, the attendance list, announcements and an upcoming events calendar.
a. An Instructive and Effective Grade Management System
Entering grades in LÉA is a valuable way for the teacher to get an overview of student and class performance. I particularly like consulting the assessment summary graphs and leaving a short message for an individual or a group on a given assessment.
Maryse Saint-Pierre, French literature teacher at Cégep de Trois-Rivières
From the summary option, a teacher can follow the actions of their students in LEA - for example: consult their absences, MIO (messaging in Omnivox), a class calendar, announcements and recommended websites, as well as access to downloaded documents and remitted assignments.
b. Digital Dropbox: an Incentive for Digital Correction

Assignments and Dropbox tab
LEA offers the possibility of collecting assignments electronically. Once the work is remitted, the teacher can download a particular assignment or all remitted work in one step. It is possible to return corrected work to students the same way.
The module " Assignments and Dropbox," allows text files to be uploaded, opening the possibility for more formative assignments to give more feedback to promote success.
Chantal Coutu, dental hygiene teacher at Cégep de Trois-Rivières
The collection of student work is facilitated. The teacher can more effectively control deadlines because the date and time of filing appears on the screen.
Maryse St-Pierre, French literature teacher at Cégep de Trois-Rivières
During training, I learned to retrieve student work on LEA, to correct it on Word and then to hand it back on LEA. This correction technique promotes student success. It is easy for students to submit their work. In addition, I am not forced to wait for the next class to receive assignments. Students can get their results the following day while the work is still fresh in their minds.
Annet Lavallée, biology teacher at Collège de Shawinigan.
c. The Recommended Website Directory
Recommended Websites tab
The Internet is the primary source of information for students researching their work. The use of a recommended website directory seems like a winning idea which works with students' natural inclinations. I can help them adopt a certain discipline in their strategies for Internet use.
Sylvie Poisson, social work technology teacher at Cégep de Trois-Rivières
d. Importing Information from One Semester to Another
LEA offers the possibility of importing evaluation grids, documents and assignment descriptions from one session to the next.
Data Import / Share tab
2. Current Communication Tools
a. MIO (Messaging in Omnivox) and News
As I am the program coordinator, I sometimes have to transmit certain information to students. Messaging allows me to do this. I inform my students of a change in the course operation or provide other useful information through messaging.
Caroline Jolin, biology and biotechnology teacher at Collège de Shawinigan
I use audio recording for corrections and send the sound files by MIO messaging.
Yanick Descheneaux, social work technology teacher at Cégep de Trois-Rivieres.
b. Class or Team Forums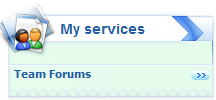 Team Forums tab
The instruction section is useful to present teacher requirements.
Martin Hould, philosophy teacher at Cégep de Trois-Rivières
The team forum becomes interesting for students who must work together to collaborate and remain in constant communication. My hard-of-hearing or dyslexic students enjoy this kind of activity to the extent that they are more comfortable with the computer than with speech or paper and pencil. Furthermore, integrating grammar and study concepts for an exam other than rereading class notes or a textbook seemed to motivate some students.
Maryse St-Pierre, French literature teacher at Cégep de Trois-Rivières
Creating a discussion topic in a class forum allows each student to feel solidarity with the group and even creates a degree of collaboration among students. The reflections and interactions on the forum foster better learning and better assimilation of the material.
Manon Leclerc, nursing teacher at Collège de Shawinigan
Student Comments
It seems that students are motivated or interested in using this kind of platform.
When my students arrive before the course, the first thing they do is open LEA, sometimes even before MSN.
Maryse Grégoire, mechanical engineering technology teacher at Cégep de Trois-Rivières
Grade entry in LEA is a good way to educate students about their results. Consulting an individual's file can highlight progress or target difficulties. It is a motivating factor for most students. The homework submission pleased many students. Work can be handed in at any time of the day (or night!), with no travel required.
Maryse St-Pierre, French literature teacher at Cégep de Trois-Rivières
Have you used the LEA platform? Tell us about your own experiences!
Resources suggested by the author
For further information, we suggest reading an article in the 74th number of Bulletin Clic (in French) published in October 2010.
Information taken from the CEFRIO report on Generation C (in French)