Real Life Stories
Published November 15, 2009
Old School - New School
Brent Davis Reid is an enthusiastic user of DECclic. He wrote in an earlier story about how as a teacher, as a departmental coordinator and as a language help centre supervisor, he has integrated this learning platform into his work. Read how he is reaching out to the college community as a DECclic coordinator to make DECclic easier to understand for anglophone members of the college network, particularly those teaching in francophone schools where DECclic is easily available.
I have a little secret. Well, I actually I have more than one little secret-but the one I'm willing to admit to publicly has to do with books.  I love books:  I love the feel, the smell and the taste of books.  (Okay, that last part about tasting books is a wee bit of an exaggeration!)  Why is my love of books a "little secret"?  Because as a coordinator for DECclic, a learning platform designed for Québec colleges, I spend a great deal of my work week promoting the use of information technology in the classroom, and not surprisingly, promoters of information technology aren't supposed to love books:  books are too "old school"-or as one of my 30-something colleagues would say, "They're so 1980s!" (Who knew the decade of my youth would be relegated so quickly to the Dark Ages?)  But, to quote stand-up comedian John Pinette, "I say, 'Nay, nay!'"  Books aren't pedagogical relics of the past:  they have a place in the "new school" and can be proudly used along side emerging techno-pedagogical applications.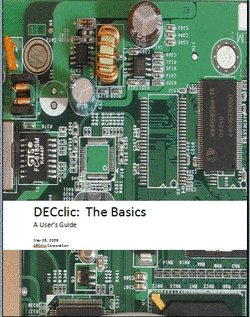 New school version of the venerable old school book!
By way of illustration, I recently had the privilege of working with one of my colleagues (yes, the aforementioned 30-something colleague with a disdain for all things "old") on an English-language user's guide for DECclic entitled, fittingly enough, DECclic: The Basics. Now my colleague and I could have created short video segments explaining how to use DECclic (to be fair, I will be creating some of these this year), or we could have created Web content pages containing the same information-but we chose to create a print document to help users. Why? Because they asked for it: many users were simply more at ease referring to a "book" as opposed to an online video or print document while learning how to use the DECclic platform. Part of the reason may be the "security blanket syndrome" (many of us have always learned from books and gosh darn-it, we always will!), and part of the reason may be ergonomics: referring to a book next to a computer is physically easier than referring to a split screen. Whatever the reason, the customer, as they say, is always right. If users are still asking for books, then books, I conclude, still have their reason to be.
Textbook publishers that once feared technology are now embracing it.
To paraphrase a famous saying, the rumours of the demise of textbooks are greatly exaggerated! Textbook publishers that once feared technology are now embracing it. Les Éditions du Renouveau Pédagogique (ERPI) is a case in point. Along with the traditional textbook, ERPI provides teachers and students with access to Companion Web Sites (CWS) that supplement material included in the textbooks. On many of these sites, the supplementary material includes online exercises created with Exam Studio, DECclic's online evaluation editor. Teachers who wish may create self-correcting online tests using the Exam Studio exercises. In the interests of fairness (I have written several textbooks for ERPI), many other Québec-based publishing companies are also pairing up their print and online materials: Chenelière Éducation has Odilon and Les Éditions CEC Inc. has Complice virtuel. (Should you, the reader, be aware of other companies doing the same, you are invited to share this information by posting a comment.)
Now while books may one day become relics (who knows what the future holds?), I truly hope that day is somewhere in the very distant future in a place and time as removed from me as the 1980s are to my 30-something colleague.
Brent Davis Reid is a DECclic coordinator, department and help center coordinator working at Bois-de-Boulogne College in Montreal.He is also an author of several ESL textbooks published by ERPI. Readers desiring more information about DECclic training sessions or who wish to obtain a copy of DECclic: The Basics are invited to contact Brent at brentdavis.reid@bdeb.qc.ca or at 514 332-3000, ext. 7769.