Real Life Stories
Published December 14, 2014
| Fashion Design
Integrating E-Commerce Skills into Our Pedagogy
This is how two teachers, Heather Sorella and Maureen Buck, from the Fashion Marketing program at College LaSalle, came to develop an E-commerce AEC. During an industry internship, Maureen recognized the growing demand for E-commerce in the fashion industry. Both teachers decided that their students needed to have E-commerce knowledge in preparation for entering the workplace. As a result, the Fashion Department Co-coordinator, Sandra Parker, decided to implement a one semester 180 hour (120 academic/ 60 internship) E-commerce Retail Specialist AEC.
Seeing the Basics through the Lens of a New Reality
Both, Heather and Maureen, teach in the three year Fashion Marketing DEC program. The final year consists of an exit exam where the students must develop a business plan applying their knowledge of market research, product development sales and communications. They have noticed that over the past few years their graduates have been proposing more E-commerce business idea; reinforcing the demand for more courses and integration into the program curriculum.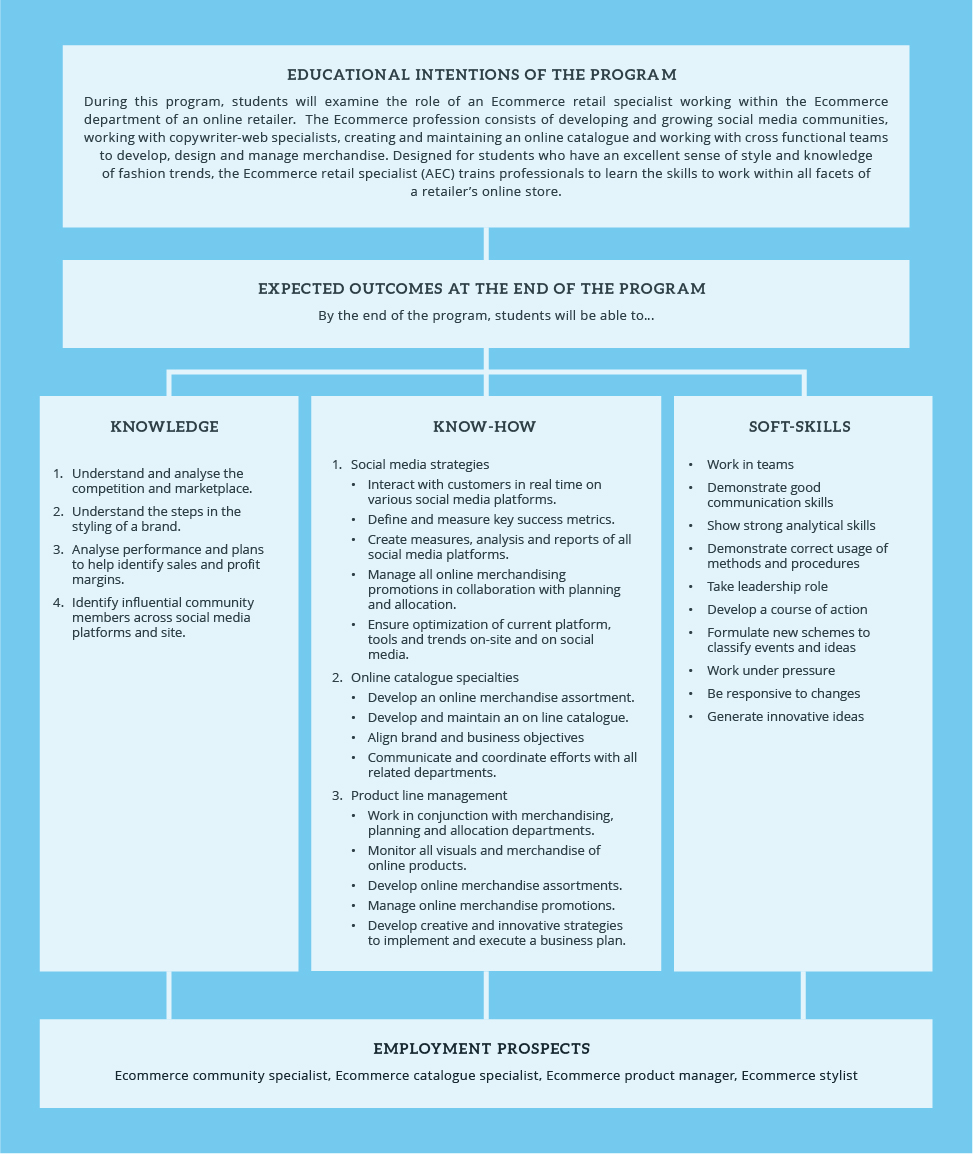 Exit Profile – Ecommerce Retail Specialist
Our courses must reflect the reality of the E-commerce industry. The online customer purchasing behavior is different than those who buy from traditional retailers. From a pedagogical perspective, in the past we focused our Consumer Behavior course on demographics and now on psychographics and lifestyle based on the new retail environment. In our Buying classes, we teach the students how to differentiate the purchasing of inventory; buying for an online retailer versus a brick and mortar retailer. The reaction time for an online customer is fundamental in replenishing inventory, scheduling promotions and creating a brand image. Therefore, the need to react and focus on the consistently changing global marketplace.
How Technology is Influencing Pedagogy
The marketplace is demanding social media competencies to work in E-commerce departments. As a result we will teach our students the tools such as Google Analytics and Adwords to measure and attract the target market. We are currently integrating the necessary changes to incorporate E-commerce in the Fashion Marketing DEC. Our goal is to have our graduates achieve basic E-commerce skills and knowledge with all teachers incorporating technology in our daily pedagogy.