Real Life Stories
Published January 22, 2018
| Spanish
Finding the Right Recipe for My Spanish Class Presentations
Preparing students for a world that is constantly evolving is an important part of our job as a teacher. With many international opportunities for careers on the horizon, it is a good idea for students to be functional in more than one language. In my Spanish complementary course, I strive to make learning a new language fun for my students, and have started using student-produced videos as a way to apply their learning while unleashing their creativity. I am also showing them how their smartphones can be used as a tool for an educational purpose.
Giving Students A Taste for Languages
At Cégep Heritage College, I teach both French as a Second Language (FSL) and Spanish. While our students must take 2 mandatory FSL courses, Spanish is offered as a complementary course. This distinction is important. A segment of our students has motivational issues when it comes to French since they are obliged to take the courses. The students in my Spanish courses have chosen to take the course, since they see Spanish as a more recreational language.
I ask my students why they have chosen to study Spanish. Some may want to travel to a Spanish-speaking country for leisure, and some of my students may even do an educational mission or an internship abroad. Other students might want to volunteer for associations or humanitarian causes outside of the context of their studies. I try to impress upon them the importance of languages as a means of advancing culture, but also stress the utility of language, and how it may been an important factor in their careers if they choose to work internationally.
"Navidad en el sol," © 2010, Mathilde Raulier, Le monde en images, CCDMD
In any language course, there are elements of written and oral expression as well as oral and written comprehension. I use a number of websites, such as the El a yudante de comprension web site to expose students to different accents. I am also a fan of CCDMD's other material for teaching.
When it comes to oral expression, I wanted to adopt a non-traditional approach to class presentations. In a past life, I worked with technical support and help desks. I am fairly comfortable with technology, and saw that my students were also comfortable using their mobile devices. Rather than seeing these devices as a distracting technology, I decided to implement their use for student-produced videos in my Spanish class.
Cooking Up Student Videos
I find that videos break the typical routine, and sometimes show them videos on YouTube, like songs or recipes. It occurred to me that it might be interesting to have students produce their own videos.
I have about 40 students in my Spanish class. In most cases, they are speaking Spanish for the first time in their lives, and I was looking for a way to build their confidence.
Using student-produced videos allows me to involve all of the students and give them an opportunity to apply their learning in a context where they may not otherwise have an authentic experience in which to speak Spanish. I am also pleased that they are using modern technology in a creative way. Tomorrow's industries and trades may not exist today, so we need to prepare students for any eventuality and ensure that they are not shy to use technology as a means to express themselves.
A student-produced video of a smoothie recipe in Spanish
Students are assigned the creation of a situational video in which they do a presentation where they put into practice what they have learned over the semester. One of the recurring themes I use is the presentation of a recipe, much like you would see with a cooking show on television. They may explain how to make Guacamole or another typical Mexican dish, speaking in Spanish. If they prefer, they can opt to do a presentation on a Spanish-speaking country, which may also delve into the cuisine from that country.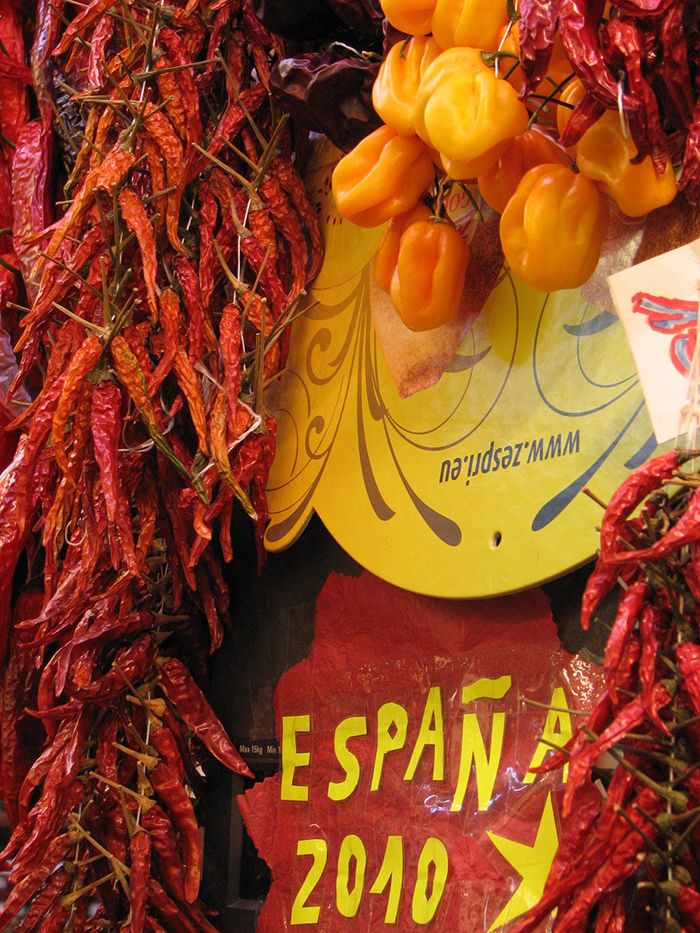 "Piments," © 2010, Catherine Viens, Le monde en images, CCDMD
Students use their cellphones, tablets or a laptop with a webcam to film short oral presentations that are then uploaded to a private channel I created on YouTube. Alternatively, students can provide me with the presentation on a USB key. In order to build student confidence and reduce anxiety, I tell the students that their videos will be private. Most of the students are capable of producing videos with their own tools, but they can also receive support from the Media Factory, the home of our talented audio/video technicians at our college.
Students have the choice of appearing on camera or they can simply show their hands preparing the recipe while they talk if they are too shy to fully appear in their videos. Students are marked on the basis of:
Content (respecting theme, instructions and time limit, appropriateness of subject, information organisation)
Presentation and quality of the video (audible sound, enthusiasm, involvement, knowledge of the topic to avoid reading a script)
Language (vocabulary, conjugation, sentence structure, pronunciation, elocution and diction)
Savoury Benefits for Students and Teachers
One of the most remarkable aspects of using this approach is to see how my students grow. They have fun with the oral presentations and are very creative. I remember a video from one of my students who was very timid and discrete in class. In her video assignment, we saw a completely different side to her, as she danced to rhythmic latino music. She seemed to be much more comfortable in the video than she ever was in the classroom!
One of my Hotel Management students decided to do a presentation in her kitchen. She even dressed up in her chef uniform for the video!
The student-produced video approach has a number of benefits for students, such as:
Developing the confidence of students
The assignment is exciting and fun to prepare
The students don't have to watch traditional oral presentations from their peers, some of which are awkward or ill-prepared
There are also benefits for the teacher:
Better use of classroom time
For evaluation purposes, you can watch and rewind the video, instead of marking while the presentation is happening
The videos can be evaluated on a more flexible schedule
The students seem to be very satisfied with this approach to doing oral presentations. Having fun in Spanish may also tear down the walls of resistance for them in their mandatory language courses, which makes me very happy, since they will need to have a good command of French to be successful in Quebec (or in Ottawa across the bridge, if they want to enter the public service).
Find Your Own Recipe
I have been very pleased with the results of moving to this approach to evaluating oral expression in my language courses.
If you want to try this approach, I recommend that you come up with a theme that will inspire students to be creative. Make sure that they have the opportunity to apply what they have learned and respect the learning.
The students are already comfortable with technology, so help them to find their confidence and you will see them shine!
"Vue de la mer des Caraïbes," © 2012, Maude Lapointe, Le monde en images, CCDMD