Real Life Stories
Published March 9, 2011
Enhancing My Performance
At the beginning of the Winter 2011 semester, I went virtual in a big way and launched a website and an electronic forum simultaneously using the preset software options in the Profweb's Web Space. Although the two sites have only been online for a few weeks, they're definitely going to grow in terms of content in the coming months!
The website is the place where I can let my creativity go, and I need a place like that to be happy. I also enjoy sharing whatever makes me "tick" at the moment. So, whatever piece of news I am reading that prompts a comment from me, I can post it up there. Whatever is happening in the Cégep that I feel like writing about can be posted up there as well. I also like the idea of the "one-stop-shop" for all my students' needs in English outside the classroom. They only need one bookmark, and for something as important as a missing class document, they can go there and download it. If they're curious about whatever tangent I went on during last class, they can go there as well.
The Website Home Page
As for the forum, what's not to like? It's a place where students can have discussions in English about whatever topic suits their fancy. I always lurk to make sure all posts are polite and respectful, but I intervene as little as possible. If an argument gets heated, I'll try to let it run its course. I like that students have to struggle with formulating their arguments coherently in English. They get to practice their writing skills while discussing a topic they are genuinely interested in. For me this is the best possible situation. I also write a lot on the forums. I enjoy it because I get to know what my students are into even more!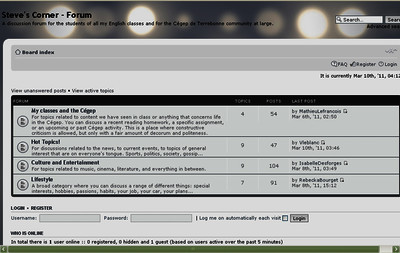 The Forum Home Page lists the Forum Topics
Although setting up my account on Profweb did give me a few headaches, a quick call to the tech support guy resolved them. There actually were issues with the email replies in unreadable code you get when you set up your account that should be looked into. Wordpress is a very user-friendly software that I was already familiar with, and I was happy to have access to it with Profweb. The Wordpress dashboard is a great interface for blogs and is definitely accessible even for users who aren't very tech savvy. I was also happy with the php forum format, even though I found doing something as simple as uploading a new template for the forum very complicated. Once it is set up, it is a fun forum format to work with.
The Profweb's Web Space
The forum and the website have separate addresses, but in my mind they're linked. I only give my students the address to the website. and from there they can click on a link to go to the forum. When there is more content on the website, it'll be easy to start a topic on the forum and link that to an article or video from the website. For me, it's just one big website of English language and culture with a forum attached to it.
The "Welcome" post on the front page of the website pretty well explains the purpose of the website and its different main components. In short, I wanted a place where I could gather all the resources I thought would be useful to students of my classes to keep them in an English environment as much as possible beyond the classroom. It was meant as a complement to the class-somewhere students could go outside the classroom for more English content. In the classroom, however, I can already see that it'll come in handy when I want to show a YouTube video, as most of my favorite videos will eventually end up in the video section. Come to think of it, I'll probably also use the website as a bridge to online texts I assign as homework. Oh, and I'll also use the links section as a starting point for students to research their essay topics. As for the forum, it is a compulsory element of my courses. There are marks associated with it. Not many, but some. So in the end, yeah, I can imagine a whole bunch of ways I'll use the website with my students.
The Steve Show
As I started designing the website, I realized I could also turn it into something useful for the whole English department, and to a certain extent for the whole Cégep de Terrebonne community. For now, I am the only contributor, and regular visitors are probably mostly my students, but with time I think other teachers of the department will start adding content and the website will have more regular traffic.
If we talk specifically about the discipline of ESL, and the language lab, then of course the usefulness of IT can hardly be overrated. In effect, using IT can let you fit more things in one single class. Basically, however, I feel it still all comes down to the performance of the teacher. I really believe in that. Every time I walk into a classroom I get ready for a performance, the Steve show. Sometimes I deliver, sometimes not so much. IT helps me perform. It can be as simple as a background image, or an animated PowerPoint presentation, but all it is, is a device to help make my performance better.