Real Life Stories
Published May 5, 2017
| Multidisciplinary
Engaging Students in an Active Learning Classroom with the iPad and Apple TV
Motivating students in Quantitative Methods and History classes can be a challenge, especially when a class begins at 8 a.m. Keeping students engaged is also a challenge, with their attachment to smartphones and social media. I see this attachment as a positive opportunity to harness with my students, and to show them how they can use this technology as a tool for learning. Over the past few semesters I have addressed student motivation and engagement by integrating the use of my iPad along with their devices using a problem-based learning approach. Along the way, I discovered strategies to overcome student shyness and to help students take pride in the work they produce.
I have been fortunate to have access to an Active Learning room at Champlain Saint Lambert (D-104), which has modular furniture that can easily be moved around. The room also features a number of individual whiteboards which students can use when they are engaged in group work. The room is equipped with Apple TV, which allows me to simply and wirelessly project content from my iPad and iPhone.
Avoiding Distraction while Harnessing Technology
As both a graduate, and now a teacher with PERFORMA's Master Teaching Program, I learned about how teachers can build an effective approach to technology in the classroom. I wanted to find a way in my courses to acknowledge that students are using technology, but I also wanted to ensure that it was not a distraction. I have come to learn that not being distracted is an important study skill, as much as being able to conduct research, or effectively managing time and stress.
A few years ago, I was diagnosed with a neurological condition that leads to a learning disability. This has required me to develop new strategies to maintain focus and concentration. As part of this process, one of the things that helped was my purchase of an iPad to manage both my professional and personal life. Instead of hauling around binders and paper, I have digitized my work so that all of my documents and files are located in the same place.
In the classroom, I use the Microsoft Office Apps extensively, which are installed on both my iPad and my iPhone. Depending on which room I am teaching in, I can either project wirelessly through Apple TV or I can attach a dongle to connect my devices to a projector, which limits the mobility to a certain degree. I have also purchased the Apple Pencil, a smartpen which allows me or my students to annotate documents during the class.
A video from Apple introducing the Apple Pencil.
Student Accountability and Active Learning Approaches
In an active learning environment, students must become accountable for their work, and are responsible for their productions within an active learning environment. The paradigm shift has taken some time, since you have to convince and reassure students that the process is valid.
Every single day, our class is a group project.
Valerie Hadd and Bethany Orr (my colleagues at Champlain Saint Lambert) were using flipped classroom methodologies to assign work to students that they had to prepare for the next course. I drew on their respective strategies when developing my own problem-based learning (PBL) approaches in both my Quantitative Methods and History courses. In Valerie's case, she was using worksheets that she would assign to students to work on prior to coming to class. This became the basis of my PBL approach in Quantitative Methods. In Bethany's case, one of her students enthusiastically showed me how her teacher was using PowerPoint documents to make interactive class notes. I ran with this idea and had my students use the Microsoft Office App on their smartphones, which turned out to be an excellent strategy, since it helped keep students off of social media while they were in class. I post basic notes on LEA before class that the students download beforehand. They open the notes when they arrive and can enrich them during the class. It became the basis of my PBL strategy in my Quantitative Methods Course.
With Valerie and Bethany's approach in mind, I began to set up my active learning classroom approach and had to figure out a few things on my own. Prior to implementing my PBL approaches with the iPad in my classes, some of my students would find the 2 hour Quantitative Methods class a little drawn out, and might be tempted to post to Instagram or Facebook. Something might come up on their phone, and they would abruptly leave class. With my new activities, students were staying off social media, and actively participating in the resolution of problems.
Example Activities
In Quantitative Methods, I assign 3 to 4 problems for students to resolve for each concept that I teach. The students will split into teams and solve the problem in their notebooks as they are working on the problem together. The class usually forms into groups naturally, without me having to create the teams. The students look to each other for help, and explain solutions to each other. Each problem takes about 5 minutes to solve, but I make sure that the group has time to explain the answers to students that need extra help to understand. I will take a photo of the good answers with my iPad and project them on the screen. It may seem simple, but students are really proud to see their solutions projected on screen. This pride keeps their motivation high, and reinforces their engagement.
Using the Paper app from 53 and my Apple Pencil, I can also mark up their solutions or point things out in real-time on the screen. The Apple Pencil allows me to have a 'mobile chalkboard' where I can write equations and their solutions in real-time and project it to the screen, while walking around the class. This also provides the benefit of seeing my students, rather than standing at the front of the room, writing on the board with my back to them. Seeing the students helps me gauge whether they are understanding the material.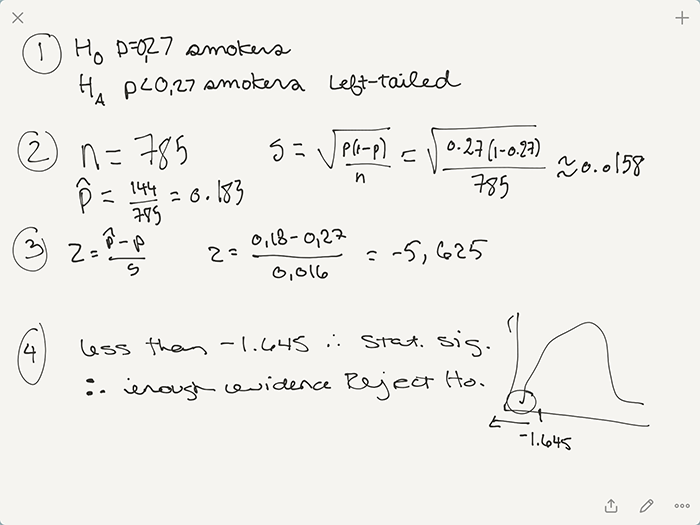 An example of an exercise in Quantitative Methods in which the whole class contributes. This is a screenshot of one of the Paper by 53 boards created to coincide with a blank slide in the PowerPoint app. Each group in the class delegates a student to work on this solution, with Nadine rounding out the answer in point 4.
I also use blank PowerPoint slides on my iPad, and have students answer problems directly from my desk, which makes them take an active role in teaching the others in the classroom. Everything is projected on screen in real time. The students are less intimidated when they do not have to go up to the board to write out the solution, and sometimes the team members even get into a little spat trying to choose who gets to use the iPad! My shy students also seem to muster up the courage to participate in class when I use this approach. Once the problem has been completed, students will sometimes take a picture of the PowerPoint slide to keep it as a reference for studying later on.
In my History course, I run activities that last a whole class. One of the activities I like to do is a history review with different time periods. I assign a period to a group which highlights important historical developments for this period on a whiteboard. They look at their class notes to identify the important points, and at the end of the class, each of the groups assembles the whiteboards in chronological order. I usually try to ensure that one of the class readings for the activity is available on their phone, which is another strategy to avoid their use of social media during this activity. This is a collaborative means of summarizing important information. I project the different periods on screen to review them with the class, using my iPad. In this case as well, the students often take pictures of the assembled whiteboards with their cellphones for reference as part of their study notes for the exam. They might even open the 'camera roll' on their phone while they are riding the bus on the way to their exam to get some last minute cramming in! I've also replicated this activity with Google Docs, and it worked very well.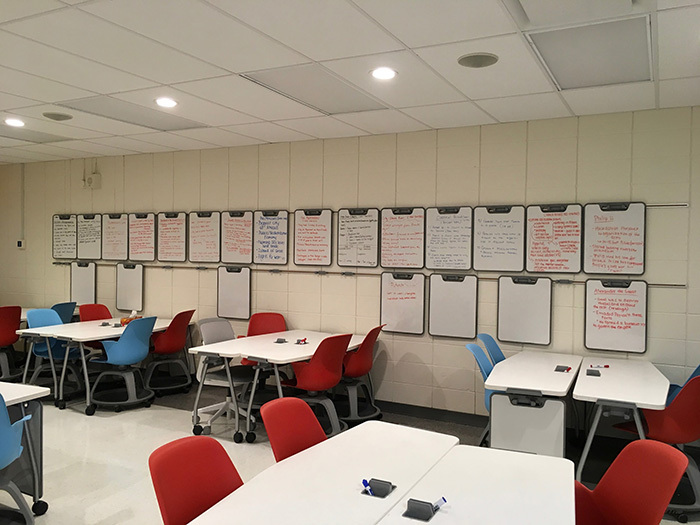 The collaborative historical period notes created on whiteboards by students that are arranged into chronological order. Many students take pictures of these notes with their smartphones to help them study.
Benefits for Everyone
Anecdotally, I have noticed that attendance has improved in my classes and that students are learning more since they have began participating in active learning activities. They seem to be happier to get involved - and when they are happy, I am happy. I believe that by sharing pictures of their productions, they are receiving positive reinforcement from their peers, while also reinforcing concepts that they have learned.
Traditionally, I would use a blackboard or a whiteboard at the front of the class to teach, but I was never happy that I couldn't see my students' faces to gauge how they were reacting to what I was writing. But now I get instant visual feedback when we are working together on problems in the active learning space. It also doesn't hurt that they are doing less Instagramming and text messages now!
Just make sure when you are starting out with iPads in an active learning context that you try a little bit at a time. See how well it works and whether it is beneficial to you. Your confidence will grow once you see how easy it is to use. It can also be intimidating to try to rework an entire course, so try to rework just 15 minutes of one class, then maybe 30 minutes of the next class if you are comfortable. I am currently looking into apps that will allow multiple students to share content on their smartphone screens in the active learning room, like Duet and Reflector. In the future, I also want to integrate the use of more apps for digital marking and annotation.
A word to the wise…. Try to avoid changing technology at a busy time during the semester! I learned this the hard way when I ran into a problem with using Dropbox for student submissions. This created some really unneeded stress for me! You might run into the odd problem or frustration, but will be pleased when you find out that you can handle them!
Combining problem-based learning with an iPad and Apple TV has truly helped me to transform my approach to teaching while keeping my students interested and involved. When used appropriately, technology is not a distraction, but a powerful tool that students can be trained to use in efficient and responsible manner.