Real Life Stories
Published April 22, 2014
| Office Management
Confessions of an Early Adopter of Technology
Teaching Office Systems Technology, Micromedia and Hyperdesign at Vanier College by its very nature implies using technology. We teach software like Photoshop and Microsoft Office. Given that I teach something that is so technical, I had a sort of personal imperative to use technology in the classroom. How did it happen?
An e-Portfolio of Student Work
In my case, it happened four or five years ago, and came from a desire to remove the classroom's walls to open my students to the world. For the most part, I teach in a lab. We used Internet media occasionally for research. Eventually, I saw the potential out there and realized that I didn't have to only teach something technical; I could go beyond that.
If I had to pinpoint the exact moment that my involvement with information technology gelled, it began when I saw a fully tattooed guy, a big tough guy with a lot of history in an ad on the Internet. The ad said you cannot change your tattoos, but you can update an e-portfolio anytime. I don't remember the quote exactly, but I found it extremely interesting that something could grow with you. You could graduate, and it would not stop there.
I knew that lifelong learning was a process; it was a reality, and I knew that e-portfolios were something for my students to bring with them and to grow with. I researched the e-portfolio and I saw that the e-portfolio was the perfect addition to my classroom. This was a tool that my students could learn to use, and it would take them further than just knowing how to use office software. I presented my results and some of my students' portfolios at the IT Fair of Dawson College.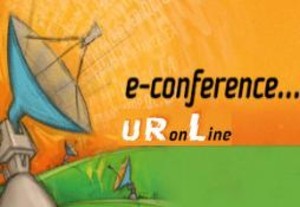 APOP e-conference, URonLine
As a result of my research, I registered for the APOP e-conference, the first one APOP organized. To my surprise and pleasure, they invited me to be one of the keynote speakers. I presented on e-portfolios, and I remember Lee Anne Johnston introducing me to a whole crowd of people.
By the time I attended the e-conference, I was an old hand at explaining e-portfolios. In the first cohort of third year students where I gave the portfolio as an assignment, students had to review their first and second years' work, from when they started their education, and find examples that would show a progression. It was difficult at the start because five years ago, those students had to turn around and think differently from what they were accustomed to which was just to do their assignments. I was introducing something that they could take out of the classroom, something that they could take when they graduate and move on and expand.
IT Fair at John Abbott
In order to keep the technology as simple as possible, I used PowerPoint. That was something that they could work on easily. I showed them how to incorporate documents into PowerPoint and other features to help create a useful and visually distinctive portfolio.
That was my first attempt at integrating technology into the classroom, and I was hooked. To feed my habit, I presented at the IT Fair at John Abbott and discovered webquests. Again, I figured why not, and again I made that tool my personal quest. When I looked at webquests my knees were shaking.
I'm sad to say that I don't use portfolios anymore because I don't give the course that I was using to integrate them into. Now that that's done, I've moved on, and I want to integrate skills for students to communicate online. I'm arranging for my students to make presentations by using online presentation tools like Prezi and PowerPoint. Ideally, students would deliver a presentation out of the class using the VIA teleconferencing platform to get the experience of making those presentations virtually. When they graduate, they're going to be doing online meetings. I explained to students how they have to prepare. I have a lot of experience in this field as I worked as the English service coordinator for online presentations at APOP. Students need these skills to be effective contributors in our current business environment.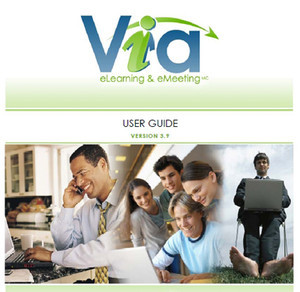 VIA's User Guide
Unfortunately, I was unable to do the activity. It meant having the students participate at a distance and being outside of the class requires administrative changes. This kind of problem is a logical outgrowth of the changes that technology is bringing to education. One possible solution is for students to be in class giving distant presentations elsewhere. Another suggestion is to not have all the students sitting in the same class and to use a webcam for them to present online to each other. Obviously, sitting in the same room doesn't make sense while presenting online, so I will have to find a solution.
This quest for ICT has allowed me to meet other practitioners of ICT and has taken me to different countries. For the past two years I have been travelling with colleagues from Vanier to Mexico to present on our best practices of ICT. This summer I will be presenting at UNESCO in Paris on virtual communities.
The plan for this fall is to have students use blogs and digital storytelling and to help them create a digital identity.
I believe that you know when you start using technology. You're aware of the moment that you make that conscious decision. Although you know when IT starts, you never know where it's going to take you. Look, understand what you can, but don't wait to become an expert before attempting a project. Integrate it into the class. The students will follow you.
Please share your stories of where technology has taken you. Have you ever experienced any special challenges or barriers?