Real Life Stories
Published January 26, 2014
| Protessional Theatre
Books Are Information Technology!
I learned how to draft by hand, so when I found out I was to teach AutoCad, the industry standard for drafting software, for the theatre, I took summer courses to get ready for my new fall course. I first used the 2004 release of AutoCAD, and I found that it was very difficult to use for 3D. The year 2007 was the first time that the software became viable in my opinion, and I decided that I was going to start putting together a manual. That was about the same time that I applied to the CCDMD to help me in this project and the resulting textbook AutoCAD for the Theatre began to take form.
A Classic Solution to a Classic Problem
I had the classic problem with new technology. We were supposed to be teaching our students AutoCad for the theatre, but my students were not producing drawings with AutoCad. Sure they used the program, producing the ground plan, but there were no thicknesses to the walls, no angles to anything, and no elevations. You can't build scenery from that! If you're not going to have students provide proper drawings with the software, then what was the point of doing this to begin with? There was nothing out there that was published in terms of using the software for the theatre, and I only get fifteen weeks of class to teach the skill.
I wanted to produce a book because most times students will have only one screen in a lab, and I'd rather provide something tangible in front of them where they can flip a page and then go immediately to the next thing rather than being drawn into opening and closing windows. Even the size of the book was discussed with an eye to being used in the lab because I wanted students to be completely in control of something that wasn't tied to a screen. My project manager at the CCDMD was adamant at asking me whether I really wanted a book. Was I sure I didn't want software for pedagogical purposes? To date, my suspicions that publishing the book was the best option have not been disproven. My students have to draft well because we build sets together, so I can look at their drawings with a very critical eye throughout the entire construction process.
Sample chapter and product description of the book
Hard Work, Good Planning and Luck!
What I have discovered putting together a manual myself, is that it was hugely time consuming and no matter how well done, there is always something that needs to be revised. I mean what voice should I write it in, and then there were 500 images. It just goes on forever, but the CCDMD is wonderful for technical backup. My manager Nick Birks was such a team player, and we were almost always in agreement. I would defer to his best judgment for some stuff and he would listen to me, and in the end, I'm so proud of this book. It couldn't possibly have been any better.
My book is intended to take you by the hand and put you on a path to acquire the skills you need. There are eight chapters to provide information on the three of four major drawings required. Once you finish the first drawing, which is the hardest one to master because you are starting with no skills, the later chapters get shorter because they build on previous knowledge. Furthermore, I don't teach you a command unless you're going to use it, which is different from some approaches. Some methods show you what every button does, but, by the time that you start a drawing, you've forgotten many commands. It's not the right time to introduce that. So my goal was to have students learn to do the first drawing first.
Another feature of the book is its cost. When I first started the book, we had an idea that a 350 page book in colour would cost 120 dollars. There was a massive drop in colour printing by the time it actually went to press which was really lucky because instead of $120, it cost $55. There will soon be a second edition. The mistakes my students have found are amazing, so the new edition will be truly fine-tuned. They're really looking at it with a critical eye, so they've become a part of the process.
An Element of Fun
And, just to present another point on the book, I wanted it to be fun and that was my primary thing. I wanted students to look at it and not be daunted. You'll notice on the front there's a little Shakespeare and throughout the entire book, there's little inside jokes with Shakespeare and AutoCad. The ideas for these came from Maggi Macaulay who's an illustrator and full-time faculty person at John Abbott College. I knew that she was the perfect person to do this and the CCDMD managed to get money to pay her to do these illustrations which has given the book a welcoming feeling. I wanted something that felt like students were being held by the hand following a path and having a good time learning AutoCad.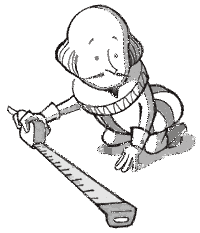 Shakespeare guides you through your lessons
And so, now that my students have this teaching tool, we're able to produce full drawings that we can build sets from. The technology is actually working, bringing online tools full circle through the magic of the printed image.
Do textbooks play a role in your computer labs?