Real Life Stories
Published April 18, 2018
| Physical Education
An Open Education Resource for Physical Education
The Physical Education department at LaSalle College is small; there are 3 full-time and 4 part-time teachers. When we decided to create our own, tailor-made course materials, several members of the teaching team got on board. It has taken the shape of a digital format textbook, or eBook, which we called Moving Toward the Benefits of Physical Activity. Cindy Cook and Marc Beauchamp did the writing and content-checking, Samantha Haas edited every chapter, and Sylvain Desmarteau did the Word formatting, layout, graphic search, creation and set up of the hosting site (presently a Google site).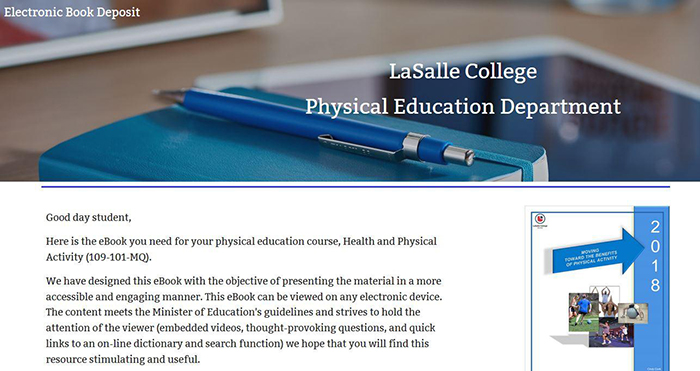 Students can access the digital textbook from a Google site.
This is our first draft and we invite you to have a look. We hope that you like it, and that it can inspire you if you are working on an open educational resource (OER) yourself. If you are a physical education teacher, you may even like to try using it! The link to this read-only version is available only for a limited time, so you are advised to contact us if you are interested in using it. We expect that any interested users may also be helpful to us in terms of feedback.
The Need
What inspired us to do this? Our college is bilingual, and all our physical education teachers are bilingual. We had been using the 2 resources, À vos marques, prêts, santé! by Chevalier (since 2004) and Fitness Now! (since 2006) by Chevalier, Oljemark and Cook. These are excellent textbooks, with accompanying websites, knowledge testing or review questions after each chapter, and beautiful images. That said, we identified 3 problems:
They exceed the theoretical needs of the courses they are used for. Fitness Now! is just over 400 pages. Our targeted course is but 30 periods, leaving at the most 15 hours for theory. We needed something more concise to match the limited time and scope of our course.
Prices were always climbing, and we had issues with timely delivery and sales.
Some aspects were dated and we longed for a more malleable resource, one that we could add to, subtract from or update at a moment's notice.
The Dream
We decided to tackle the job ourselves, knowing full well that we still did not exactly know how. We boldly stepped forward and decided to use the kaizen approach. We started to brainstorm what we could ultimately have… and the dreams got bigger and bigger.
We originally wanted to make a "flip book", with embedded videos, audio options so the student could listen rather than read (record our voices reading the text), interactive quizzes, bolded vocabulary words with "pop-up" definitions, even multiple language dictionaries.
The Work
We thought that replacing our current textbook with a shorter, more dynamic resource (lots of video, interactivity), might take less time than writing everything in text form. Video content accompanied by questions and answers lends itself well to flipping the classroom.
The digital textbook contains clickable links to YouTube videos.
We studied several different texts available, discussed topics, and considered the volume to be about 10 pages per topic and 12 necessary chapters. In May 2017, we divided the tasks and set up a distance method for working by using Dropbox. It took the 4 of us approximately 6 weeks of almost full-time work to accomplish.
The Compromise
We discovered that the type of software that would be required to support all the "bells and whistles" we desired may be out of range price-wise, and that just getting the content together by the end of June was going to be a huge job. Also, of concern was the uncertainty of every student in class using their devices simultaneously and how our classroom bandwidth would handle that.
We ended up realizing that, to have a resource ready for use by September 2017, we would have to severely compromise our initial dreams. The simplest result was to create a view-only PDF version for the students. We embedded the YouTube links and created chapter and video review questions. For the teachers, we have a more interactive version with Annexes. The teacher can access the eBook on the internet or download it to their USB key. There is a Fitness Assessment Package as well as separate files containing questions for each of the 12 chapters.
Chapters and videos are accompanied with review questions. Words in green typeface are clickable links.
Beta-Test Year
We ran into a few bugs, which were quickly solved by our tech expert, Sylvain Desmarteau. We were able to use the eBook in class, projecting it and using the images and videos to accompany theory lessons. Some teachers made PowerPoints to supplement while others found simply using the eBook sufficient.
We found some errors and think it is a bit too long. We worry that we have not done all the citations perfectly. We also realize that we are physical educators and not professional writers and have a certain amount of trepidation showing our work to everyone at this early stage. We intend to work on our second draft this spring 2018.
The Feedback
Our own teachers think it's great. The students love that it is a gift to them, offered at no cost. They appreciate having a resource that is accessible on their phone, tablet or computer. They really like the videos. Other teachers are very interested in "glamming up" their course packs in a similar fashion.
Where to Next?
The kaizen approach means constantly improving:
We need to cut content; it is still too long.
We need to add in the sources for all the images.
A few videos are too in-depth, boring or corny. We will keep some and change some, or simply cut.
We want more original artwork, photographs and/or videos. We would love to have students and/or other teachers participate in this.
We would like to have better accessibility (for the blind, for example) and include audio cues.
We would like to have a multilingual dictionary (to help all our foreign students with comprehension).
We are planning a French version but need to edit the English original first (then translate).
This last semester we managed to convert all the questions to multiple-choice style so that an interactive quiz would accompany each chapter using Google forms. Three of us beta-tested this feature in the winter 2018 session and it was an amazing success. Quizzes are all graded automatically, and the student can instantly get feedback once they have submitted their answers. The teacher gets a report on all the students from each class.
This quiz even has the video embedded in the quiz. A student could easily do their homework on their phone. Sylvain is already talking about migrating this entire project into a web format which would give it more flexibility. Right now, the currently used PDF option is rather limited.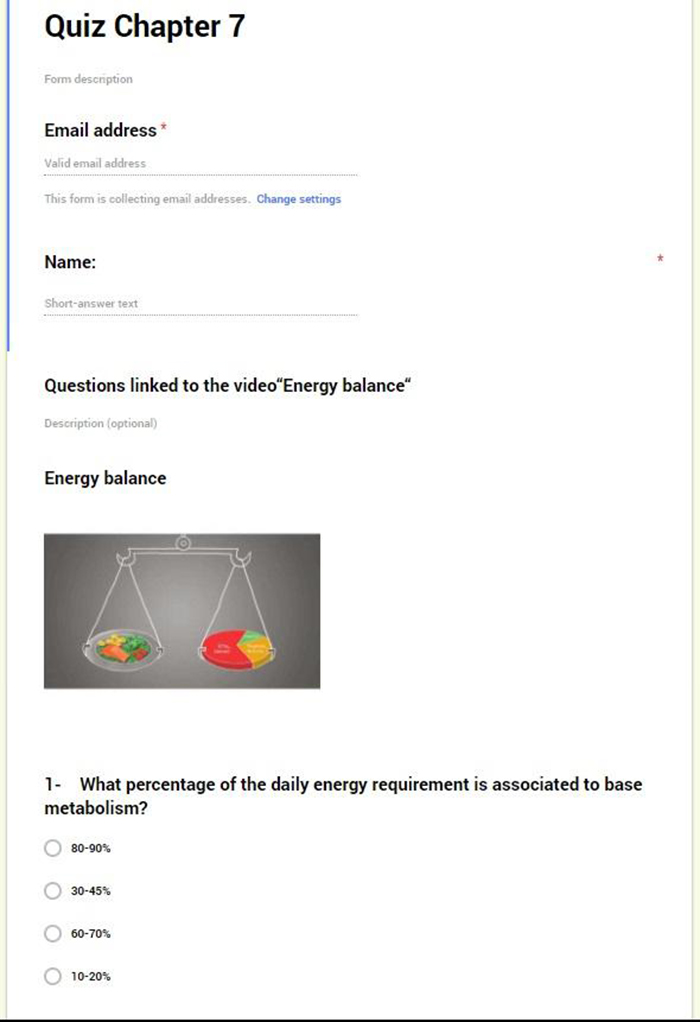 Review quizzes are also offered online, using Google forms.
Want In?
Our principles:
Contributions to this project are voluntary and unpaid.
Using this resource should always be free for the students.
Proper citations and referencing are a high priority.
The shape it may take:
Front page could be universal. Title and space for your own college logo and course names, etc.
You get to use it all or in part, but if you update, change or improve a section or chapter, we would expect and appreciate that you would offer it to us.
Acknowledgements will grow as others contribute and should remain with the work.
If you are interested to help us improve our eBook, we will send you the files you need to be able to join us in our efforts to make this the best free resource for the 109-101-MQ program.