Real Life Stories
Published January 15, 2012
| Multidisciplinary
An Easy Step-by-Step Guide to Creating a Weebly Site
Because Suzanne Roy is a media studies professor and Marie-Stéfanie Taschereau is not, there is a special synergy in the work they have done together. One of them tries out tools and identifies their strengths and weaknesses. Then, based on the results of these investigations, ranked according to required features and simplicity, the other experiments!
They make quite a convincing duo during training sessions. Starting barely fifteen minutes ago, we have already put our site online and started a project. Conquered by the intuitive approach of Weebly, Émilie Lavery recounts her experiences. There are eight million people who have chosen Weebly.
Why Weebly?
Is developing a course site really useful? LEA, DECclic, Moodle and others are already a part of our institutional landscape. Among their features are found document and resource (links, videos, etc.) distribution.
Why make a course site for these functions? And why select the Weebly environment? Weebly's interface is so simple that we even ask our students to develop their own sites for evaluation! This is important in an Arts and Letters department, even if only to help students make a portfolio. Technical aspects need to be easily mastered in order to prevent discouragement.
Short video showing the different stages of creating a Weebly site
Another reason is that we can publish more easily and in more varied ways than in LEA which is used in our school! Group work is encouraged by student productions. Weebly allows us to create photo galleries and slide shows which are useful in photography classes. Marie-Stéfanie tracks up to 800 hits daily from students who love watching their own productions!
We obviously have course content to present. In Weebly, course notes are not just a PDF. We can add interactivity, quizzes and embedded videos. In short, the entire contents of our courses can be found there, and more! Students can not only use the site to catch-up on information presented during a missed course; enthusiastic students can also find incentives to deepen their understanding of the material! Additional exercises can be uploaded, allowing students to catch up or to test their own learning.
An educational website is also a way to the prevent the dumbing down of course content. Students can go further independently!
There are more than a hundred graphic themes including a site banner and screen background color. You can also change the theme color, add another banner image and customize the style sheet if you master a little HTML and CSS.
There are more than a hundred graphic themes available on Weebly
Is all this free? Yes!
Basic service includes the following :
The use of the Weebly server to manage two publicity-free (Pro Weebly) sites whose moderator (in this case the teacher) is the only owner.
Optimized playback on mobile phones by enabling visualization of parameters suitable for this purpose.
A co-publishing site with invited guests.
An intuitive "drag & drop" environment which is customizable without technical knowledge required in order to do the following activities :

Insert windows for various text sizes, images, documents (in various formats including Flash), hyperlinks, Google maps, embedded videos (hosted on an external server such as the the World of Images or YouTube, if videos are hosted on Weebly, there is a charge), RSS readers.
Create slide shows (this option allows you to integrate PowerPoint documents exported in PDF format) and photo galleries , and small commands in HTML code.

Insert windows for various text sizes, images, documents, etc.

The ability to export the site's pages in HTML to edit in another web browser or to be published elsewhere. This is one of the few programs that allow this. This is a major advantage. We did not copy and paste all of our sections to export the contents of the site. A program like Dreamweaver can perform the necessary adjustments for republication.
Access to traffic statistics for site pages.
Easy referencing by Google.
A survey or a contact form.

It's possible to use multiple elements
These services have largely met our teaching needs. If you want more, like having your own domain name or making a private page, the pro version can be activated for a modest amount.
Starting a Site in Easy Steps
Go to the site Weebly.com.
Enter your full name, your email address and your password.
Name your site (which can be changed) and file it in the Education category. The resulting site address should be meaningful and easy to remember!
Create your home page using the instinctive drag and drop features.
Avoid options displayed as Pro features.
Remember that any changes made on the site are stored in your publisher account, single or shared. They will only be visible by visitors when you publish them.
In Comparison with the Turnkey Version of Wordpress
WordPress, a blogging tool that allows you to customize interface to resemble a regular website, is popular but somewhat more complex to handle. It does offer interesting options, however, such as publication via email and password accessible private web pages.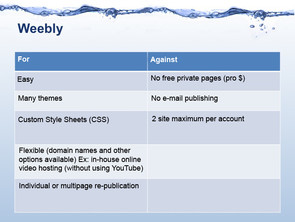 Presentation of Weebly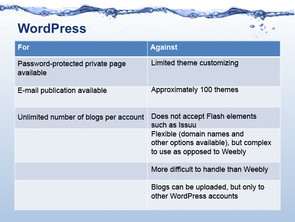 Comparison between Weebly and WordPress
In Brief
We invite you to visit some of our sites created with Weebly. If you're hooked by the Weebly interface or already use it for your courses, we invite you to share your experiences below.