Real Life Stories
Published January 27, 2008
| Electronic Data-processing
ALGO-ROBOT - Learning By Doing
Twenty-first Century students need to have a hand in real situations to learn. Therefore, teachers should look for new ways to help their students participate in meaningful activities to attain this goal. Thanks to the Academic Dean's Office (Direction des études) at Cégep Limoilou, I have been able to create a project which allows students to experience real situations which illustrate the principles of object-oriented programming and algorhythms using the latest generation of Lego robots - Mindstorms NXT.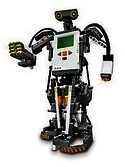 Mindstorms NXT robot
The Inspiration
During the last few years, this project has not only resulted in learning strategies oriented towards young men, but also highlighted the lack of these strategies, at least in the college classroom. In my experience, change does not come quickly to schools or teaching methods, and teaching in the Second Millennium is not very different from where it was at in the Sixties. Before this project, I had already undertaken to modify my courses to allow students to learn more autonomously and more enthusiastically. The project was another opportunity to create situations which required student participation and exploration in my quest to awaken student interest.
The robot project has two goals:
to interest students in their own learning; and
to succeed in engaging those students who have different learning styles which are not taken into account by standard teaching strategies.
These goals were achieved using an alternative method of learning that regularly incorporated student participation and activity in order to build diversity into the classroom.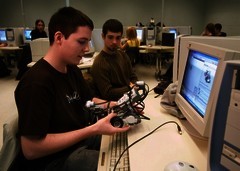 Photo taken by Pierre-Paul Beaumont of Cégep Limoilou during a laboratory.
The Results
My mandate was to succeed in programming a Lego robot in Java language and to build learning activities such as exercises, demonstrations and course support around the robot to be used in the four computer science courses within the cégep program. Once the activities were developed, their testing with two groups of students during the Winter 2007 semester was probably the high point of the process. The interest and enthusiasm on the part of the students as they worked on the material was evident.
Since Autumn 2007, the robot has been used in the laboratories to teach the first programming language with what appeared to be extremely positive student reaction. Next year, it will be interesting to see if this apparent enthusiasm over the use of the robot will be confirmed by an impact on student success and retention.