Real Life Stories
Published February 25, 2008
| Multidisciplinary
A New Online Tutorial System for Essay Writing
Education Advisors in Dawson College's newly re-named Academic Skills Centre constantly meet students who want to improve their writing skills but don't have the time to meet extensively with a Writing Tutor. The problem became an opportunity to develop something interactive for our students and for college students everywhere.
Over the last two years, Dr. Yu Miao from the ESL Centre at Concordia, who also does some tutoring in our Centre, and I have been working on a project we've called our Online Tutorial System for Essay Writing - OTSEW for short. I was able to get the equivalent of release time to work on the project one day a week last year. Both of us have backgrounds in educational technology, and we wanted to develop a unique interactive approach to help students improve their English writing skills.

Dr. Yu Miao
OTSEW emerged from our work with a diversity of students who need to improve their proficiency in English. Our clients include foreign language speakers as well as young and old students whose writing is not up to college level. They all need to improve but each at their own pace, therefore benefitting from the flexibility of an on-line approach. OTSEW was designed primarily to work with teachers or tutors as a supplementary system. The tutor can perform an assessment and diagnosis and then assign students to a specific unit for instruction and practice. Although it will never replace human instruction, the system can be used independently, and we know that many students will want to practice with OTSEW on their own.
Needless to say, this has turned out to be a bigger project than we expected. CCDMD's English Division was just starting out when they accepted our proposal. Quite a few people became involved in the project: Valerie Paterson and Véronica Gill at CCDMD, Gilles Bergeron at Synapse Multimedia – an excellent programmer with a background in pedagogy, and Maureen Newman from Champlain College, who is also our content advisor, not to mention my colleagues at Dawson. Dr Miao and I developed content, and CCDMD developed the on-screen design and programming. We couldn't have done it without CCDMD's help. They've been extremely supportive even though the project drew heavily on their scarce resources.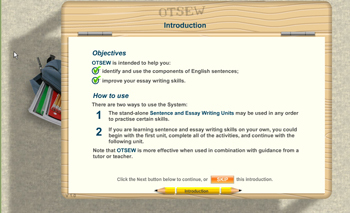 OTSEW introduction screen
You can take a tour of the program's first unit (Simple Sentences) which is now online at www.ccdmd.qc.ca/en/otsew. So far four components of the program appear as on-screen icons. The Glossary contains short definitions of grammatical and writing terms. The Tool Kit contains more extensive information on the parts of speech. The software was never meant to teach grammar, but it delivers support information through these resources that are always accessible for just-in-time delivery. A device we've named PETE (Peer English Tutor for E-Learning) guides you through the system and presents quizzes from time to time. PETE's first function is to determine if you need to start at Part 1 of the unit or if you can skip ahead to Part 2. We are exploring the option of giving PETE a voice. While it would also be technically feasible to e-mail a student's scores on PETE's practice tests to a tutor, this feature has not yet been implemented. The File Cabinet icon provides access to our instructional units; Unit 1 – Simple Sentences went on-line in January and Unit 2 – Types of Compound and Complex Sentences goes online in March. Additional units could be added should funding become available.
This semester we are conducting a formative evaluation of the system's functionalities and instructional effectiveness. Since we are still at the beta stage of the project, we welcome any comments you may have that would make OTSEW easier to use and more effective. You can contact me at ddaigneault@dawsoncollege.qc.ca any time.