Digital Tools
Published October 9, 2018
| Multidisciplinary
Shotcut: A Free, Open-Source and Multi-platform Video Editor

This Digital Tool is licensed under a Creative Commons Attribution-NonCommercial 4.0 International License.
Shotcut is a free, libre and open-source video editing suite that is available for Linux, Mac and Windows. It is a powerful tool for you and your students to edit educational videos and has a number of presets that allow you to export your videos to a variety of popular video formats for the web or for high-definition broadcast.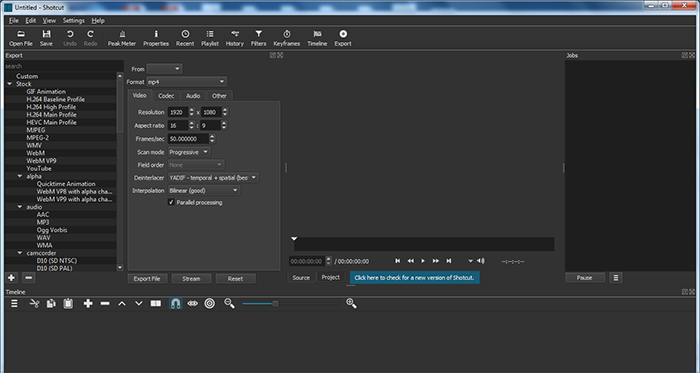 The default interface in Shotcut that appears prior to importing media
Using Video in Class and On-line
Videos are used extensively by teachers since they often succinctly resume topics with visual and auditory data and cues. They can enhance traditional lectures and be used as a means to help students understand key concepts.
Teachers are experimenting with blended learning approaches where face-to-face class time is reserved for project-based learning or other active pedagogies which promote deep learning. Students are often assigned readings and can watch videos prior to class. This new information can then be applied in practical exercises in the classroom.
Teachers may use videos to:
Show a simulation
Cover theoretical content before class
Create tutorials for software
Produce a narrated virtual tour of information on the Internet
Provide video feedback to students on assignments
Students may use videos to:
Rapidly learn or review a key concept
Produce a promotional video for a student-run business
Create a tutorial for a study group
Review information prior to an exam
Editing Recorded Videos with Shotcut
Video formats have evolved quite a bit over the last few decades. During my lifetime I have witnessed the move from reel-to-reel films, to VCRs, and then DVD players which were followed by the on-line streaming formats we use on a daily basis today, whether for professional purposes or "binging" on a new TV series.
Shotcut is a modern and flexible tool that can help both teachers and students to produce videos. It works like many commercial video, audio and graphic editing software packages since it employs the concept of layers to integrate visual and auditory media into the production of the final video.
Editing a screencast video with Shotcut. The area indicated by the red star shows the video and audio track "swimlanes" from the video layer in a timeline.
Perhaps you have captured video with a webcam, tablet or cellphone. Once you have transferred the file to the computer running Shotcut, you can import the video for editing.
When the video is imported, you drag it into a timeline at the bottom of the Shotcut interface. Shotcut will then display the audio and video tracks which will enable you to perform a variety of edits for your project.
You will likely want to cut portions of the video to make it tighter, split the video into sections to add title screens for longer videos and maybe add some background music. You will often need to splice 2 or more videos that you have captured together or add some additional audio narration you recorded to the video. This can all be accomplished using the icons in the timeline editor.

A toolbar from Shotcut with tools to edit the video in the timeline. You can splice (cut and paste) into the video project, add layers (useful for inserting audio narration or background music) and split portions of the video (useful for removing and rearranging portions of the video or making space for title slides).
All of this work can be saved as a project file (in .mlt XML format) that you can close and reopen whenever you have time to edit your project.
In order to produce a video in a format that you can watch on other devices, you need to export the video from your project file.
Exporting Videos
Shotcut has a number of export presets that allow you to save your file in a variety of formats. These can be useful for:
Creating videos for popular streaming sites like YouTube or Vimeo
Formatting video for mobile devices
Producing broadcast quality High Definition video
Exporting audio-only files from videos
Creating animated gifs
Exporting still images from the video
Depending on which export format you choose, the file size and the time to render (create and save) the video can vary a great deal. An HD video can take much longer to export than a lower definition video create for viewing on a smartphone.
Hosting Your Videos
Once your video has been produced, you will need to think about how you want to make it available to your students.
As of the time of writing (October 2018), many colleges have opted to include Microsoft Stream within their Office 365 licence. You may want to deploy your videos on Stream, but you should test to make sure that you can view the videos from home without logging into your Microsoft account, as the security policies vary from one college to another.
You could also host your videos on other streaming sites like YouTube or Vimeo.
Once your video is on a streaming service, you can then embed the video directly into Moodle which allows you to embed videos directly into a page in your Moodle course.
A Number of Learning Resources
The Shotcut team has created a page on their website that contains a selection of useful tutorial videos created by Shotcut users. One of these tutorials is the following introduction to Shotcut created by Teachers.tech:
Introduction to Shotcut created by Teachers.tech
It's Easy to Get Started
Since Shotcut is a Free, libre and open-source software, it can be downloaded and installed at no charge. This helps keep costs down for both the college and students. If you find the software useful, you can always make a donation to help support the on-going development of Shotcut.
If you are new to making educational videos, start small and employ the help of your college's IT-REP if you need some advice or assistance. You'll be impressed with how quickly you learn and improve your own videos!