Articles
Published February 13, 2017
| Multidisciplinary
Transition to Electronic Marking with iAnnotate
Are you feeling ready to make the move to correcting assignments electronically? Are you overwhelmed by the number of tools that exist? This article will explain one teacher's experience with an application she has been using for several years. Anna Dera, a Biology Teacher at CEGEP Champlain St. Lawrence wanted a tool that made the transition to marking electronically simple; something that allowed her to continue writing notes, "by hand". She began marking electronically on a laptop with a touch screen and a special stylus pen. Soon after, she started using an iPad, and in her search for an application that would allow her to continue this new electronic marking technique, she discovered iAnnotate, which has remained her marking tool of choice for over 6 years.
What Does iAnnotate Offer?
iAnnotate is a very complete marking tool. It offers many annotation features, and according to its website, it works with web pages and images, as well as PDF versions of Office Suite software. The application can be used with iPads and iPhones, requiring a PDF reader on the device in order to see the annotations. In the case of correcting assignments, students are not required to install this application on their devices, as it is only the teacher who is using it. This is possible, as iAnnotate works in synchronization with many cloud storage systems, such as iCloud Drive, Dropbox, Google Drive, OneDrive, and Box.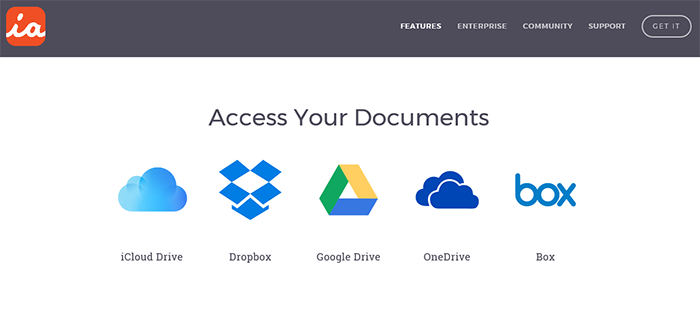 The website for iAnnotate displays the various cloud systems it is compatible with.
When Anna began using it 6 years ago, she paid $9.99 for the application (which is still the current price). She has never had to pay again, even when she changed devices, and she receives regular updates to her original version of the application.
iAnnotate works by converting documents into a PDF format, from which the user can then make their annotations directly on the document, using either a stylus or their finger. Anna prefers using her finger, but finds that there is less precision. She has overcome this by simply zooming in on the area first before beginning to write.
One of the things Anna likes the most about this application is the variety of features that are available for marking purposes. Once a document is open in iAnnotate, a toolbar appears down the right-hand side of the document, providing various options:
Pencil
Highlighter
Eraser
Comments bubble – much the same as in Word or Google Docs
Text box – type comments, instead of writing them
Stamp – a text box can be saved and reused, which is very practical for repetitive comments
Bookmark
Web access – automatically go to the internet to look up a word, a URL address, or check for plagiarism
Photos – insert photos or illustrations
Audio annotations – insert an explanation in your own words
Email – the document or just the annotations can be emailed directly to a receiver
Etc.
All annotations can be selected, moved around the document, copied and pasted and deleted.
Along with all the annotation features available with iAnnotate, there are many other tools incorporated into the application.
Correcting Assignments with an iPad
The process Anna uses involves only a few steps.
Step 1
Via the Assignments module in LÉA of the Omnivox system, students upload their assignments.
Step 2
All the documents are downloaded, either all at once or one at a time (for example, if you wanted to modify the title of a document).
Step 3
Upload the documents into one of the cloud systems. Anna is currently using OneDrive, but she has also used Dropbox in the past.
Step 4
Open iAnnotate, which is synchronized to OneDrive, retrieve a folder of assignments, then select files (which are automatically converted into PDF files) and begin correcting.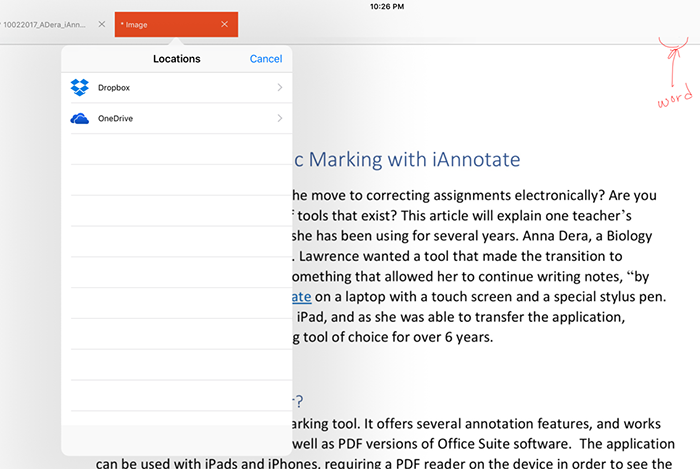 iAnnotate automatically synchronizes with cloud systems, making it easy to retrieve documents that have previously been uploaded.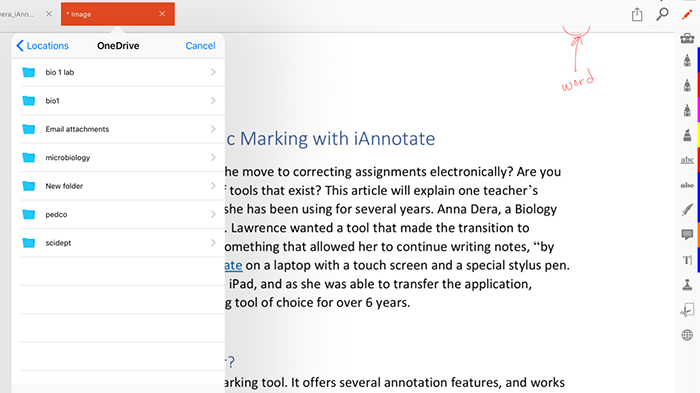 Assignments from an entire class can be retrieved from a folder uploaded to OneDrive. Assignments are also saved in OneDrive after correction. You can also see, on the right-hand side of the image, the annotation features Anna has added to her toolbar for easy access when marking.
Step 5
When correcting is completed, Anna moves to a computer to open OneDrive, she then creates a zip file of the corrected assignments. This way, she can easily upload all of the assignments together into Omnivox. From here, she is able to return the corrected documents to the students.
As previously mentioned, in order to see the annotations on a document, the computer or mobile device opening the document must have a PDF reader installed. As many students do not have a PDF reader on their smartphones, Anna simply instructs students to open the file on a computer, and this helps avoid confusion and MIO messages wondering why the document was returned without being corrected.
Examples of the types of annotations that can be made to a document: highlighting, hand-written comments, typed text, etc.
Student Feedback
Students appreciate that when it comes to teamwork, everyone receives a copy of the corrected assignment, which is a nice change from paper assignments. Her students also appreciate that she uses LÉA Assignments as the place to upload and download the documents, as opposed to using personal email addresses or MIO.
Not Just for Marking
Anna has adopted iAnnotate for much of her professional work. Being involved in many committees at St. Lawrence, she uses this application for meeting preparation and to take notes during meetings. These notes can also be shared with others, as she can email the document with her comments on it directly to her colleagues.
A Few Words of Advice
Anna has found this tool, easy to use, and very intuitive. The only obstacle was learning that when uploading the zip folder to LÉA, the file must be called "Assignments".
Even though assignments are returned to students outside of class hours, Anna still takes the necessary time in class to review the assignment and make general statements to the class. She encourages students to hold on to their questions about the corrected assignment, until the next class. She finds that their questions are more thoughtful when they have had time to think about their mistakes and the outcome of discussions is more beneficial to the students.
This semester Anna switched from using Dropbox to OneDrive due to some technical difficulties at the college. However, in doing so she has learned more about OneDrive and she recently told me that it offers its own annotation features for PDF documents. Although they are not as extensive as iAnnotate, she was surprised with what she found.
This image compares the different annotation features of iAnnotate (on the left) and OneDrive (on the right).
Anna has been able to change her marking practice with iAnnotate and her iPad, yet it still feels like correcting the traditional way with pen and paper. This is an easy transition tool that simplifies things for the teacher and student. By automatically synchronizing with cloud systems and converting files into PDF versions, the process is made easier for everyone. So now, are you ready to take the leap?