Articles
Published November 9, 2016
| Multidisciplinary
The Diverse Facets of Distance Education - Four Tutors from Cégep à distance Present their Experiences
In a previous article, I offered you an explanation to demystify the self-paced learning formula developed by Cégep à distance, from Martine Chomienne, who is responsible for the tutoring program, and with a video tutorial, where Sophie Ringuet, Education Advisor, explains the process surrounding the planning and development of a self-paced learning course.
Now, 4 tutors from Cégep à distance will explain to us the vision they have of their role:
Éric Lavoie, Philosophy specialisation
Louise Trépanier, English language specialisation
Nancy Houle, Spanish language specialisation
Guillaume A. Cimon, Philosophy specialisation
Éric Lavoie: From Author to Distance Learning Tutor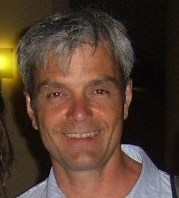 Éric Lavoie, Philosophy specialisation.
Éric has taught philosophy at the Cégep regional de Lanaudière à L'Assomption since 1998. He has been as a tutor with Cégep à distance for 16 years! It all started with the consortium project for a virtual Diploma of College Studies (DEC) in Natural Sciences. He was initially hired as a content reviser for the course Philosophy and Logic (Philosophie et rationalité), then as author for the course Ethical and Social Issues (Éthique et société). He became a tutor with Cégep à distance in order to have the experience of educating from a distance for this Ethics course.
Recently, he worked at rewriting 4 different versions of the Ethics course in the area of course design at Cégep à distance. He gives, on average 2 hours per day, or 10 to 14 hours per week, of his workload as a tutor. He supports around 200 active students. He receives 4 to 5 email messages per day, but much of this is for administrative or technical aspects. He guides students to the correct resource, or the correct service.
How does he perceive his role?
Blockquote "The majority of my workload consists of evaluating student assignments and providing them with feedback. I offer comments that allow them to identify what they need to improve and how they can do this. I try to write my communications in such a way that it "sounds" like I am really conversing with the student."
Teaching Second Languages at a Distance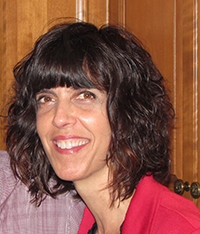 Louise Trépanier, English Second Language Tutor.
During the winter 2016 semester, Louise Trépanier taught English as a Second Language at Cégep de Thetford. She was also working as a tutor for Cégep à distance, which corresponded to approximately 30% of her workload. This breakdown can vary depending on the semester. Her work as a tutor continues into the summer, as courses with Cégep à distance are on-going. She supports approximately 70 to 75 students. They communicate with her, as much as possible, in English.
Just like Éric, she describes her role as being focused on corrections, feedback and she adds: encouragement!
To welcome her students, Louise sends them an email message. She also uses the message system to give them information or even to provide them with important instructions.
All of my courses are now on the Moodle platform. It is the digital environment used by Cégep à distance. From it, I diffuse general instructions.
On occasion, she has had to call the students individually to give them very specific instructions. The submission of the first homework assignment is also a moment for her to have a first telephone conversation which can take quite a long time. There is also a second obligatory telephone conversation. This is something particular to language courses that have a conversation component. Louise adds that it is a big challenge to manage to speak to the students directly.
Nancy Houle, In-class Teacher and Distance Tutor
Nancy Houle, at the moment, full-time mother, but normally part-time tutor.
For her part, Nancy Houle teaches Spanish at Collège Bart and Université Laval. She is also a tutor for Cégep à distance. She wanted to explore other aspects than teaching. She enjoys varying the methods and the clientele; and she has a lot of both! She follows from 120 to 130 students at the same time. Summer is her most intense period, as in May and June there is a peak in registration. The number of students followed can reach up to 160. The students get ahead during the summer, because they want to complete their DEC in time to be able to attend university in the fall. In August, it's correcting that is at its peak!
Nancy welcomes her students with a short video that she makes available on the Moodle platform and she also sends them a welcome message by email.
80% of her students are taking Spanish 1, but she also offers tutoring services for all levels.
My role consists of replying to students' questions, correcting assignments and providing a type of support so they do not feel alone in the process. For example, after submitting a first assignment, if I note any problems, I can provide a comment to the student via the Moodle platform, telling him/her that due to the difficulties I detected it would be a good idea to call me.
She provides different types of feedback to students, but by the 3rd assignment, the students must contact Nancy. It's the moment to give them verbal feedback. If a student has not submitted anything after 2 months, he/she receives a message from administrative services of Cégep à distance.
Guillaume A. Simon: Distance Learning Experienced as a Teacher and as a Tutor
Guillaume A. Simon was a teacher at Campus Notre-Dame-de-Foy in Philosophy. He decided to offer his services as a tutor to have a different experience. In the winter semester 2016, he was in his 4th year as a tutor.
How does he perceive his role?
I see myself as a resource person that the student can refer to if he/she has questions. Like the other tutors, I correct the assignments. After the submission of the first homework assignment, I contact the students who got less than 70%. After the second assignment, I send an email with more comments to give feedback to students.
He criticizes however, that several students do not even read the feedback.
The Tutors' Level of Ease with Technology
As a teacher, Guillaume had already experienced a course in simultaneous transmission with the VIA platform. For him, Moodle turned out to be a learning environment that offers several possibilities and he manages it well.
Louise does not perceive herself as "super at ease" with technology. Despite this, she has adapted well to the technological changes brought about by Cégep à distance: "I have experienced several changes since I have been working at a distance. There is always a period of adaptation, but personally, I always manage to follow the rhythm of progress without problems."
Éric explains that he was at ease, but he had to get used to the Moodle platform that he had never used before.
Nancy defines herself as being at ease and considers that she is well supported by the tutoring service, adding that "the changes happen progressively". She is looking forward to the moment when all courses will be given using Moodle (which has happened since).
From the Students' Perspective
Louise evaluates that 80% of her students are at ease with technology, but there is always 20% that are not able to send an assignment or to save without her help. There are also students that have difficulty finding information to complete their assignments. Many students don't take the time to read the instructions from top to bottom where they will find the steps to follow to complete their assignment. Nancy agrees wholeheartedly.
Without quantifying, Éric makes the same observation as in class: there is a large diversity in students. Some are very much at ease with technological environments while others are really not.
Some Considerations for the Evolution of Distance Education
With the self-paced learning method, we take a gamble on autonomy. I would say that older students are like "coocoo clocks": they submit their assignment like clock work. However, younger students tend to be late and to not plan their work properly. They would like to submit 3 assignments at the same time. It doesn't work that way. For several of them, the deadline is often the first day of university.
Guillaume also finds it more difficult to have feedback to improve the course content. Teaching in front of a group allowed him to perceive non-verbal body cues, to hear comments from students and to note their attitudes and behaviours. For him, the experience of distance tutoring is very different.
Louise recalls the importance of professional development, because even though they are tutors and not teachers, you must still master the material: "The tutor service at Cégep à distance offers professional development by discipline on Skype and it is very effective."
The clientele is changing, which also brings challenges. Louise remarks that over the past few years, she has had more students from different cultures as well as a growing number of adult students who are returning to school. These 2 groups must often consolidate studies-work-family responsibilities.
For Éric, we must better identify the specific needs of immigrant students, preserving quality of the course content and of the guidance offered to the students. He hopes to have a greater collaboration between the fields of tutoring and design in the production and the evaluation of courses. His message: we must preserve the high level of expectations!
Nancy mentions the question of perseverance towards education, which is an important factor for her. She wishes to have more questions from students and to have more tools (and more time) to send reminders to students. She adds: "For the self-educated, it is an accessible and flexible method. And for a teacher with many children, it's a fantastic way to work!"