Articles
Published September 28, 2015
| Multidisciplinary
The College Network Is Getting Serious About Serious Gaming
I believe it was Bill Shakespeare who said "All the world's a stage and all the men and women merely players." He may have been on to something, as the college network showed its playful side during the Serious Games Conference, held at Vanier College on August 7th, 2015.
A lucky group of educators from the Greater Montreal Area had the foresight to register early in the summer for the conference, which boasted a long waiting list leading up to the event. The conference was organized by Avery Rueb, a French Teacher at Vanier who is using Serious Games to augment his teaching practice. As a co-founder of Affordance Studios, Avery seemed uniquely qualified to organize such an event, as he has been involved in the process of conceptualizing, designing and rolling out games of this type. Avery previously wrote a story about one of the games he uses in class on Profweb. He certainly organized an ambitious and impressive program for the day, which was an effective balance between presentations and hands-on experiences.
A Promotional Video for the Serious Games Conference
So what exactly is a Serious Game? One of the presentations during the event offered the following definition of Serious Games from Clark C. Abt:
Serious games have an explicit and carefully thought-out educational purpose and are not intended to be played primarily for amusement. -C.ABT (1970)
Serious Games are not necessarily a new phenomenon. I was playing Lemonade Stand and Where in the World is Carmen Sandiego? on Commodore computers in elementary school roughly 35 years ago. However, as various technologies advance, they seem to be garnering more and more attention in education, with substantial amounts of money being invested by the Department of Education in the United States, to better evaluate their impact. Judging by the variety of REPTICs, ministerial IT Partner representatives and even management staff from multiple colleges that attended the conference, I would say that the Quebec college network is also taking a closer look at using these tools for learning.
What follows is a summary of the different conference blocks.
9:00 – 9:45 - A Virtual Keynote Presentation
The day began with us connecting via GoToMeeting to a keynote speech that was simultaneously taking place at another Serious Gaming conference in Albany, New York (already in its 10th year of existence). Steve Isaacs, a serial entrepreneur and Grade 7 Teacher addressed the audience with his talk on passion-driven teaching and learning. Isaacs has been honoured as a Teacher of the Month by Code.org, which promotes computer science and the increasing participation of women and underrepresented people of colour within this discipline.
Isaacs expounded the virtues of a choice-based learning environment that promotes ownership of the learning by allowing students to pursue their passion. For some of his students, their passion is Minecraft - the extremely popular virtual sandbox game. Isaacs showed videos of students that had created 'redstone' contraptions inside of Minecraft. They essentially 'programmed' their own mini-games within the larger game. The use of redstone mimics the real-world use of logic and circuits in electronics. So students are learning a useful real-world skill through trial and error while they play.
10:00 – 11:45 – The Game Arcade
After a short break, attendees were handed a tablet or laptop with a pre-loaded Serious Game application or website. The attendees were encouraged to play for a few minutes and move on to another game, while noting the strengths and weaknesses of each, as well assigning the game a score based on educational value and fun.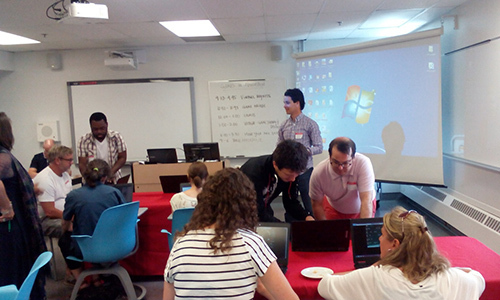 Avery Rueb (near projector screen) monitors the participants during the 'Game Arcade' activity
Here is an abbreviated list of some of the games that were explored:
Oiligarchy – A game where you are an oil baron seeking to make your company profitable by any means necessary
Sweatshop – Run a clothing factory in a developing country
Darfur is Dying – A series of survival challenges that take place in an area of conflict
McVideo Game – Try to run your own McDonald's restaurant with aspects from managing the supply chain to HR management
Fatworld –Control the nutritional policy for a city to maintain the health of citizens –
Foldit – Solving puzzles for the advancement of science
Luckily, some Vanier student volunteers were on hand to guide us through the Arcade and help us out when we got stuck or had any technical issues.
At the end of this conference block the attendees had a vivid discussion about what they liked and disliked the most about the games. While the games ranged from thoughtful to humorous and quirky, it was clear that many of the Serious Games had a message or certain bias to impress upon the player. The games represent an interesting way of engaging the learner in a subject matter or simulation. For the attendees, it was easy to see how the not-too-subtle messages within some of the games lend themselves to an in-class discussion.
13:00 – 14:00 – Serious Games – History and Overview
The afternoon kicked off on the right foot with a presentation by Pascal Nataf of Affordance Studios, who also lectures at the Université de Montréal. Nataf prefaced his talk by saying that he doesn't feel that the name Serious Games hits the mark with these type of games, since a game doesn't need to be serious to be educational. He then proceeded to thrill the participants with a fascinating overview of the importance of gaming as a phenomena before launching into a whirlwind history of gaming, providing an overview of Serious Games, addressing the increasing use of gamification, and taking a look at good and bad games. He concluded with a glimpse into the future.
Did you know that the board game Monopoly started as an educational game designed by Elizabeth Philips, who was trying to show the negative impact of allowing land-owners to create monopolies? Me neither!
Nataf stated that 67% of North American households play video games, and that the average age of a gamer is 34 years. One example of a good Serious Game cited by Nataf was Re-Mission by Hopelab which was designed to give kids with Leukemia a sense of mission, to feel empowered to fight and to stick with their treatment. In the game, the players destroy cancer cells. There is anecdotal evidence that the game even improves dialogue between the children and their doctors.
The attendees quite literally couldn't get enough of Nataf's presentation and encouraged him to forge on, even though he had to go beyond his allotted time! Many of us were ready to sign up for his course at the UdeM!
Pascal Nataf, lecturer and co-founder of Affordance Studio presents a fascinating talk on the history and theory of gaming
14:00 – 15:30 – Making Our Own Games
Next up was Kim Berthiaume, who facilitated a session where attendees brainstormed and developed a new game. This was done using a tool called GameStorm which is a set of cards with a series of essential gaming components. These helped the participants to better conceptualize their games (choose a genre, choose a theme, technology to be used for the game, etc.).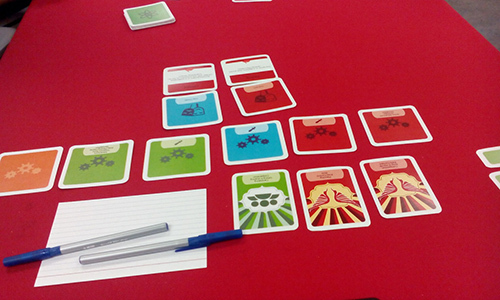 The GameStorm conceptualization tool in action during the Make Your Own Game activity
Our team developed a game called Le chou chou du Prof, in which a perpetually late and disorganized protagonist competes with another student to be the Teacher's Pet, employing every trick and excuse in the book to stay in the Teacher's good graces.
At the end of the official program for the conference, attendees were invited to a reception at the Ville Saint-Laurent Technohub, which houses start-ups and young companies in various technology-driven activities such as Virtual Reality, 3D Printing, Serious Gaming and the Internet of Things device development. Many of the attendees were treated to a demo of a virtual reality environment by the company Beam Me Up Games.
It is an exciting time to be in Education, with the wealth of tools to create applications and games. I would wager that the college network will be 'getting in the game' more and more over the next few years, using Serious Games as part of new pedagogical approaches and engagement strategies. And if we twist Avery Rueb's arm a bit, there may even be another conference next year!
Are you experimenting with Serious Games in your teaching practice? We'd love to hear more. Please use the comments box below to share with us!