Articles
Published May 7, 2018
| Multidisciplinary
Spice Up Your PowerPoints With 2 New Apps
PowerPoint is one of those ubiquitous software programs few tend to laud. We've all sat through at least one tedious presentation commonly referred to as "death by PowerPoint." Yet because of its relative user-friendliness, many teachers still rely on it as part of a lecture or to share content with students. Rather than introducing alternatives to the slideshow format, this article presents 2 applications that work hand-in-hand with PowerPoint to make it a more effective, dynamic and inclusive experience: SlideLizard and Hypersay (which also works with Google Slides).
What's Wrong with Presentation Slides?
In educational settings, the main points of criticism on slide-based presentation formats such as PowerPoint, Google Slides and Keynote are not aimed at the software per se:
Presentations or lectures are not learner-centered.
Presentation slides give students fewer opportunities for cognitive processing.
Students retain less of the information that is conveyed verbally.
Delivery can be flatter or more static when sticking too close to the slides' content.
In light of these pitfalls, some institutions have gone as far as to ban their faculty from using PowerPoint. Yet, surprisingly, several studies clearly indicate that students prefer their teachers to use presentation slides over alternatives such as a blackboard, whiteboard, or no visual support.
While alternative applications and platforms such as Prezi represent refreshing ways to present content, they are subject to the same pain points. Rather than proposing an entirely different solution, SlideLizard, a free PowerPoint addin, and Hypersay, a cloud-based platform compatible with Powerpoint and Google Slides, provide teachers with interesting features that help them overcome these hurdles and lead to a richer presentation experience.
SlideLizard Enables Interaction Right Within PowerPoint
After downloading the SlideLizard installation file, running it will integrate the addin directly into PowerPoint. In order to enable communication with the SlideLizard server, which handles the interactive features, users are invited to create a profile. Since SlideLizard does not change PowerPoint's interface or workflow, using it is particularly straightforward.
SlideLizard is compatible with PowerPoint 2010 and above, on Windows 7 and above. At the time of writing, the addin is not yet compatible with Office 365. The free version of the platform is fully functional but limited to 20 slides per presentation, and allows a maximum of 20 students to connect. A subscription version does not have this limitation.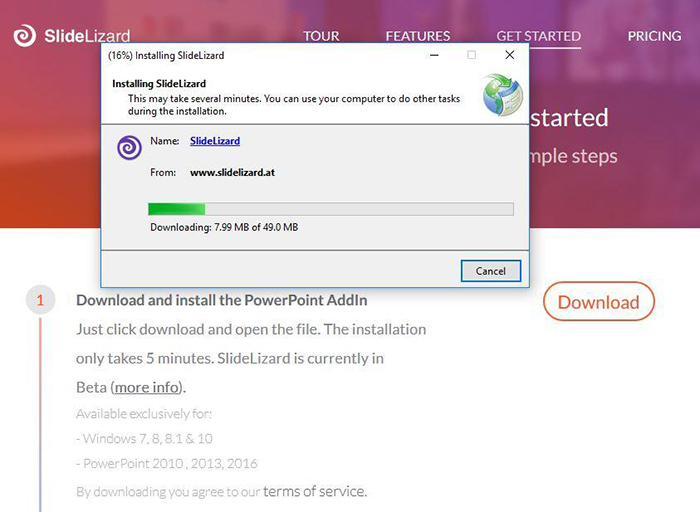 SlideLizard is distributed as a downloadable file that integrates into PowerPoint upon installation.
Students can access SlideLizard's interactive features by joining your presentation in a browser window, using the code generated by your addin. If you plan to regularly use the platform with your students, they can also download the free app (only available for Android at the time of writing).
When creating a new PowerPoint presentation or editing an existing one, you can add interactive features from the SlideLizard tab that appears in the top navigation menu:
Automatically share slides with your students. If you make slides downloadable, a PDF will also be made available. This is useful if your students have access to an electronic device that allows them to take notes directly on the visual support.
Automatically share external content, such as weblinks and videos. Students get access to a list regrouping all resources. This function also allows you to easily distribute electronic documents you want your students to consult.

Share slides, external links and additional documents easily and automatically with your students

Create and administer quick polls right within your presentation. Multiple-choice questions can include text and images. This is particularly useful to quickly assess comprehension and to keep your students engaged. It also avoids having to switch back and forth to other online polling platforms.
During the presentation, receive students' questions in text form directly in presenter view. Everyone can submit their questions as they come up, while giving you the flexibility as to when and how to deal with them. Questions also remain available on the SlideLizard platform afterwards, so you can answer questions in text format. These are automatically associated with the slide they concern.

Students can ask questions in text format by logging on through go.SlideLizard.at/, or by installing the app if they have an Android device. (Image source: SlideLizard website, used with permission)

Move around more freely by using the SlideLizard app as a remote control. This allows you to switch slides with your smartphone or tablet using the volume keys, even when the screen is off. It also allows you to consult student-submitted questions.
After class, automatically distribute a short feedback survey. Students can give a star rating out of 5, which you can associate with a factor of your choice; e.g., their level of understanding of the material. They can also leave comments in a freeform text field.

SlideLizard allows you to easily obtain feedback from your students, for instance on their level of understanding. (Image source: SlideLizard website, used with permission)
HyperSay Adds a Cloud-Based Interactive Layer
If you are an Office 365 or Google Slides user, Hypersay offers you similar features. Rather than functioning as a plugin, it offers a cloud-based solution. The free version is more than sufficient for classroom use, with the number of participants capped at 120. After creating an account, users can upload their existing PowerPoint or Google Slides presentation file. Then, they can add interactive elements to each slide on the Hypersay platform using the "Prepare" function.
After importing an existing slideshow, users can add interactive content and present it using the online Hypersay interface.
These interactive elements can take the form of:
Multiple-choice polls
Yes/no questions
Links or additional explanations in text-format
Images
Embedded YouTube and Vimeo videos
It is important to note these added elements only appear when presenting through the Hypersay platform; they are not added to the actual PowerPoint or Google Slides file.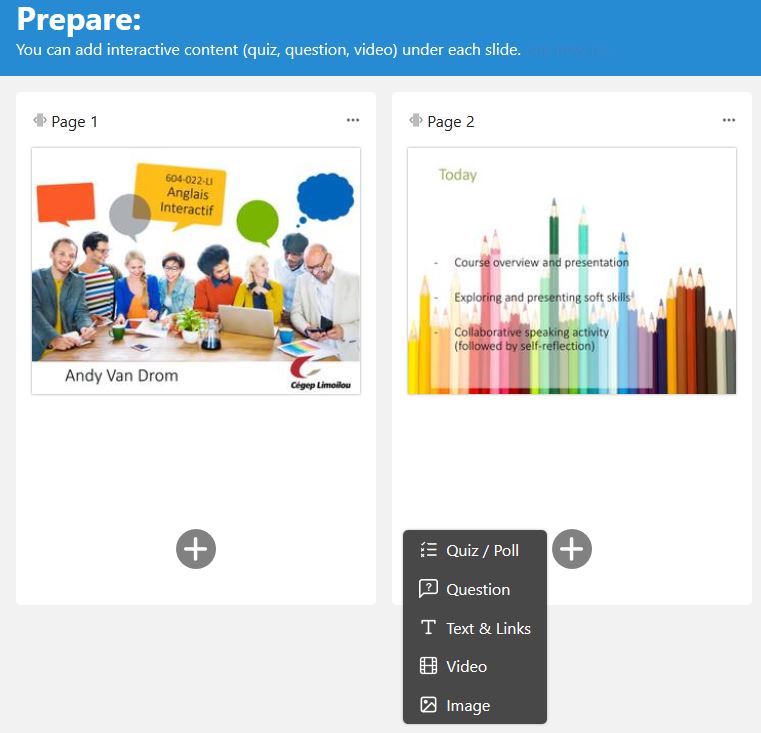 Added interactive content can take the form of polls, yes/no questions, and additional resources.
Interactive presentations are also initiated and given using the online interface, by clicking the "Go Live" button. At this point, students can join the presentation by browsing to the Hypersay homepage from their portable device and entering the code displayed. This turns their screen into a mirror of the projected content. Students can return to slides previously presented, but they cannot access slides you have not covered yet. This also allows students to use their device to:
Take notes on slides and save them (which requires they create a free profile)
Participate in polls
Submit text-based questions viewable by all and which can be upvoted by fellow students
Access additional resources (after the presentation ends)
Provide feedback once the teacher ends the session (star rating and text)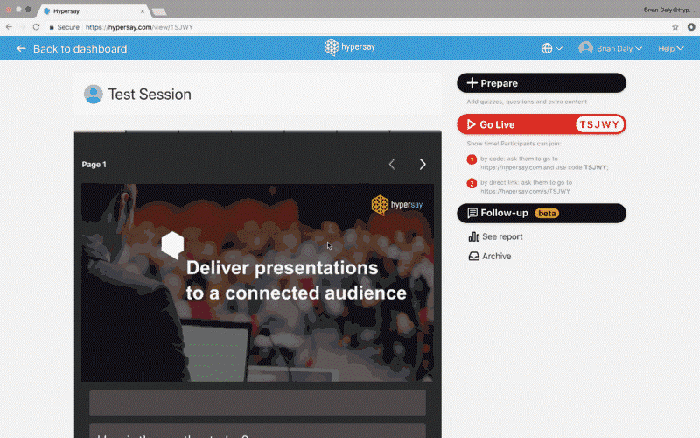 After ending the presentation, a feedback form is automatically displayed. All participants then also have access to the presentation slides, their personal notes, and any additional resources shared by the teacher.
3...2...1… Interaction!
Apart from the remote control function, which is absent from Hypersay, both platforms offer very similar features. While many other apps, software programs and websites offer one or more of these functions, the added value of SlideLizard and HyperSay lies in the fact that they integrate all of them in a convenient and cohesive solution, whether right in PowerPoint or through an online interface.