Articles
Published April 29, 2012
| Multidisciplinary
Small and Grand Passions - Teachers Express Their Opinion on Their Choice of Academic Software and Web Applications
Spring's renewal often results in surprises — but at APOP, some predictable rituals remain. At this time of year, our users and members are regularly asked to update our view of their assistance and development needs integrating educational technology. During the last several years, this activity has become a cornerstone in APOP's annual calendar, enabling our organization to establish its support activity planning priorities promoting information technology integration.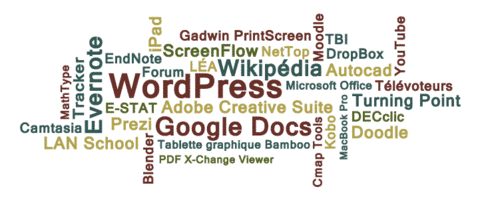 Widely used applications by Québec's college teachers
Using the licenced Openfield Survey tool (from REP Solution), an online poll targeting all public and private, Anglophone and Francophone colleges was conducted from April 13 to 19. Of the 250 teachers who answered our call, 58% were female and 42% male. The 40-49 year-old age group represented 37% of all respondents, the 30-39 age group 30%, and the 50-59 year-old group 27%. Furthermore, 51% of respondents indicated that they work in the technical sector, 48% in the pre-university sector, and 11% are involved in teaching and research in basic and applied pedagogy.
To develop survey content, we consulted the recording and outcomes of the French Language Lunch and Learn event called "Trouvailles et coups de cœur" (The Year's Best) held on APOP_en ligne last March 27.
Among the results of this analysis was that each application category has a definite leader. A large gap developed between these leaders (one or two applications) and the other tools in each category. Clearly, the leaders attract the interest of a large proportion of respondents.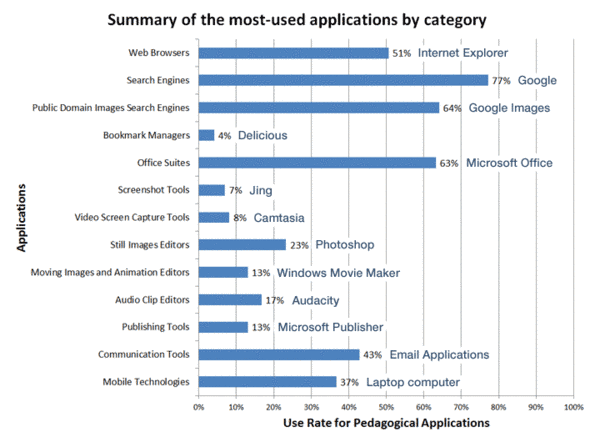 Summary of Most Popular Applications
In addition, development questions about academic context, where these applications are used, produced interesting results. Respondents confirmed that they became aware of resources (software or web) quite accidentally, for instance through the workplace (colleagues, information disseminated by the media, chance contact with a user, students, etc.) or through educational technology promotional events (pedagogical days, credit and non-credit professional development activities, etc.) In addition, the results (A summary of survey results is available upon request by contacting info@apop.qc.ca) specifically reflected interest over the applications listed in the survey, and a desire to learn more about their potential. Among these emerged a strong interest in public domain software and micro-applications with features targeting specific disciplines, including the tools dedicated to mobile technology. More precisely, when asked on their favorite tool or application, 42% of Anglophone respondents suggested online software (DropBox, YouTube, Facebook, etc.) and 33% the use of clickers in class. Also, among the pedagogical practices they would like to try out, a strong majority of teachers (92%) pointed to decentralized learning strategies (flipped classroom – 50%, elearning – 25%, hybrid|blended classroom – 17%).
Although we are quite aware of the limitations of such an exercise (limited sample validity, incompleteness of identified applications, etc.), the fact remains that this survey sketched teachers' interests in emerging trends, information which should be considered in establishing priorities for a coherent exploration of technology in education.
In accordance with the activities and mission of APOP over the past three decades, we believe that determining teachers' expectations within the workplace contributes to the integration of IT, a phenomenon that now seems inevitable and linked with student success.
How are you contributing to the discovery of appropriate technological resources for postsecondary education?