Articles
Published November 12, 2019
| Multidisciplinary
Remix Ed 2019: An Un-conference Summary
On November 2nd, 2019, educational stakeholders gathered in Downtown Montreal to attend the RemixEd 2019 "un-conference." The event, billed as "led by educators for educators," was organized by LEARN Quebec in collaboration with Concordia University. A cross-section of stakeholders from elementary and secondary schools, adult and vocational education centres, the college network and universities were in attendance.
This video describes the RemixEd unconference approach. This video was used to kick off the event on November 2nd.
Event kickoff and attendee initiation
The day began with some words of welcome from LEARN Quebec's Chris Colley who presented the video above. Unlike traditional conferences which are usually organized by a committee with topics that are pre-determined well in advance, an un-conference follows a bottom-up democratic approach where the attendees propose the topics that they would most like to discuss on the day of the event.
The agenda for the day included a keynote presentation, 3 participant-generated discussion blocks and an app smash/teacher-tip session.
For those participants who were new to the EdCamp or unconference format, explanations were provided in both French and English. Bistro tables with sticky notes were provided for attendees to post the subjects that they were interested in discussing throughout the day. The event staff then organized these notes into common themes and selected a time and breakout room location for the discussions to occur.
Participants were encouraged to use the event's Twitter feed throughout the day to share their insights and things that they had learned.
Sticky notes adorn a mobile whiteboard used to organize attendee-generated ideas for discussion for the second session block of RemixEd.
Keynote on "making" in the classroom
Educational Technologist and author, Josh Burker addressed the conference attendees with a talk entitled Making in the Classroom - Constructing Knowledge Around Personally Meaningful Topics or Skills.
Josh Burker works with K-12 students and feels that their primary role is to play. Teachers can facilitate this play. He uses maker projects where students construct electronics and program them. While it is useful to provide step-by-step instructions, students should also be encouraged to remix these recipes to try new things. Students learn several important skills from multiple disciplines in maker projects, which is one of the reasons Josh Burker recommends this approach.
He also talked about the changing role of some teachers and admits that we cannot be technology experts in everything: "Letting go of the desire to be the expert in the room is empowering both for you and for your students."
Josh Burker presenting his talk on the importance of play and the maker approach.
Session 1: Rethinking educational spaces
The first session I chose to attend was a roundtable discussion with some familiar faces. Tracey Rosen and Avi Spector moderated discussions about how we can transform our classrooms. They used a Google Slides slide deck with pictures of transformed educational spaces and 2 questions to facilitate the discussion and inspire attendees.
Each person at the table shared what they are doing in their educational establishment to change their classroom configurations or what they would like to do in the near future. Many are remodeling their classes, moving desks around to allow for more collaborative spaces, acquiring modular furniture and installing charging stations for mobile devices.
A screen capture from the Google Slides presentation Tracey Rosen and Avi Spector used to inspire discussion.
Session 2: Using VR in vocational training and other educational contexts
The second session that I attended was led by James Burn, a RÉCIT member working in vocational education.
James' presentation explained how he is using virtual reality in a vocational context to allow students to try different techniques in a virtual environment that they would not necessarily be able to do in the real world without breaking parts or having accidents. One of the apps he uses in auto mechanics is called Wrench - a garage simulator where you can change brakes and tires and even rebuild an engine. He notes that both teachers and participants are engaged when VR is used in the classroom.
What I appreciated most about James' presentation was his teacher induction process for using virtual reality. Over 3 hands-on workshops (2.5 hours each), teachers are provided a demo of the VR technology, they discuss potential pedagogical approaches and learn to set up the equipment and configure the software. This is all designed so that teachers become comfortable with the technology.
James rounded out his presentation with slides showing the different generations of virtual reality equipment offered and reminded attendees about security and hygiene considerations when using the technology.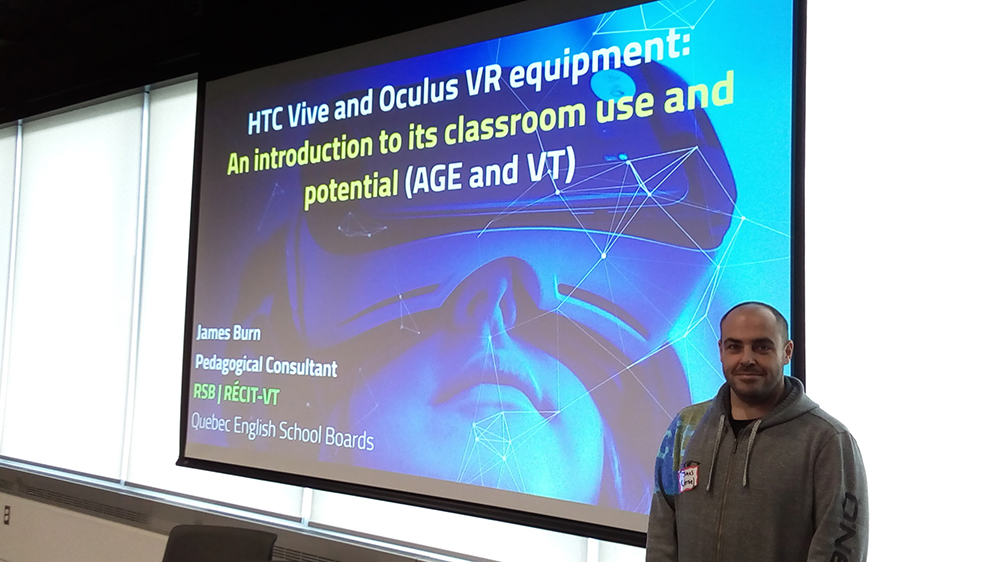 James Burn, a Pedagogical Consultant and RÉCIT for Vocational Training delivered an insightful talk on the pedagogical potential of Virtual Reality and described his process for teacher induction using VR.
Interlude: An "un-lunch" and an "app smash session"
As there was no formal lunch hour to keep the conference schedule tighter (it was a Saturday after all!), attendees visited an "energy bar" for snacks and refreshments. Between session 2 and 3, attendees grabbed their snacks and congregated in the main conference room for an app smash where each presenter has 60 seconds to talk about their new favourite educational mobile app or website.
The attendees that wished to do a presentation added their app to an app smash list in a Google Doc that was updated on the fly by the session moderators.
There was a great variety of applications from the Indiginous Peoples Atlas of Canada app to a website to manage classroom activities called ClassroomScreen.com, billed as a "Swiss Army knife for smartboard or projector."
The App Smash document with a partial listing of the technologies that were described during 60 second presentations from the attendees.
Session 3: An un-session!
During the 3rd session, I decided to wander from room to room on the 9th floor of the John Molson School of Business building at Concordia. This sort of mobility was actually encouraged by the organizers to ensure that attendees were getting what they needed out of the day!
I eavesdropped on one discussion being held in a breakout room, went to the energy bar and learned about an educational project developed by the RÉCIT network then headed to the maker space to see what the children of the event attendees had created during the day.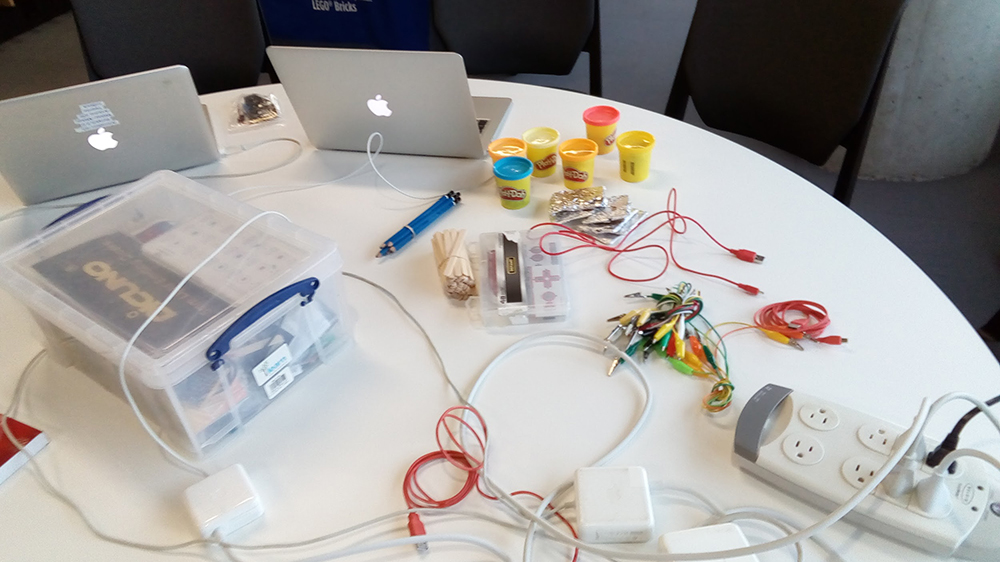 One of the tables in the maker space included laptops, a single-board computer and various electronics for attendees and their children to build and program their maker projects.
Final thoughts
The day ended with a 30-minute block called "Giveaways and Goodbyes" where event organizers thanked the attendees who participated actively in discussions throughout the day. Almost all the attendees left with some sort of educational swag donated by conference sponsors.
Reflecting on the day, I can honestly say that the experience is one I would like to repeat. I wholeheartedly encourage members of the college network to attend and share their knowledge at RemixEd in 2020!