Articles
Published May 3, 2009
| Multidisciplinary
PUNTing IT Success at John Abbott College
Faculty and administration at John Abbott College initiated a dynamic asset to assist in the integration of information technology into the school's academic life nine years ago. The Pedagogical Use of New Technology (PUNT) Committee was established at John Abbott College in 2000 as a sub committee of the Academic Council. Its function was to review ICT issues brought to Academic Council for advice.
The mandate of this committee, however, was not purely advisory but dedicated to enabling students and teachers at John Abbott College to appropriately use technology to enhance teaching and learning. It accomplishes this mission by:
Recommending the types of support needed by Faculty in the application and use of information technology in the instructional process and for course and program management to the Academic Council.
Recommending the level of student computing facilities needed to provide access to up-to-date hardware and software within the available resources again to the Academic Council.
Advising the Academic Council on alternative sources of funding for Information Technology (IT).
Advising the Faculty Professional Development Committee (FPDC) of the needs for professional and pedagogical development for the Faculty in the area of IT.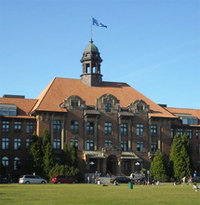 IT at the beautiful campus of John Abbott College - More than just a pretty face!
The composition of the committee is very diverse and takes in members of the administration and the student body. Faculty participation consists of up to eight faculty members, with as much representation from different departments as possible, and one member (faculty, professional or staff) from Continuing Education. The Committee has been opened up for new members to be representative of the College community as a whole.
As of September 2008 the College also has an active PUNT Community on their Intranet platform, where interested students and staff may join. Interesting ICT articles from a variety of sources are posted regularly, including the French and English versions of the Profweb weekly newsletter, announcements of ICT workshops, discussion forums, etc. Members, upon request, may also become Content Managers of the PUNT Community and provide updates that they think will be of interest to the group.
Recent activities of PUNT illustrate how the existence of this committee has served to promote IT on campus. Key activities since February 2008 include the following:
Round table discussions on IT visions for the College and the PUNT Committee within the College community.
Round table online chat/discussion on Course Management Systems for the future. This chat was held in a Moodle classroom.
Discussion on the future of the Blackboard License (note: the Blackboard Learning System, Basic Edition was not renewed at the end of the 07-08 academic year following consultation within the College).
ICT Appropriate Use Policy - Review of policy and implementation on appropriate use of ICT - this remains a work in progress at the College and is currently being reviewed by the College Directors.
Two meetings were recently held to discuss an eLearning Policy proposal. A faculty member was granted release time to develop an eLearning Policy for John Abbott College. This remains a work in progress with a recent draft of guidelines posted for consultation by the College community. The draft is entitled "Guidelines for use of ICT to replace class time at John Abbott College".
A recent e-mail sent by Johanne Raymond of Collège Lionel-Groulx to all IT Representatives asking for information about how to start such a committee at her school has made me realize what a dynamic asset to IT our PUNT committee has become. I am curious to learn more about user committees elsewhere. How widespread are they? Are they as dynamic in your school as PUNT has become at John Abbott? Please use the Reader Response Feature below to share your experiences and opinions on this topic with Profweb's readers.