Articles
Published March 2, 2009
| Multidisciplinary
Profweb - Your Gateway to a Wealth of Information
Profweb calls itself 'The Quebec College Crossroad for IT Integration,' but a quick browse through the web site shows that the term covers a lot of territory. However Profweb is defined, the key to its success is allowing users to easily access information that they need for effective IT integration. The following descriptions all apply:
A Portal
This is Profweb's raison d'être. Created through the efforts of our IT Partners, Profweb features their products and activities. Certain IT Partners contribute to the site directly. An example is the once every second week listing of resources in our News department by La Vitrine Technologie-Education. Our banners, stories, professional development listings, resource listings, reports and other features highlight the activities of our IT Partners and contain links that make using them easy.
A Resource
Some new users of Profweb initially see the links in our resource listings, provided by La Vitrine Technologie-Éducation, as a resource in its own right. Although we're pleased with their enthusiasm, we wouldn't want readers to miss out on the functions of our Reports, Stories, Columns and other features.
A Content Management System
Content is always available in such systems, and Profweb certainly meets this criterion. Our growing resources are a reflection of our continuing success, and the constantly increasing amount of material is accessible by indexes in our various sections.
Our readers are on our pages to either browse in order to remain aware of the latest IT developments or for a specific IT need. For our readers who browse, we provide our Columns and Stories as well as other features which can be quickly accessed through our 'Hot Off the Presses' listings. Readers in search of specific information are invited to use the Research function.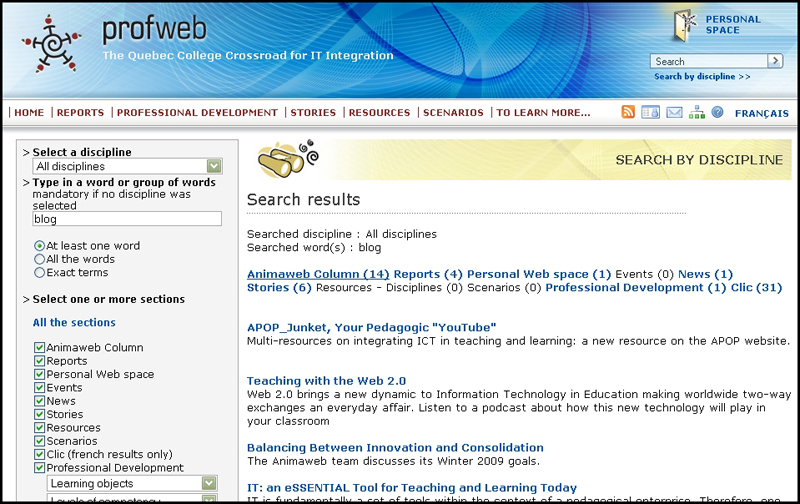 The Blog Search
The Research by Discipline function was incorporated into Profweb in Fall 2008. When there is a lot of material available on a specific topic, Research by Discipline can refine searches productively. When the topic is less discussed, this feature can be eliminated in order to receive more general results that can be adapted as required.
Researchers on our pages, who do a non-discipline specific query for 'blog' will receive a result similar to the illustration above at left. An amazing fourteen columns mention this word. Four reports broach the concept and further information is available in our Personal Space, News listings and Professional Development sections. As a blog is a tool, the range of stories (6) is bound to inspire college educators. The mass of information stored in our pages is beginning to pay off handsomely for our readers, and our research function is an important tool to make this information accessible.
The Research function is language specific, but bilingual readers can easily click from English to French and do a separate search there. An indication of the wealth of resources in French is the 31 references to articles in our French language magazine Clic (which can be accessed in an English search). Recently Clic ran a special feature on blogs. Much of this material came directly from Profweb's pages and only hinted at what is available on-line.
The value of managing our content is becoming increasingly evident although information does go out of date. We're beginning a program to update our reports so that this information remains of value to our readers. In the coming months, you will see highlights of our updates to reports noted on our Home page. In English, this process is scheduled to begin in the first week of April. Naturally, we invite our readers to make comments to signal ongoing developments in the information on any of our pages. You can begin right away by using the Reader Response Feature to share your Profweb experiences with your colleagues and to discuss how Profweb has helped or could help you.