Articles
Published April 2, 2020
| Multidisciplinary
Performa is Offering a Non-Credit Online Course About Blended Learning in College Education for Free
This article is a translation of a text published in the French edition of Profweb.
Are you interested in blended learning? Do you already give blended learning courses and want to hone your skills or, on the contrary, do you not know anything about blended learning and are just curious? Performa has created a SPOC (Small Online Private Course) for you! This non-credit online course is available for free for all college teaching staff.
A SPOC?
A SPOC is a bit like a MOOC (Massive Open Online Course), but that targets a specific audience (the teaching staff of colleges, in this case) rather than being open to anyone. As it is a non-credit course, only formative evaluations are planned. However, it is possible to continue the training in a for-credit course, an advantage to consider for some.
The designing of the SPOC was the subject of a presentation by Nathalie Marceau, pedagogical counselor at Performa and coordinator of the project, during the 2020 Distance Learning Week of the FADIO [in French]: "Nouvelles tendances de cours en ligne (MOOC, SOOC, SPOC, etc.) et conception d'un SPOC portant sur la formation hybride". The SPOC is based on the most recent scientific knowledge all the while adopting a vulgarized and accessible approach.
Recording of the workshop "Nouvelles tendances de cours en ligne (MOOC, SOOC, SPOC, etc.) et conception d'un SPOC portant sur la formation hybride" (in French), organized as part of the 2020 Distance Learning Week of the FADIO.
What will I learn?
The SPOC will allow you to learn more about blended learning and its different forms.
In this particular period that we are living through, the necessity to develop competencies allowing us to teach online appears more and more like a must. This SPOC is a simple, efficient, and flexible way to acquire the knowledge necessary to help develop a blended learning course.
If you want to develop a blended learning course, after the first half of the SPOC, you should know how to do it, with what approach, according to your reality and your context.
In the second half of the SPOC, good practices in blended teaching, documented by scientific literature, will be presented to you.
How does it work?
Go to the introduction page of the SPOC, then click on the "Enroll" button. You will then get a code to access the SPOC on the Moodle platform. The first wave of the course will start on April 6, 2020, but enrolment will be accepted until April 17. A second wave is planned for May, and a third one for the fall semester.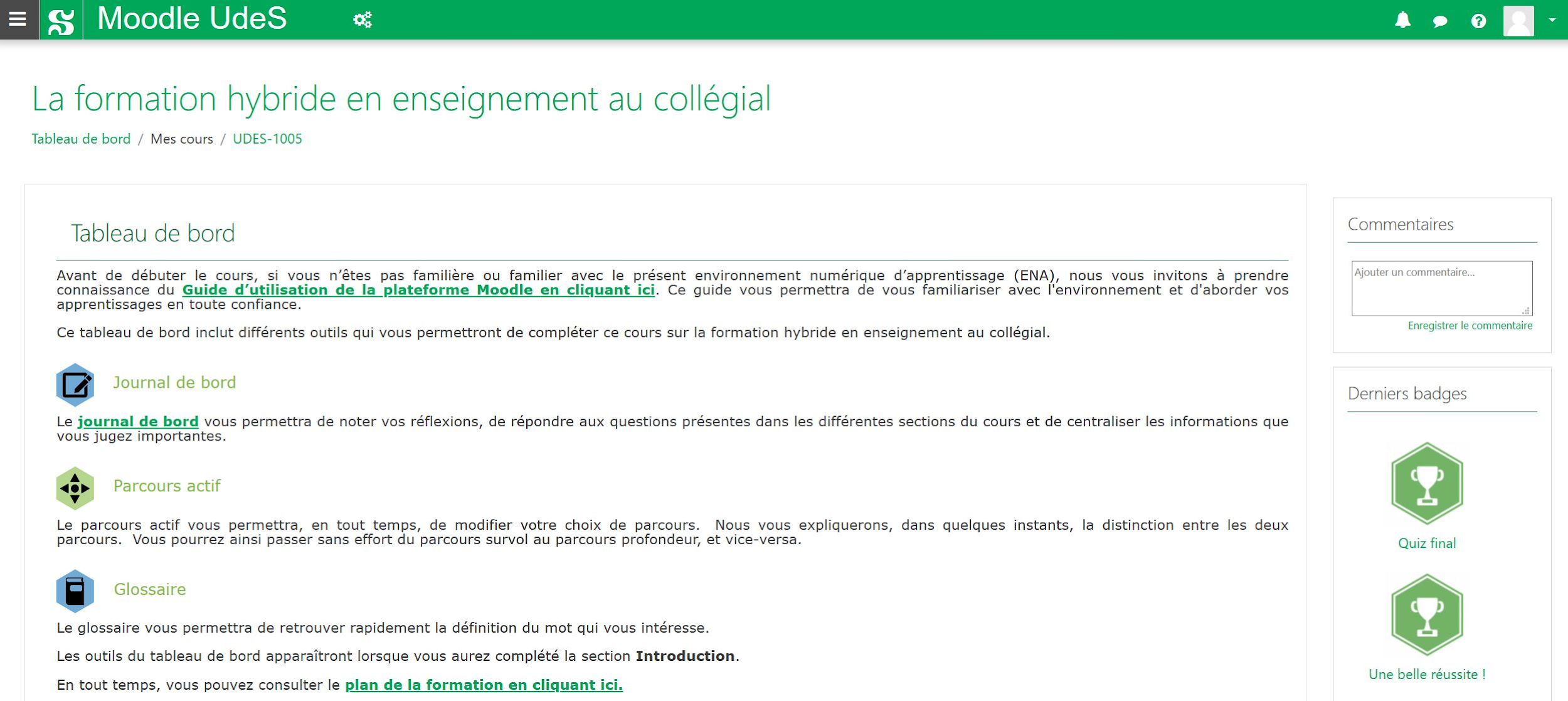 Dashboard
The course is self-study and you take at your own pace and according to your desired level of involvement. You will have the choice between the overview and in-depth tracks. In both cases, you will see the same content, but the in-depth track will give you access to more formative evaluations and complementary resources.
Quick look at what an in-depth quiz looks like.
The overview track will take you about 8 hours, while the in-depth track will take 15 hours. At any time, you are free to switch track.
Course outline, with the 2 tracks offered.
At all times, discussion forums will be moderated and will allow the people enrolled to exchange with one another.
A synchronous webinar is planned between all the people enrolled for the course and the pedagogical team on April 29, 2020, halfway through the program, in order to conduct case studies and answer questions.
This SPOC was conceived from various reference frameworks, including:
Many means of representation, action, and expression, are suggested throughout the class to foster involvement. The course material takes many forms:
written presentation
podcast
glossary
synthesis tablev
questions
etc.
Overview of the activities of the first section of the course
The content of the SPOC will remain available until December 2020 in order to be able to consult it if needed. Visit the Performa website between March 30 and April 17, 2020, to enroll for free for this non-credit course!
Acknowledgements
Thanks to Sawsen Lakhal, associate professor at the Faculty of Education at Sherbrooke University, to Caroline François, administrative and information coordinator at Performa, and to Nathalie Marceau,pedagogical counselor at Performa, for their collaboration in the writing of this article.