Articles
Published November 23, 2020
| Multidisciplinary
Orchestrating Digital Transformation at the Collège d'Alma COlab
The CEGEPs across Quebec that are situated in regions outside of the province's large cities are key socio-cultural and economic actors that drive innovation and support businesses in these communities through training, technology transfer and partnerships. The Collège d'Alma is inspiring regional innovation with a new initiative known as the COlab. I recently spoke with COlab consultant Alexandre Enkerli to learn more about their digital transformation projects.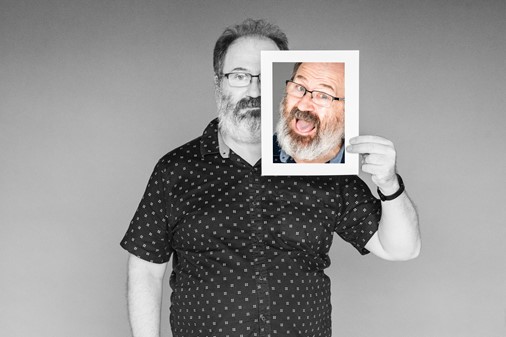 COlab consultant Alexandre Enkerli. (Credit: Simon Émond)
Defining the COlab
According to Alex, the COlab is a living lab for regional innovation. It is an initiative to drive social innovation for the region by helping stakeholders from the private, public and social sectors to develop and integrate digital age competencies. COlab [in French] is not only targeting partners in Alma, but is looking across the entire region of Saguenay Lac St-Jean for partnerships and potential projects. According to the COlab's social media, the COlab would like to work with the following stakeholders:
Businesses
Public organizations
Parapublic organizations
Community organizations
Artists and creators
Students
The wider community across the region
The COlab is contributing to the realization of the Quebec government's digital action plan, as a significant part of their work is to support local entrepreneurs in the digital transformation of their business. COlab has received the financial support of the Ministère de l'Économie et de l'Innovation du Québec, the Ministère des Affaires municipales et de l'Habitation du Québec, the Mouvement Desjardins, Rio Tinto, the City of Alma and the MRC for Lac-Saint-Jean-Est.
Alex states that digital literacy is something that people are interested in and his role is to find opportunities for his partners and shepherd them through the process of developing their digital ideas and bolstering their competencies. COlab plans to reach its objectives through action-research, co-design, experimentation and training activities. Indeed, Alma's Continuing Education department already offers an Attestation of Collegial Studies in Digital Transformation and is encouraging the department to become an active member of COlab's activities and outreach. The project team from COlab is looking to bring the expertise of the college to the people of the region. In essence, the COlab is about bringing people together in a space - whether virtual or physical - for creation and experimentation.
Alex points out that the COlab is not so much a hub of expertise, as much as a crossroads of expertise where people can meet and explore innovation together.
A sampling of current projects
A physical space for the COlab is currently in construction and there are confirmed plans for the installation of a Fab Lab and an immersive studio that uses Virtual, Augmented and Extended Reality. A datalab to increase data literacy throughout the regional community is also planned. Alex assures me that the ongoing construction of COlab building has not been a factor in developing new partnerships, as a number of projects are currently being run.
Alex is personally involved in another groundbreaking project at the COlab. He informs me that there is an effervescent classical music scene in the region where the Collège d'Alma is situated. Alex is co-coordinating the project under the supervision of Collège d'Alma Director General Josée Ouellet in a research and promotional partnership with a regional organization that specializes in music. The objective is to promote the musical talent of the region beyond the region through digital means.
We are bringing people together to codesign a series of opportunities so they can position themselves in an ecosystem for innovation through digital sound and music. The region has the 3rd highest proportion of artists in Quebec. We are putting people together to do things they didn't expect they could do using digital means. There is a lot that can be done to promote their work.
This project will break down barriers between actors in the music scene by partnering them with researchers and creating synergy with members of the music and sound technology programs from the Collège d'Alma.
A bright and innovative future ahead for the COlab
Alex informs me that the construction schedule for the COlab's physical space is on track, but the work of the COlab has clearly begun in earnest with a number of innovative initiatives. He assures me that the COlab is quite open to partnerships within the CEGEP system as well as partners outside the region that take into account the specializations each stakeholder brings to the table.
In his work as a COlab consultant, Alex prefers to look at the focus of his work as developing communities of expertise rather than on developing markets. There is such fertile ground for social innovation, like promoting the work of female entrepreneurs, helping small and medium size businesses, First nations approaches for sustainable entrepreneurship and the list goes on and on!
The Collège d'Alma is poised to benefit greatly from its exposure to talented stakeholders from a variety of sectors both in the region and beyond. Alex can already foresee a positive impact in terms of pedagogical innovations that are having an influence on teaching and learning in the curriculum.
Alex says there are many other initiatives in the funnel, and in the near future he would like to explore the potential for immersive technologies, Fab Labs and maker culture in addition to his work on music and immersive sound. In closing, he left me with some parting words that gave me pause for reflection.
If we don't explore, we don't innovate, if we don't innovate we are at the mercy of every change that happens.
About Alexandre Enkerli
An ethnographer by training, Alex has also been teaching at a variety of post-secondary institutions in the United States and Canada. His action-research activities focus on technological appropriation: humans making technology their own and making it appropriate for their contexts. While working as a technopédagogue for Vitrine technologie-éducation from 2014 to 2016, he honed in his approach in ensuring that technology enables learning instead of becoming an obstacle to learning. After a few stints in Ottawa (creating learning pathways for a cybersecurity accelerator and building a Massive Open Online Learning Experience on public engagement for the Government of Canada), Alex comes back to the Cégep network to undertake action-research in Saguenay-Lac-Saint-Jean for COlab.