Articles
Published November 6, 2012
Online Testing With Netquiz Software
Online testing seems like the wave of the future, but actually, it's a well-established tool. There are many software programs out there that create tests, but did you know that the CCDMD has developed NETQUIZ? It's a free software program that allows you to create Web-based tests without programming or HTML knowledge; both formative and summative quizzes can be created for any discipline.
There are presently two versions that are downloadable from the CCDMD website. Here is a short description of them:
Netquiz Pro 2.9
This version includes 11 different question-types such as matching, multiple choice, sequencing, short answer, multiple answer, fill-in-the-blanks, and true or false (just to name a few). Each question can be customized based on numerous parameters. For example, you can decide the number and type of answer choices, include 'clues' to help weaker students, and decide on the weighting of each question.It allows you to build questionnaires (SCORM), which can be submitted to the server. This means that the results are directly accessible to both teachers and students.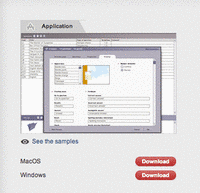 Netquiz pro 2.9
Netquiz Pro 4
This version includes 13 question-types. Like version 2.9, you can insert images, audio and video files and web hyperlinks into any question. Visual theme changes customize the questionnaires and feedback for each question can be specified as needed. This version does not allow for summative quizzes, meaning the results are not sent to the server. However, the results are seen on the screen and can be printed.
Netquiz Pro 4
To see a demo showcasing many of the question-types, go on CCDMD website.
In NetQuiz, you can create question banks that can be reused as you like. For example, you can reuse questions, and slightly modify them in regards to order or answers, choice of answers, etc., when you go from a formative to a summative evaluation. Or you can create different tests for different students (if you want to ensure no cheating happens!).
Probably the most pedagogically interesting aspect of Netquiz is that each question can deliver feedback that is available with one simple click. Students can click to submit their answer, or can click to see the correct answer. Both of these options have a space where the teacher can add an explanation as to why the answer was correct or incorrect. You can write detailed or non-detiled feedback as you wish. That's what makes this software personalized to your needs.
Netquiz Pro 4 Results Page Demonstration
So you're probably thinking: "Ok, the software does all this….but what does it LOOK like? Will students be interested in doing the quiz?" Well, the answer is simple. In version 4, there are themes that can be incorporated but if you are handy in design (or know someone who is), you can create a theme that meets your needs. The CCDMD is always available to advise on how to best do this.
In a nutshell, Netquiz allows you to personalize tests that you don't have to correct! A web version, entitled Netquiz Web, is in development and will be available in 2013. This version requires no uploading to the server, so it will be easier to navigate and also includes new functionalities that will simplify your life. With NetQuiz Web you will be able to create summative evaluations as well.
The CCDMD will be participating in an APOP seminar with Profweb on December 6 and will show you what NetQuiz can do. If you are interested in knowing more, please sign up! This event will be open for registration shortly. In the meantime, feel free to contact me with your questions at pcake@ccdmd.qc.ca.