Articles
Published June 2, 2014
| Multidisciplinary
Netquiz Web moves to netquiz.profweb.ca
Netquiz Web, the proud successor of Netquiz Pro, is a multi-user, multi-lingual web application developed by the Collegial Centre for Educational Materials Development (CCDMD). Netquiz Web allows the user to create formative multimedia exercises, question games or tests and post them on the web with a simple click.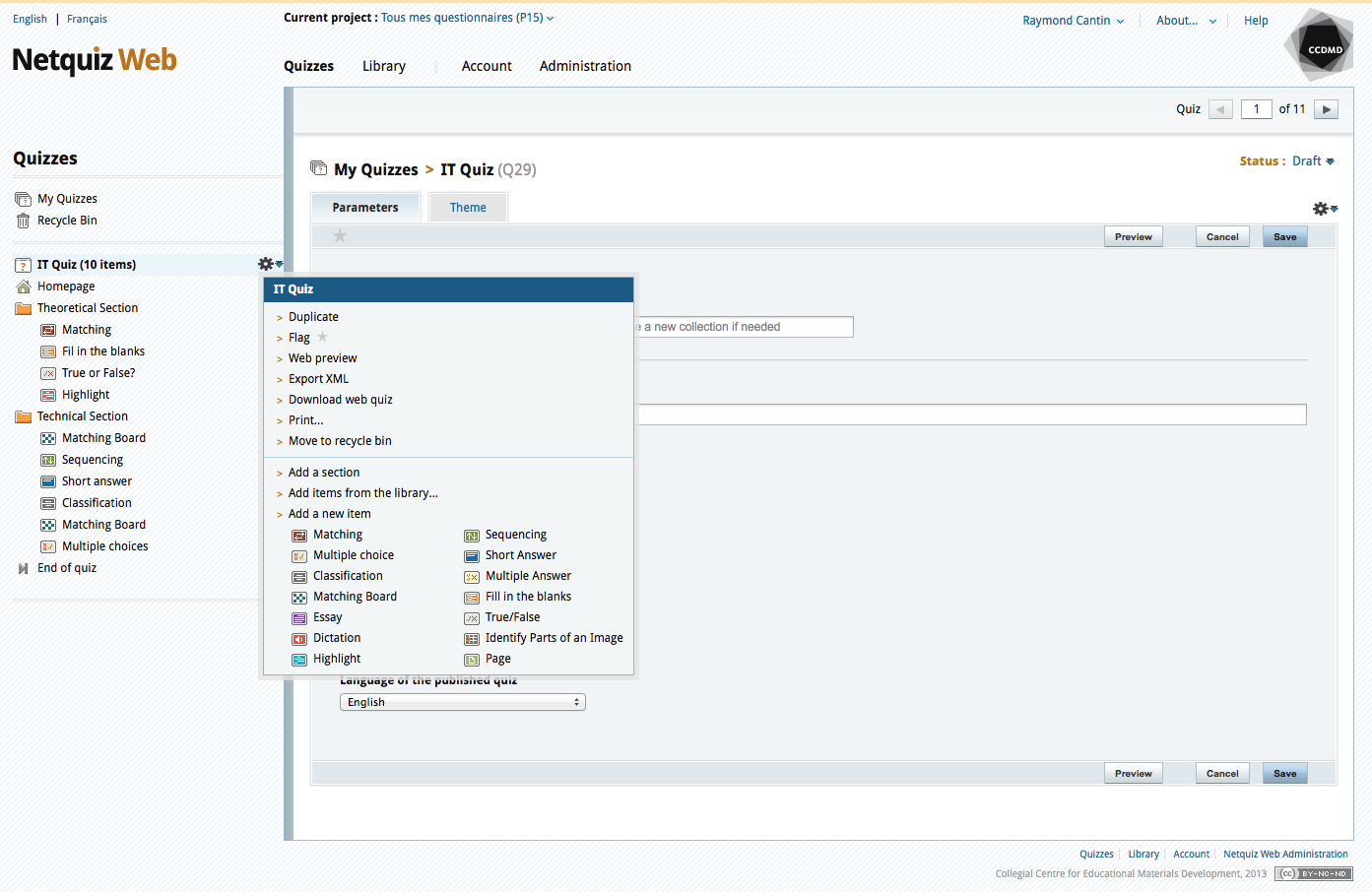 A screen capture of Netquiz Web, showing the 14 items that can inserted in a quiz
Netquiz Web is ready for its official launch and, at the end of September 2014, it will move to its new home: netquiz.profweb.ca. (The address will not be functional until September 2014.)
If you are a member of the Québec CEGEP network and you already have a Netquiz Web account, the transition will be easy. Just go to the new address and connect using the same username and password.
Netquiz Web users who are not in the Québec CEGEP network are invited to install the Netquiz Web application on their own server or that of their institution before the end of September 2014. Netquiz Web will be available for download from the CCDMD website starting in June 2014. A help page explains how to install it. These users will be able to easily transfer their materials from the beta site to their own website, as explained in this tutorial.
Even if you are a member of the CEGEP network, you can install Netquiz Web in your own web space on Profweb or on your own server. Doing so will allow you to invite your students to make up questionnaires, individually or in teams, for example. What could be a better learning experience for them than asking their peers intelligent questions about the material they are studying?
Start using Netquiz Web today
If you want to start using Netquiz Web before September 2014, feel free to create an account right away on the beta version of the website at nqwbeta.profweb.qc.ca. In September, your account will be automatically migrated to the new site.
Latest upgrades to Netquiz Web
Of the upgrades added to Netquiz Web during the development of the beta version, two are of particular pedagogical interest:
In keeping with the participatory and collaborative spirit of Web 2.0, the people who develop questionnaires can invite contributors to work on their project. A tutorial on Netquiz Web Help explains how.
A glossary can be added to the questionnaire. In every text that is part of a questionnaire, the terms and expressions included in the glossary are highlighted. The respondents can display a definition in the form of a text, image, video, sound or PDF link. This is a function second-language teachers will especially love!
Add a glossary to a web questionnaire
If you are already a Netquiz Web user, share your experience by adding a comment. And if you aren't, then create an account now on the beta version of Netquiz Web at nqwbeta.profweb.qc.ca to start learning about the enormous potential of this remarkable CCDMD product.