Articles
Published February 8, 2015
| Multidisciplinary
Mysterious Moodle: Transforming Teaching and Learning
Let's be honest. Moving to Moodle is not always an easy proposition. Sometimes I overhear teachers saying that it is not intuitive, that it is a big learning curve. I agree with them. At first sight, this course management system may seem a little daunting. However, the more you work with it, the more you understand that there is a certain logic to the platform that allows you to carefully develop your course.
But let's take a step back. What exactly is Moodle?
Moodle stands for Modular Object Oriented Dynamic Learning Environment. If we decode this cryptic name, you see that the platform is built from different modules. These modules allow you to exploit them in such a way as to facilitate the transfer of knowledge to your students.
And what exactly is a course management system? Your college probably already has an appointment management system, a student management system, an accounting system and others. Why add another management system? Well, Moodle helps those who hold knowledge to manage their content in a meaningful and pedagogically-sound manner by providing different activity modules based on the constructivist approach. Learners internalize new concepts by discovering things along with their peers. With Moodle, this is accomplished either exclusively in an online virtual environment, or in a blended delivery approach.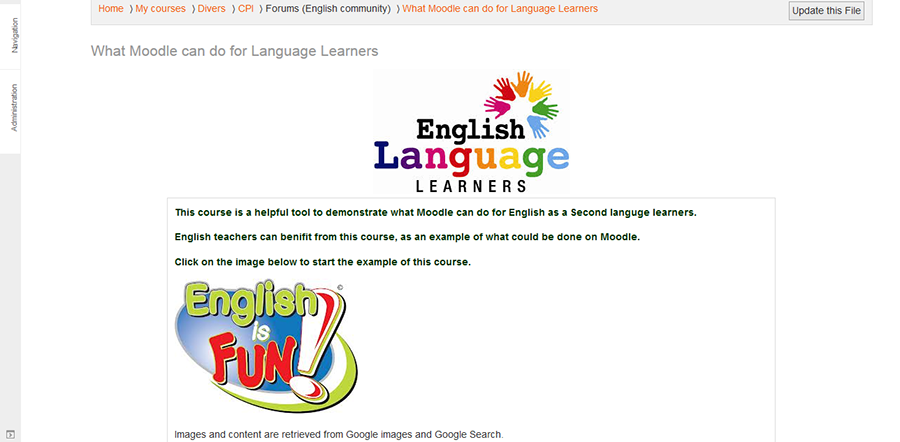 Example of an English as a Second Language course in Moodle course
Now that you know what it is, perhaps you are asking why you should use Moodle. Good question! The Internet has become an integral part of our existence and online learning environments are ubiquitous. Could you imagine life after the Internet? Think of all the ways that it has enriched our lives by making information easily accessible when we need it. For several years, many vendors have been creating and optimizing on-line learning environments to make learning as accessible as information on the Internet. As beneficial as these environments can be for students, they are also useful for organizing and facilitating your teaching and evaluation practices.
Moodle has a variety of complementary activity modules to spice up your course like discussion forums, chats, wikis, and workshop activities, just to name few. There are also different educational games and even a webinar plugin that allow you to meet with your students on-line without worrying if a classroom is available.
Moodle's Webinar Plugin
I could go on and on about Moodle, but instead, I would like to draw your attention to my favourite Moodle module - online quizzes. These teacher's little helpers make life just a bit easier and take the laboriousness out of grading. With more than 15 question types, Moodle can automate part of the work of grading your students.
Now that you are a little more familiar with Moodle, and have some interesting reasons to try it out, perhaps you are asking yourself who can help you to get started. You're in luck! The DECclic Corporation has been helping Québec CEGEP teachers for more than a decade with Moodle support, troubleshooting and training in both French and English. There are also Moodle experts at DECclic to help you with any questions you may have. There is also a pretty big community of practice out there, and resources such as a local Moodle website and training sessions tailored to the needs of the English college community. The community is even organizing a Moodle Day on May 15th, with more details to come!
This is a website for the English CEGEP teachers, who use Moodle
The Moodle website www.moodlecegeps.ca is populated with recorded video tutorials and useful information about Moodle's different activity modules. Check the web site over the next few weeks for more announcements about Moodle Day 2015!
Moodle questions sent through moodlecegeps.ca are guaranteed to receive an answer within 24 hours on business days. There is also a link to the virtual classroom where workshops on Moodle are held. Currently, DECclic is offering a series of Moodle sessions online (in-person sessions can also be arranged upon request).
Here are some of the upcoming on-line sessions for the winter 2015 semester:
To register for an upcoming training session please fill in this simplified form. These sessions will assist you in learning how to create online rubrics, design and develop your content in an interactive way, build question banks for your quizzes and much more!
Happy Moodling everyone!