Articles
Published August 21, 2017
| Multidisciplinary
Motivating Across Disciplines By Making with Microcontrollers: Event Summary
Within the Do-It-Yourself and Maker movements people are encouraged to tinker with building objects and playing with microcontrollers in order to interact with their creations. The movement seeks to integrate people from across disciplines, getting them interested in how things work and using this knowledge to problem-solve in innovative ways. Prior to the Summer 2017 break, LEARN Quebec held an event designed to initiate educators from different levels of academia into the world of microcontrollers as a pretext to harnessing the technology for pedagogical ends. What follows is a summary of the event, followed by information about the next event which will take place in September 2017.
According to their website "LEARN is a non-profit educational organization that offers, at no charge, a wealth of information and resources for the English-speaking community in Quebec." LEARN prides itself on being a "driving force for educational innovation and practice." With the wave of smart objects and Internet of Things that rely heavily on microcontrollers, LEARN decided to help educators look at how to motivate, empower and involve students through these technologies.
The microcontrollers are being used for everything from home automation (eg. climate control) to intelligent clothing and have the potential to interest students who may not be riveted by mathematics, programming and science. By initiating these students into the exciting world of making, they are inevitably led to do some programming, a bit of math, and learn a bunch about electronics work with real-world, hands-on projects.
The Arduino UNO microcontroller.
LEARN's event centred on the Arduino UNO – an inexpensive open and programmable microcontroller that can be used to control the behaviour of circuits which provides the basis for the creation of a variety of interesting appliances.
The Arduino event took place inside LEARN Quebec's Open Creative Space, where they have been running professional learning events. Some of these have focused on the popular Raspberry Pi single board computer in the past.
Guided Play
The day began with some coffee and an opening word of welcome from event organizers Chris Colley and Christine Truesdale of LEARN Quebec. A quick introduction of participants revealed that the event attracted educators from the primary, secondary and college levels. A student teacher from McGill University also attended to learn more about the pedagogical potential of Arduino and other microcontrollers.
In the morning, attendees were encouraged to build a few simple introductory circuits by following printed instructions. These were downloaded from a resource site dedicated to building circuits with microcontrollers. The instructions contained not only a visual guide to building circuits, but also programming instructions to run a program that controlled each circuit. Each table at the event had at least one Arduino UNO controller, a laptop that was pre-loaded with the Scratch for Arduino programming environment (a block-based visual programming language created at MIT), a breadboard to build the circuit, and various electronic components (LED lights, resistors, wires, etc.).
The Scratch for Arduino (S4A) interface showing a simple 'block' program to make a LED light blink on and off. The program was copied from instructions provided at the LEARN event.
Members of the LEARN Quebec team were on hand to provide assistance for what they called "guided playing." The event organizers stressed that all the educators were present to learn together, and to figure out how things work. The choice of Scratch for a programming environment was intentional since it is less intimidating for younger programmers. Attendees had a goal to build 3 different circuits in the morning.
The CEGEP Contingent
LEARN's professional learning event on the Arduino UNO was attended by Christophe Reverd from La Vitrine technologie-éducation. In addition to his work in the college network, Christophe founded the local chapter of Club Framboise, a Raspberry Pi User Group in the Montreal area. I was happy to be seated at the same table with Christophe during the event, since he was able to help me troubleshoot certain projects and challenge me to find solutions to any issues I was having with my new circuits.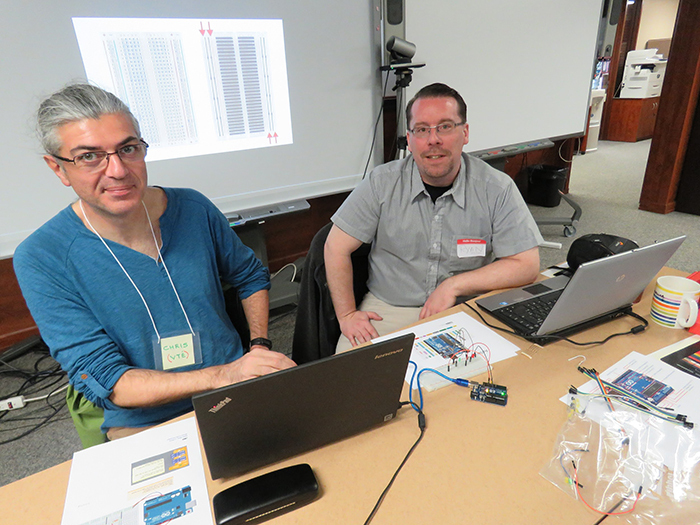 Christophe Reverd from La Vitrine technologie-éducation and the author engaged in discussion around the Arduino circuit project we have just built.
With Christophe's guidance, I was able to complete my objective of building 3 projects and making them work with the program created in Scratch to control the circuit!
Delving Deeper in the Afternoon
After downing a slice or two of pizza for lunch, we got back to work trying out new sensors and modules from the extensive inventory available within the makerspace. The organizers prepared a "table of fun" which contained a large array of sensors, gadgets and other microcontroller boards, like:
The "table of fun" showing a box of sensors, components and multiple publications related to making with microcontrollers.
In the afternoon, the educators who had more extensive experience with microcontrollers tried their hands at more complex projects, such as building robots from kits and then programming the Arduino to make them follow different trajectories. Christine Truesdale piqued the curiosity of a few attendees with her project to create an intelligent fabric that used LED lights with thread that conducted electricity from her microcontroller to these lights.
All's Well that Ends Well
The maker movement is all about empowerment of the user. Using microcontrollers and simple computer coding environments to make useful tools and objects is an interesting means of motivating students who are not necessarily oriented towards STEM disciplines to take an interest in how things work, and to problem-solve through electronics.
The LEARN event ended with a discussion about what the educators had learned and the potential applications they saw for these technologies in their pedagogical practices. A number of attendees agreed that students should learn computational thinking as a means of ordering thought and problem solving, with one educator pointing out the work of Margarida Romero at the Université Laval in this domain.
A simple circuit built during the morning of the event.
The event was well-received, and LEARN Quebec is in the process of organizing another event, which will focus on the Raspberry Pi. The event, which is open to all educators, will be taking place on September 22nd, 2017. More information is available on LEARN Quebec's web site.
Are you using this type of technology to interest your students in science, math and programming? If so, we would like to hear from you in the comments area below!