Articles
Published April 7, 2020
| English (Second Language)
Learning ESL in an Active Learning Classroom at the Cégep de la Gaspésie et des Îles
The Cégep de la Gaspésie et des Îles (CGIM) received funding from the Entente Canada-Québec (ECQ) for a special project that aimed to equip the college's four campuses with active learning classrooms (ALCs) and to develop training workshops that would encourage teachers to develop active-learning teaching practices in English as a second language (ESL). I spoke with Anne-Marie Lafortune, the project leader, about active learning activities for ESL and active learning classrooms.
Many people seem to think that active learning is a buzzword and we are reinventing the wheel, but we are not. Active learning is one of many teaching strategies and people have been using it for quite some time.
A while back, many ESL teachers realized they could not be the "sage on the stage" who simply transmits knowledge. Learning to communicate in a second language requires social interaction and so teachers adopted a pedagogical approach where they provide students with opportunities to learn through interactions with other students, teachers, and the world-at-large. Active learning is based on the socioconstructivism theory that emphasizes the collaborative nature of most learning.
Active learning activities for ESL classrooms
The ECQ project was divided into 2 phases. The focus of the first phase (Fall 2019) was to find out about active learning in the ESL classroom. After reviewing the literature, Anne-Marie Lafortune visited some ACLs and meet with the teachers who were using them. This list of active learning techniques shows some of the results of her exploration:
The white board rotation
A white board located next to the students' station, can lessen the anxiety associated with going to the board in the front of the class.
To begin the teacher asks a question that the students try to answer in their respective groups.
They write the elements of their answer on their whiteboard.
Then, the teacher tells them to switch and the students move to another team's board where they annotate that team's answer or add comments.
In a high-tech ALC the teacher could project on each individual group's white board an activity for the students to work on, annotate, save, send to the teacher and share with their classmates.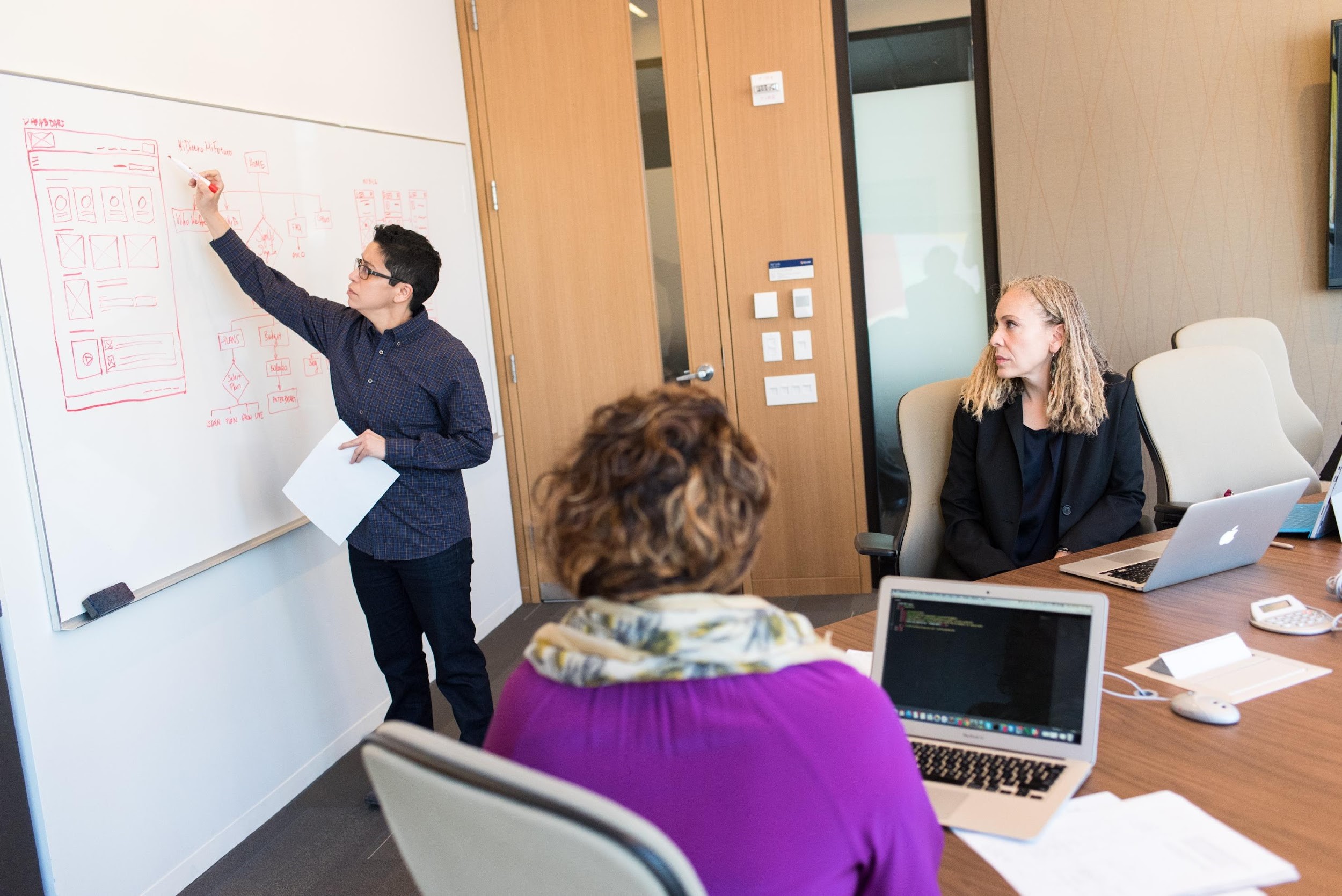 Photo by Christina Morillo from Pexels
Concept mapping
Students get the topic of an essay that they will have to write.
They must create a concept map to develop ideas for the essay.
Students could also be required to write a list of pros and cons to prepare for a debate on a controversial issue.
Expert Groups
Each group has to learn an assigned topic in-depth.
After the "Experts" are dispersed into numbered groups, which will contain one "Expert" from each group.
The 'Experts' then share what they learned with the other members of the group.
Each group has to create a learning activity and a quiz.
As most of the activities are group based, Anne-Marie Lafortune proposes an interesting way to create groups:
At the beginning of the session, students fill out a questionnaire in which they assess their own skills (speaking, writing and grammar, organisation and use of technology).
The teacher makes teams based on those answers placing one student who is a very good with technology with a student who is well organized, etc.
Basically the teacher forms groups using their strengths, forming teams that complete each other.
Digital tools such as Kahoot!, Flickr, Socrative,Digital Labcoat or Plickers(on a smartphone, tablet or laptop) can be used to support active learning. Students can keep track of their learning and obtain rapid feedback with real-time questionnaires, exercises or simulators. Teamwork and productivity can be enhanced with various digital platforms (Microsoft teams). With online video conferencing (Zoom, Skype) students can work collaboratively with students from another CEGEP.
Active learning classrooms
To take full advantage of active learning strategies, Anne-Marie Lafortune realized that converting the traditional classroom design was necessary. Having an ALC is a way to ensure that the classroom is in a permanent set up that facilitates cooperation, collaboration, and teamwork.
Setting up an ALC, even a simple one, serves as a stepping stone to encourage teachers to diversify their pedagogy; ALCs are pedagogical tools!
During the second phase of the ECQ project (Winter 2020) she will determine how to design the classrooms to best meet the educational needs. While the basic elements of active learning classrooms are well-known, no one-size-fits-all template exists. There is a huge market for ALCs furniture and equipment, and teachers can easily lose track of the pedagogical goal, which is really to encourage collaboration and teamwork. Furthermore, as a green college, CGIM is looking for a sustainable alternative to replacing all existing 'traditional' classroom furniture.
Another thing to consider is how much technology should be built in. Of course, active learning strategies can be applied in classrooms that include a range of low to high-tech assistive technology.
In fact, Anne-Marie Lafortune believes pedagogical requirements should be considered first in designing an ALC. Even a very inexpensive ALC can make a significant difference in student learning: for instance, a classroom simply equipped with whiteboards on every wall along with tables and chairs placed together to form four or five stations (with new or existing furniture) will support collaborative work. Also, there is a lot of potential for customizing ALCs with different pedagogical tools. Thus a CEGEP could end up with several different ALCs to meet different pedagogical needs, on top of traditional classrooms where lectures serve as yet another valid teaching strategy.
All in all
Active learning strategies not only contribute to a higher participation and motivation rate, but also foster perseverance and deeper learning. Whether we choose to design one that is simple and low-tech or one with ICTs , active learning classrooms can offer a variety of pedagogical tools to support student learning. There are numerous ideas for active learning activities available on the web, here are some published in the province:
Are you developing innovative new spaces for your students, or are you currently using active learning strategies in your classrooms? I would really like to hear from you. Please leave a comment in the box below.