Articles
Published April 4, 2017
| Multidisciplinary
Keeping Tabs on Your Discipline with Tabbed Browsing
We are living in an age where information of all sorts is being shared 24/7. If we are not careful, this information can quickly become overwhelming. As educators we have a duty to stay up to date with information from our respective disciplines, but we don't have copious amounts of time to dedicate to professional development during the semester. What if there was a simple way to dedicate a few minutes each day to monitoring our disciplines to help us stay current? This article provides a quick look at tabbed browsing, a simple means of setting up and managing information from the sources that you feel are most relevant to your educational practice.
Each day when I arrive at the office, after checking my e-mail and phone messages, I open my Firefox web browser and am presented with a collection of tabs that automatically load different web pages which I find useful within the context of my duties. I spend a couple of minutes scanning to see if there is anything new and noteworthy in each tab, then close them one-by-one. I try to spend no more than 15-20 minutes a day on this activity, and may only get to it at the end of the day. Sometimes I might skip a day or two depending on my schedule and priorities.
Setting Up Tabbed Browsing - Firefox
Setting up tabbed browsing in Firefox and Chrome is simple. In Firefox, open the Menu by clicking on the Menu icon (appears in the red box in the image below):

The Menu button in Firefox is shown highlighted with a red box here.
You will then be presented with a number of icons, and should click on the 'Options' icon:
The 'Options' button in Firefox is shown highlighted with a red box here.
Once you have clicked on the 'Options' button, you will see the following page open in Firefox with a place to add the web pages that you wish to appear in your disciplinary watch: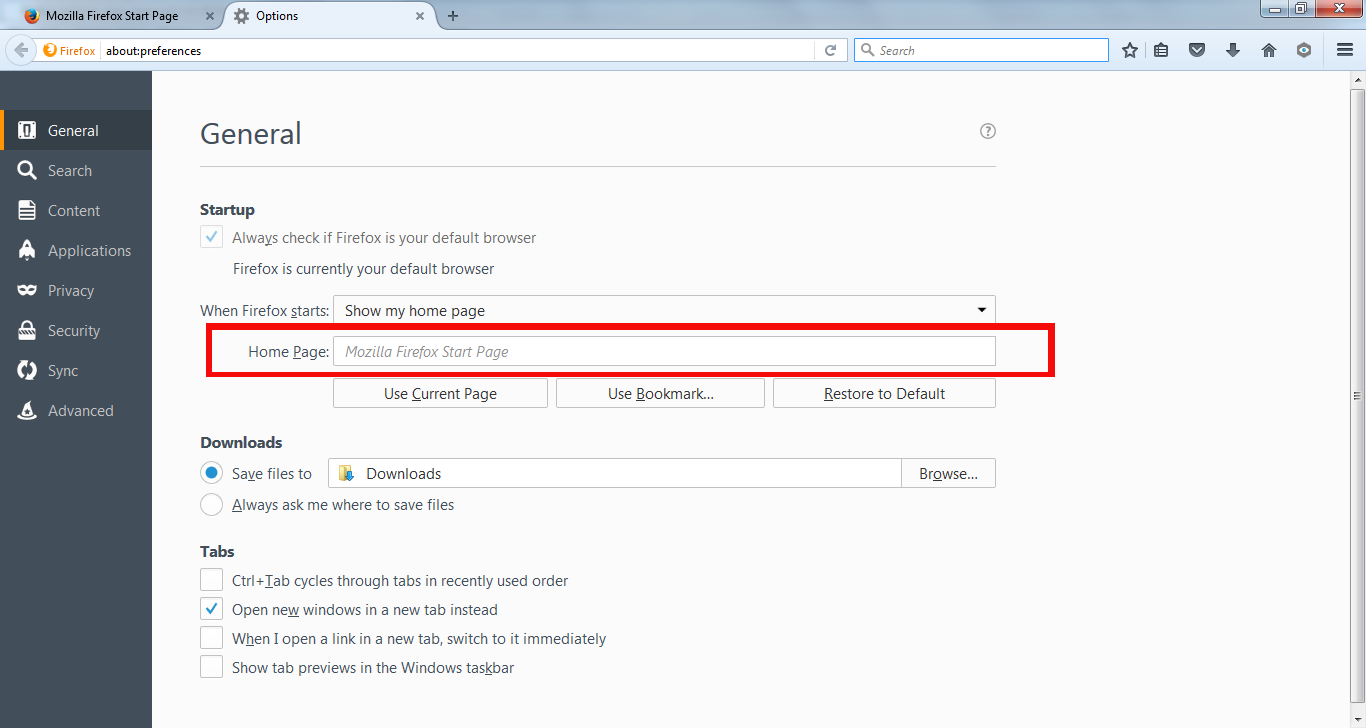 The area highlighted with the red box is where you will paste the web page addresses (URLs), with each address separated by the pipe character ( | ).
One easy way to get started with collecting each of the web pages that you want to be part of your discipline watch is by visiting the page and then copying and pasting the URL into Notepad or a word processor. Each URL must be separated by the pipe character, which looks like a vertical line ( like this: | ). Don't confuse it with the lower case L! Once you have all of the addresses you want separated by a pipe character, copy and paste the whole list at once in the 'Home Page' field in Firefox.
Strangely, there is no save button in the options window, but your choices are saved automatically. Once you have entered each of the addresses you wish to visit when your browser opens, you can try pressing the ALT key and the Home key (ALT-home) simultaneously to see if it works.
Here is an example list with all of the ICT ministerial partners if you want to try out setting up new tabs to open by default in your browser:
https://www.acpq.net/?lang=en | https://apop.qc.ca/en/ | http://aqpc.qc.ca/ | http://vega.cvm.qc.ca/arc/ | https://www.ccdmd.qc.ca/eng | https://cdc.qc.ca/en/home/ | http://cegepadistance.ca/en/ | http://decclic.qc.ca/?lang=en | http://www.reptic.qc.ca/en/ | https://www.usherbrooke.ca/performa/en/home/ | http://www.profweb.ca/en | http://www.vteducation.org/en |
You can simply copy the list of the above sites by highlighting the whole list with your mouse, and then press CTRL-C (Copy) on your keyboard. Then you paste the list in the 'Home Page' field box in the browser settings (press CTRL-V to paste).
If you have successfully pasted the list of addresses, when you press ALT-Home (or the home icon in the menu bar), a series of tabs should open, as illustrated in this screen capture.
Setting Up Tabbed Browsing - Chrome
The process of setting up tabbed browsing in Chrome is a bit different. Open a tab for each address that you want to visit by default when Chrome opens. In each tab, navigate to a different site. Then you can simply go to the settings in Chrome and specify that you want all these tabs to load by default. Here are the steps to follow. Assuming your tabs are already open to the different sites you want to add to your discipline watch, click on the 'Customize and Control Google Chrome' icon, which looks like 3 vertical dots next to the address bar, then click on Settings:
The 'Customize and Control Google Chrome' menu. The 'Settings' option is indicated within the red box.
You will then be presented with a Settings page in Chrome, upon which you should click on the radio button next to 'Open a specific page or set of pages,' and then click on the 'Set pages' link

The settings page in Chrome. Notice the 'Open a specific page or set of pages' option along with a link to 'Set pages' appears here.
The final step for Chrome is to click on the button that says 'Use current pages.'
Clicking on the Use current pages button is the final step that will set the active tabs in Chrome to be opened by default each time you open the browser.
You will need to close Chrome and then restart Chrome. When you do, you will note that the new changes have taken effect.
Ramping Up Your Information
As your disciplinary watch evolves, you might want to add some sites with news on technology and education. In this case, I might add the following sites to my tabbed browsing list (provided here for easy cutting and pasting into Firefox):
http://www.slashdot.org | http://www.arstechnica.com | http://dawsonite.dawsoncollege.qc.ca/ |
As part of my work, I try to keep tabs on what is going on across the college network with a couple of useful college network news websites, as well as the news and events pages from the English CEGEPs. It looks something like this:
http://www.ameqenligne.com | http://www.lescegeps.com | http://admin.crc-sher.qc.ca/ | https://www.dawsoncollege.qc.ca/ | http://www.cegep-heritage.qc.ca/ | http://www.johnabbott.qc.ca/ | http://www.vaniercollege.qc.ca/ |
Now you can start building your own personalized list of web pages to stay up to date in your discipline, but don't go overboard! Try to add 2 or 3 of the most succinct and relevant sites to start. Then see if you can commit the time to look at these sites on a regular basis. Once you have added your discipline-specific sites to your watch list in Firefox or Chrome, you can make your watch part of your daily routine, perhaps during that first coffee in the morning! Think of it as a discipline-specific virtual newspaper! Remember that you can also add sites like Office 365 or Google Drive to you list of sites in order to have some tools open up along with your informational sites.
What websites do you use in your discipline to keep up to date? Have any Educational Technology sites that you love that we didn't mention in this article? We'd like to hear more in the comments section below. Please remember to indicate your discipline in the message, if applicable!