Articles
Published May 22, 2007
IT flourishes in Western Quebec at Gatineau's Heritage College
Heritage College is the only English post-secondary educational institution in Western Quebec. Serving the Outaouais and National Capital regions and beyond, Heritage College offers a wide range of education choices including advanced general studies leading to university, and career-oriented programs with hands-on training and, in many cases, the opportunity to gain valuable co-op work experience.
Located on the fringe of scenic Gatineau Park, just minutes from downtown Gatineau and Ottawa, Heritage College is large enough to offer exciting choices and opportunities, yet small enough for students to feel comfortable and at home. Spacious, modern facilities and landscaped campus grounds provide a pleasant, stimulating learning environment.
As IT tools become more mainstream in education, and as our students become more and more immersed in today's digital, electronic culture, Heritage College is assessing the pedagogical advantages of relevant IT resources. We have much to do!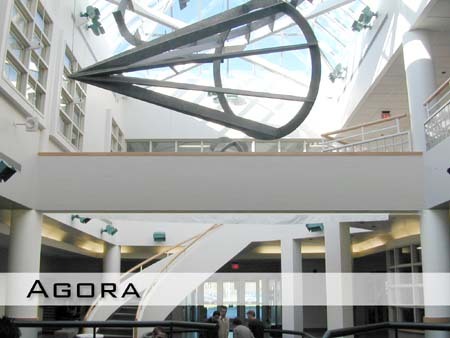 Heritage College agora
We took a first step this year by offering faculty a virtual repository for course notes, assignments, outlines, etc. Meanwhile, a small IT integration group began researching learning management system platforms such as Moodle, Léa or DECclic, with a view to extending our classrooms into the virtual realm. Trying to decide on a platform is, of course, a complex but very interesting task! The group has just recently made a formal recommendation.
Professional development activities are important at Heritage College. Since last year, we have had presentations from APOP, DECclic, CCDMC and AQPC. This year we are pleased to host Norm Spatz from Profweb, to offer a learning management system panel and to offer an introduction to using Moodle. In June, Vanier College is sharing their best practices for WeBWorK with us, and in September we are inviting Statistics Canada to present their many interactive learning resources.
Adding online learning capacity is consistent with our promises to students to prepare them for their next step, be it university or the work place.Heritage College is proud of our learning-centered approach and our focus on student success. Adding online learning capacity is consistent with our promises to students to prepare them for their next step, be it university.It also promotes better collaboration with our Anglophone cegep counterparts, most of which are located in the Montreal area. Platforms such as VIA make meetings hosted in Montreal 'doable' - it takes 30 seconds to log in to a meeting held on VIA, but 2 hours to drive! Heritage College sees great benefits for our students, faculty and institution as we work to integrate suitable ICT tools.