Articles
Published October 23, 2011
| Multidisciplinary
InukTIC - A Must for Your Students on the Web
The ICT profile for college students is now available for curriculum implementation to help college students develop skills in research, production and reporting, as well as their skills in communication and remote collaboration.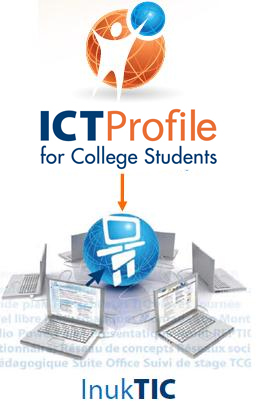 And that's timely, because a survey conducted by the Centre francophone d'informatisation des organizations (CEFRIO) in 2009 reveals that students themselves are seeking this training. Even though our "digital natives" spend more than 20 hours per week on the Internet, they feel they lack skills such as effective researching, respecting copyright or even distinguishing a reliable source of information from a less credible one. They know that these skills will be required of them when going on to university or entering the labour market.
The implementation of an ICT profile for college students within a program requires planning and consultation, but teachers can count on their college's IT representative to support them at all stages of the creation and implementation the profile. On the IT Representatives' Network site, there are two accounts (in French) of the implementation of a profile - at the Techniques de tourisme Program at Cégep de Granby Haute-Yamaska and the Sciences humaines Program at Cégep de Victoriaville.
Another useful website for your students and yourself is InukTIC. Although not bookmarked by many, InukTIC is a website that offers hundreds of resources related to developing the skills contained in the ICT student profile. As a teacher, you can direct your students to suitable resources to develop the required skills.
As an example, when your students are looking for resources to advance their research, they must be able to use the various tools available to them such as search engines and directories according to their needs. By visiting InukTIC, they can click on the Searching for information tab and identify the resources and tools needed to find what they want, and at the same time have access to the information required to make an informed choice. This is totally awesome!
InukTIC is not merely a bank of resources to develop the skills contained in the ICT profile of college students. It offers the following features:
By registering on InukTIC, your students can assess their skills and improve them in a personalized plan developed according to their needs.
Together with the IT Representative of your college:

You can edit a personalized student ICT profile for a course, a discipline or a program and direct your students to the resources associated with the skills you've selected.
Once the specific profile is created, you can track the ICT skill development of your students by consulting their file.
Although integrating an ICT Student Profile into your curriculum may seem complex, rest assured that you can count on the support of your IT Representative and quality resources to facilitate your task. Among the latter, there is InukTIC. Who knows, maybe InukTIC will become a must for yourself as well!
Resources suggested by the author
Student ICT Profile and InukTIC, Results of survey administered January 2011- Summary in French. Document download.