Articles
Published March 14, 2011
| Multidisciplinary
Interactive Resource on Writing Thesis Statements - Preparation for the English Exit Exam
The CCDMD is dedicated to developing resources for its Learning Centre website, which focuses on English-language improvement. There are a number of resources on various topics, but this article will focus on the English Exit Exam (EEE). One of our first resources for the EEE was made available in collaboration with Cegep@Distance. This collaboration made printable exercises available on our website to help students prepare for the English Exit Exam.
In the summer of 2010, the CCDMD and Marya Grant from Vanier College's Learning Centre completed a second resource dedicated to the English Exit Exam: a flipbook which focuses on Writing Thesis Statements, a challenge for many students when writing essays.
Pages 3-4
The starting point for this resource is a short story, entitled 'Act of God' by Joan Baxter that was used in a previous English Exit Exam. A practical choice, as this story lends itself well to the MELS requirements for the exam, it is therefore good practice for students in difficulty. However, this tool can also be useful for students in advanced ESL classes. They may not have to write an English Exit Exam, but the interactive exercises will definitely help them improve their essay-writing skills as well.
The resource (or flipbook) consists of 25 interactive pages that include theory and varied exercises. It all begins with defining exactly what a thesis statement is, and has students not only practise writing their own, but also analysing acceptable and non-acceptable examples. Each exercise has a complimentary Answer Key with clear, detailed explanations.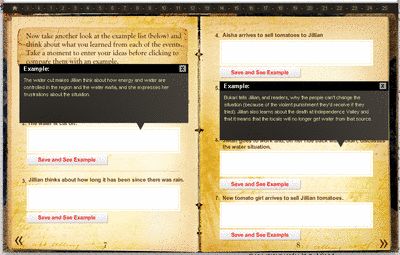 Pages 7-8
Here, in a nutshell, are the elements covered, and that will take between 45 minutes to 1 hour to complete:
What is a thesis statement?
Examples of acceptable and non-acceptable thesis statements based on the short story
What is a main idea?
Figuring out a text's main idea
Turning main ideas in to thesis statements
Build your own thesis statement
Develop a thesis paragraph
Summary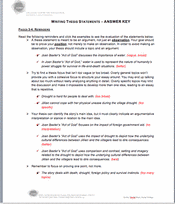 Answer Key
Students can print out their answers directly from the flipbook. Learning Centre staff and teachers in the classroom or peer tutors can print out the complete Answer Key in PDF format as needed. All the explanations are included with the answers.
The CCDMD has more pedagogical material to help students improve their English skills. Check out our website to access all the English-language resources at: http://www.ccdmd.qc.ca/en/
We have a new Facebook page (in English and French) and a newsletter that you can sign up for directly from our site.
Here's how:
Facebook: https://www.facebook.com/CCDMD.en?ref=ts
Newsletter: http://www.ccdmd.qc.ca/?lang=en
If you have an idea for a project or would be interested in collaborating on one, please contact Paulette Cake at pcake@ccdmd.qc.ca or 514-864-8021. I will be giving a workshop on the Thesis Statements resource at the following conferences: AQPC, ACPQ and RASCALS.