Articles
Published September 25, 2011
| Multidisciplinary
Infiressources - A Great Way to Acquire ICT Skills
ICT integration is a complex phenomenon that not only includes the use of information technology as a tool for school work but a way to enrich teaching and learning as well. The technical skills associated with its use are also part of the IT Exit Profile of college students. Computer resources can serve as a guide for the teacher in the workplace as well as build closer professional relationships through social media, email etc. Properly used, some of these strategies contain opportunities for learning, such as exercises and educational games.
The use of ICT can create a rich academic environment, fostering more autonomous learning, and depending on the teacher and the nature of the resource used, more collaborative pedagogy within a social constructivist framework. The acquisition of information technology skills involves a certain methodology and Infiressources offers assistance in the development of these abilities.
ICT as a Catalyst for Academic Evolution
Teachers can refer to Infiressource's section on "Being or Becoming a Teacher" or to the "Educational Viewpoints" section. These sections offer insights into the use of ICT in college teaching as well as a variety of resources to promote its integration into instruction. They contain examples of using ICT for courses and assessments for the use of certain programs and suggestions on how to make your teaching more dynamic and attractive. Examples include: Learning to Teach Tech-Savvy Students by Shari Dinkins, ICT as a transversal competence in nursing by Margot Phaneuf, RN., Ph.D. and Why learn alone and as you go what others already know! by Francine S. Chartrand.
The "ICT Section" is particularly rich and has a wide range of programs, examples and references to online training for the illustration of a course using games, pictures, lectures or animated anatomical diagrams among other resources. These suggestions may be helpful in preparing a course or to offer to students as a bonus assignment. An article in this section that goes more deeply into this subject is 20 Tips for Professional Development by Judy Salpeter and another by Margot Phaneuf is Integration of ITCs.
Infiressources - A Nursing Essential
Nursing teachers are required to participate in professional development and continuing education activities in the various specialties of their profession. Again, INFIRESSOURCES can prove to be a smart choice. The "Clinical Crossroad" with its 35 sections and the "Professional Crossroad" with sections on the profession of nursing and care management among others link to a host of articles on these topics. Examples include the following: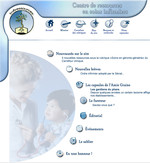 ICTs are changing our teaching profoundly. Have you kept pace?