Articles
Published May 19, 2015
| Multidisciplinary
Google Education On Air: Looking into the Future?
Google, like many of the other big players in technology (Microsoft, Apple, etc.) is courting the education sector. We all know very well that schools, colleges and universities are veritable treasure troves for these companies. Google's latest effort to attract new clients to integrate their applications and digital tools came in the form of an on-line conference, entitled Google Education on Air, which took place on May 8th and 9th, 2015.
Profweb was there to attend the event for you!
This free event starred an impressive cross-section of stakeholders from Planet Google and its disciples, including an array of testimonials and workshops from Teachers that have been certified by the Google Teacher Academy. Presided by Tia Lendo, the head of education marketing at Google, the event also included appearances from:
Michelle Obama
Jouni Kangasniemi, Special Advisor to the Finland's Ministry of Education and Culture
Sir Michael Barber, former Advisor to Tony Blair
Zoe Tabary, from The Economist

The Google Education on Air on-line conference
On the first day, the discussions revolved around the big picture in education: What do we teach, for who, and how? It was an exercise in finding solutions to problems, critical thinking, discussing the opposing forces of the needs and expectations of the market and those of the students. All this under the aegis of a future that many described as unpredictable, but which - we were told - will best be bridled through the use of technology.
The most interesting piece of the conference happened on Day 2, which revolved around the theme of Practical Innovation. This referred to testimonials from the Teachers related to their practical use of Google Tools: Google Forms, Chromebook, YouTube, Google Drive, Google Classroom, etc.
Despite its marketing agenda, the event provided an excellent forum for ideas on contemporary education. Here are two examples:
"Learfing"
This new expression was coined by Jouni Kangasniemi. It signifies "learn to learn" and implies that we must question how we learn, but we also need to think about what we want to learn.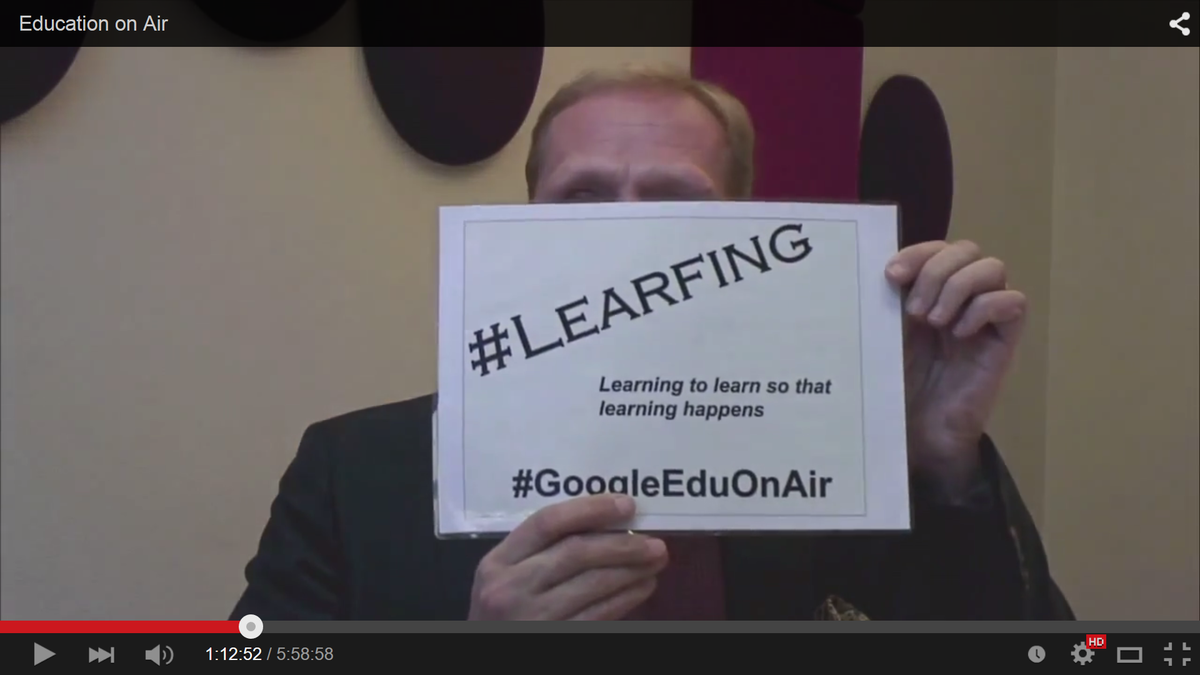 The #Learfing hash tag was created on Twitter after Mr. Kangasniemi presentation.
Throughout the whole event, there was a certain tension between this approach of teaching learners how to problem-solve and the development of specific competencies. Ken Shelton, a Teacher from Los Angeles, was clearly siding with Kangasniemi that we shouldn't be focusing on teaching competencies as much as teaching attitudes that allow the student to adapt to the situation at hand.
This idea cropped up again during discussions between three Americanpresenters on the benefits of integrating new technologies within elementary schools. One of them mentioned that techno-pedagogy allows the transformation of learning into a lifestyle, where learning is not confined to a certain time of day (9 to 5). Universal Design of Learning also comes to mind here, as another benefit of this approach to providing education.
Digital Tools and Motivation
Motivation is one of the fundamental issues in education. Many of the event leaders highlighted how Google Tools concretely created a motivating environment for students. The key words that were invoked for most of the workshops included:
Collaboration
Peer-evaluation
Responsibility
Sharing
The Teachers who related their stories were particularly inspiring. Eric Curts' and Jon Neale's stories were crafted into introductory training for Google Tools. Here are some of the themes presented in their workshops:
Sharing and Collaborating with Google Drive and Google Forms
Some Tips for Creating Engaging Video with YouTube
Preventing Plagiarism Using Modification History in Google Drive
Creating Interactive Quizzes with Google Forms
Motivating Students by Encouraging Them to Publish Their Work On-line
The final point was particularly interesting. Curts spoke quite a bit about this throughout his presentation and showed best practices for accompanying students during the on-line publication process while inside Google Drive. He bolsters his point of view by reminding the online participants of a quote from Ruston Hurley that will probably make any Teacher smile.
If your students are sharing their work with the world they want it to be good. If they're just sharing it with [their Teacher], they want it to be good enough.
In his opinion, students are even more motivated when they produce something they think will be read, seen or heard by their peers. Gabriel Flacks also found this to be true in a Real Life Story he contributed about his NewsActivist pedagogical blog.
If you are an avid user of new technologies or even a beginner that wants to know more about the topic, I would recommend that you set aside a couple of hours here and there during your work week to surf over to the event web site. The two-day conference is available on-line, but it is probably more worth your while to watch the workshops from Day 2.
Enjoy the show!