Articles
Published October 26, 2017
| Multidisciplinary
From the French Side: August to October 2017
The French Side of Profweb filed a number of publications since it began working in August 2017 for the new academic year. While a selection of these publications were translated for the English readership, there are a number of publications that are available in French only. To facilitate your exploration of these articles, we have prepared a list of these articles with a brief description below. Bonne lecture!
Inspiration and tips for getting started with video production
In the fall of 2017, flipped classrooms and blended learning were clearly part of the collective conscious of the French side of Profweb, with a Featured report and multiple articles providing a wealth of inspiration and information on how get started with creating pedagogical videos.
The featured report entitled Planifier, réaliser et diffuser des vidéos éducatives: lignes directrices et astuces pour les enseignants sets the stage with cognitive and pedagogical considerations for the design and deployment of educational videos in class. The importance of up-front planning is emphasized within this report, which contains advice from 4 teachers in the Quebec college network sharing their experiences and a number of practical tips for getting started with educational videos. This Profweb featured report is based on a scholarly work that was previously released in English and contains a number of useful references for further exploration.

The 4 teachers that contributed to the publication on the creation of pedagogical videos. Caroline Cormier, Edward Awad, Yann Brouillette and Véronique Turcotte. ©Valerie Simmons.
Profweb Editor Catherine Rhéaume is also a teacher at Cégep Limoilou. For the fall semester of 2017, Catherine decided to experiment with a flipped classroom approach in her Physics class. In her article PowerPoint et une tablette graphique pour réaliser des vidéos dans une approche de classe inversée Catherine shares how she uses PowerPoint with a Wacom Intuos Draw graphic drawing tablet and screen capture software to produce pedagogical videos with impressive results!
A graphic drawing tablet used as part of creating pedagogical videos.
Catherine submitted a companion piece to article entitled, OBS Studio, un gratuiciel libre pour réaliser des captures vidéo d'écran. In this article, she provides more information on OBS Studio, the free and open source software she uses to record her voice and what is happening on her computer screen. She uploads these videos to YouTube (which includes basic editing tools for the video) and then embeds the videos in her Moodle courses. Catherine hopes that her students will feel that the videos are personalized and addressing their specific needs.
Another teacher at Cégep Limoilou, François Robert contributed a Real Life Story entitled Transformer une portion d'un cours régulier en cours en ligne. He recounts how he re-engineered his Éclairage et rendus 2 (Lighting and Rendering 2) course so that 3 of the 15 weeks of the course were completed at a distance, all while ensuring that the summative evaluation incorporated authentic situational learning. The students did not have to go to class during these 3 weeks, using Moodle to learn theory from course notes and videos that François produced. Moodle's communication tools and Skype were used to keep students and teacher in contact.
Motivating students with design, gamification and authentic learning experiences
After exploring the concept of serious games in 2 earlier publications, in Recension des jeux sérieux au collégial: invitation à participer à un sondage, techno-pedagogical advisor Chantal Desrosiers (MEES) presents no fewer than 124 games that are freely accessible and adapted to the learning needs of college-level students across disciplines. In return, she asks teachers who decide to use these titles with their students to complete a survey focused on the game's ease of use, its pedagogical content, its relevance and its motivational character.
Student motivation is also at the heart of Martin Hardy's Real-Life Story on L'entreprise-école en bureautique: des étudiants-employés en apprentissage avec des situations authentiques. He explains how his students in Office Systems Technology now spend their entire 6th term working for a student-run business, Gestion bureautique. This experience acts as the comprehensive assessment for the program and represents 15 hours of work a week (training, event organisation, document design and proofreading services) as well as 4 study and preparation hours each week. The approach provides students an authentic context in which to develop their program-related competencies and ICT skill set.
Two students in Office Systems Technology at work in their student-run business. (Photo courtesy of Martin Hardy).
In Maxime Babin's course on asphalt concrete, ICTs play a central role not as a subject matter, but as a means to present the course content in an attractive manner, thus stimulating student interest. In his Real-Life Story Les Espaces web au service des étudiants en Technologie du génie civil, Maxime explains how he used Profweb's Web Space to set up a Wordpress blog instead of a Learning Management System to publish assignment instructions, articles, and useful links. Based on the flipped learning principle, the blog also contains video tutorials students can refer to when preparing their lab work and a forum to encourage peer discussion.
The betonbit.mbabin.profweb.ca homepage
In her article Luc Archambault: le facteur humain et la collaboration comme moteurs d'apprentissage, Profweb coordinator Caroline Villeneuve honours Luc Archambault's 28-year teaching career. On the occasion of his retirement, they reflect on Luc's involvement in the CLAAC project (classe d'apprentissage actif – active learning classroom). Group dynamics, collaboration and knowledge co-construction play a crucial role in Luc's vision of teaching. Over 800 students have used the active learning classroom at the Cégep de Trois-Rivières. Student feedback and Luc's own observations allow him to conclude that the outcomes are positive: less classroom management is involved, student work is of higher quality, and grades have improved.
In another article filed by Caroline Villeneuve entitled Deux exemples d'innovation pédagogique en philosophie, she summarizes 2 workshops that were presented at a colloquium on pedagogical innovation in philosophy. The first was a presentation on Dlibr, a platform that allows students to debate ideas online and teachers to follow the arguments developed by their students. A community of practice on Facebook provides teachers with a space to talk about Dlibr's features and potential applications. The second workshop focussed on the Reading Apprenticeship (RA) approach as a way to help students develop their academic reading skills. A type of book report was presented that fosters effective reading strategies and encourages students to reflect on the thought processes that they engage in while reading.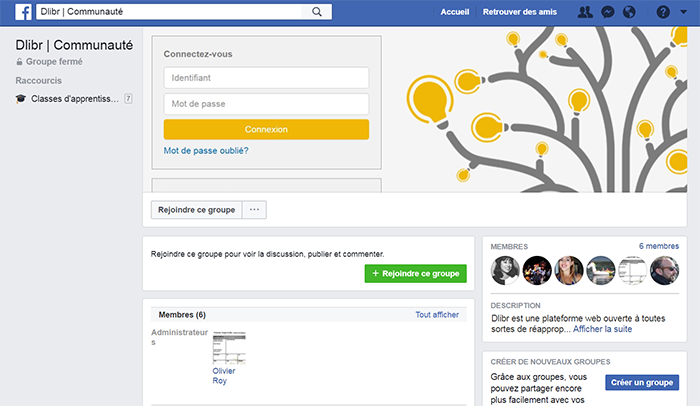 Dlibr's home page on Facebook
Rounding out with selections on research and rétroaction
In Retour sur une recherche sur des enseignants qui utilisent les technologies de façon exemplaire, Profweb Editor Catherine Rhéaume presents the highlights of a research study that she found on Réseau de recherche Adaptech entitled "Simply the best": Professors nominated by students for their exemplary technology practices in teaching [PDF]. The study shows how teachers learn to use various technologies and seeks to answer why only a small number of teachers (12%) learned to use technologies at the workshops offered by their college. A list of the 10 technologies most frequently used by the "best teachers" is presented. The text ends with a question that the researchers would like to see answered, namely what is the likelihood that teachers will do more than tolerate the use of the students' own personal devices and actively encourage students to use them?
Ten technologies most frequently used by teachers (Adaptech study)

| Technologies | % of teachers |
| --- | --- |
| E-mail< | 99 % |
| Grades available online | 96 % |
| Assignments available online | 94 % |
| Computer labs | 91 % |
| Presentation software | 91 % |
| Web links available online | 90 % |
| Online submission of assignments | 85 % |
| Course notes / PowerPoints available online | 82 % |
| Videos | 80 % |
| Tutorials / practice exercises available online | 79 % |
In our final selection from the French side, Jean-François Legault, a French literature teacher at Collège de Valleyfield explains how, instead of marking in a traditional manner, he now gives audio feedback on his students' essays in La rétroaction audio pour donner du sens à la correction. For him, there are a number of benefits:
The quantity of detailed comments that can be given in audio feedback increases dramatically compared to written comments.
You can speaking directly to the student.
Recorded audio messages specific to the students' need makes it a lot more personal.
Jean-François provides a series of tips on what to do and, what not to do, if you want to try this innovative approach to marking.
With a number of thought-provoking and inspirational publications provided by the French Side of Profweb, the English team is looking forward to see what they have in store in the coming weeks!