Articles
Published January 14, 2019
| Multidisciplinary
Forging in 3 Dimensions Using VR and Google Tilt Brush
If a picture is worth a thousand words, is a 3D picture worth a million? Late in the Fall 2018 semester I was initiated into the fantastic world of 3D painting with the Google Tilt Brush Virtual Reality (VR) software. The experience was truly captivating and left me reeling with ideas for its potential uses within an educational context.
Learning About Google Tilt Brush
The 2018 Horizon Report predicts that mixed reality will be adopted within 4 to 5 years in higher education. Although I had some past experience with VR (as far back as the 1990s), I realized that the technology is evolving at a rapid rate and that I should have a look at the current VR offering. I decided to explore Google Tilt Brush, which I had heard was being used by artists as well as being a key tool for mixed reality media montages by avant-garde broadcasters.
Introducing Google Tilt Brush
Tilt Brush is a painting program that works within a VR environment, such as Steam VR, and which employs the use of a headset to visualize the landscape in which you are painting. Painting is accomplished through the use of two special VR controllers that are held in your left and right hand. One controller is used to cycle through menu options and the other is used as the paint brush.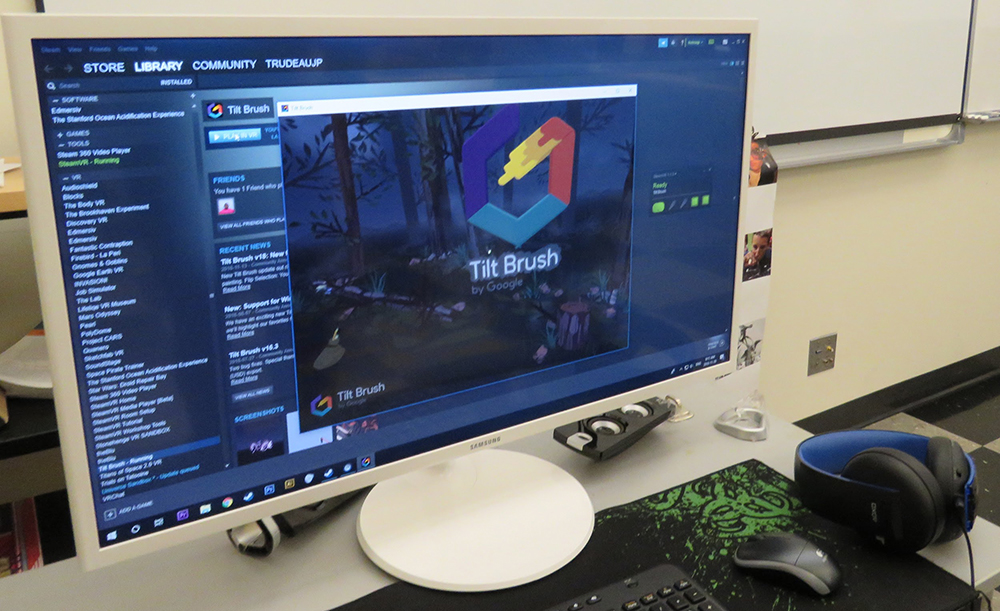 After calibrating the Virtual Reality area with Steam VR, you may then launch Google Tilt Brush through the Steam VR interface. My colleagues were able to follow the progress of my painting through the monitor pictured above.
For anyone that has used a digital painting program on the desktop or a graphic editing suite, the experience will be quite intuitive. This is due to the use of swatches of tools and palettes that are similar to those used in 2D desktop software environments.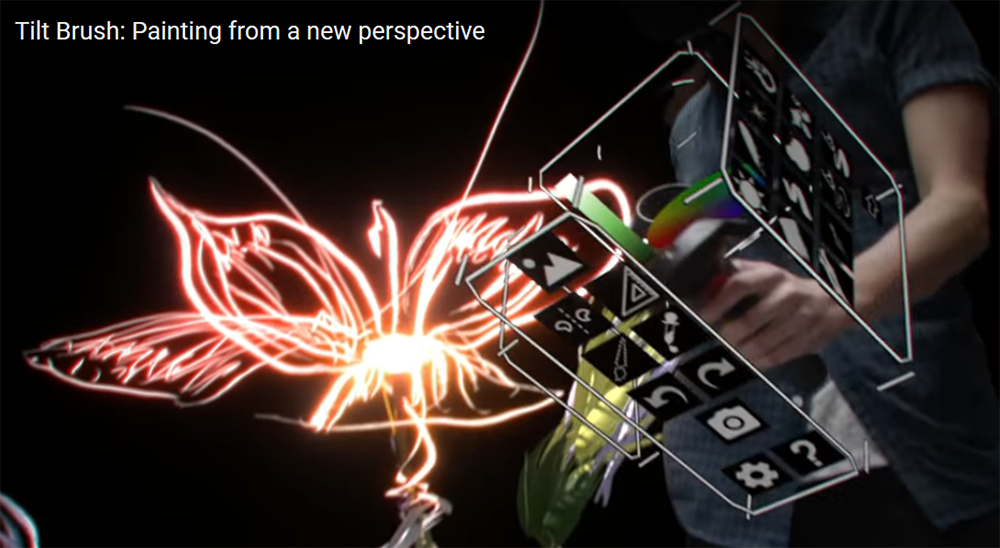 The left handed controller in Google Tilt Brush manages the colour picker and a variety of options that can be accessed by rotating your wrist.
Google Tilt brush offers some unique features, like the ability to select the environment in which you would like to draw, whether it be in a field, under a night sky, or even in outer space!
There are also some very sensational paint brush options, like using "dynamic brushes"that result in brush strokes that are animated with dazzling effects (like sparkling paint strokes, or electrified lines).
The VR Equipment
I was invited to try Tilt Brush at Selwyn House School in Westmount, Quebec. Jean-Pierre Dufresne of VTÉ (Vitrine technologie-éducation) arranged for me to meet with Jean-Pierre Trudeau, the Director of Technology at Selwyn House who provided us access to the equipment and software required for the experience.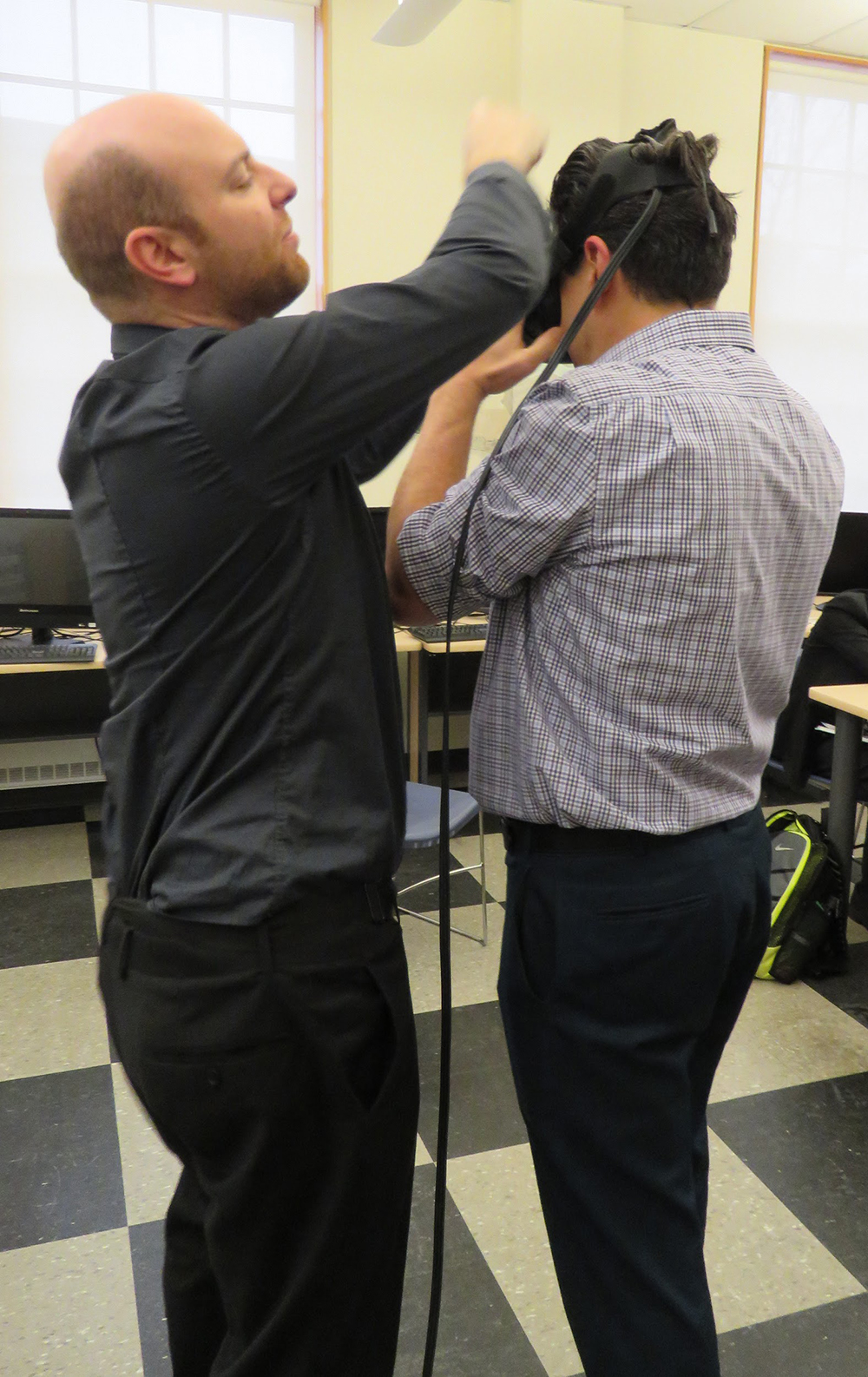 Jean-Pierre Trudeau of Selwyn House (left) assists Jean-Pierre Dufresne of VTÉ (right) with adjusting the HTC Vive virtual reality headset.
Jean-Pierre Trudeau briefed us on the technology stack used at Selwyn House for Google Tilt Brush:
Selwyn House had a computer with an Intel i7 processor, SSD hard drive and an ATI 8 gigabyte graphics card. Jean-Pierre Trudeau stated that you should expect to invest $1500 to $2000 for a new system that can manage a VR environment. The HTC VIVE VR system is available with an entry-level or professional system with varying price points.
Jean-Pierre Trudeau assures me that it is relatively easy to configure Steam to calibrate the VR environment and download Google Tilt Brush.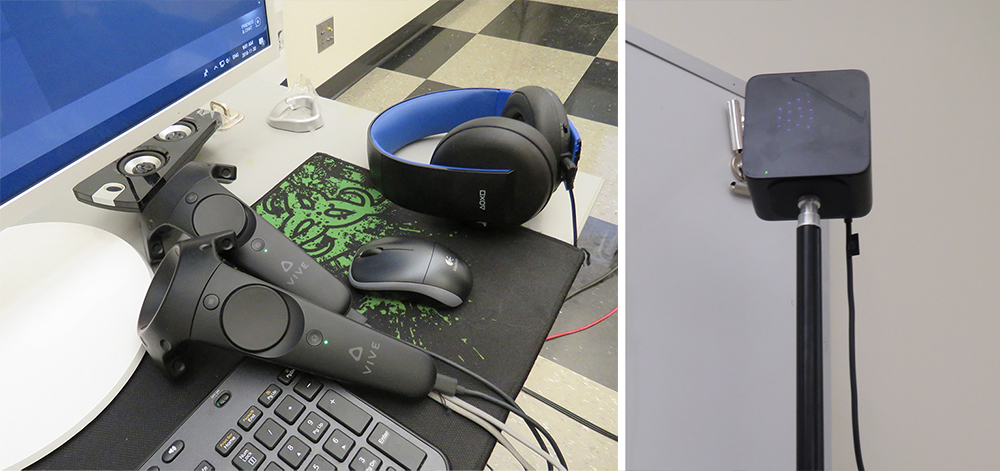 A closer look at the HTC VIVE virtual reality controllers (left) and one of the two VIVE base stations that are used to track the user's 360 degree movements (right).
In addition to working with HTC VIVE VR equipment, Google Tilt Brush works with Oculus and, more recently, Windows Mixed Reality.
Describing the Experience
Google Tilt Brush is similar to any VR experience since you have 360 degrees of range of motion.
When I looked down for the first time, I saw that my left hand was like a bracelet. When I turned my wrist, Google Tilt Brush cycled between a palette of colours, a range of painting tool options and then options to export the painting. The controller in my right hand acted as a brush.
A montage of some of the highlights of the Google Tilt Brush experience at Selwyn House School.
As I was within the Night Sky environment, I decided to paint a campfire complete with a stick that included marshmallows.
The author is painting a virtual campfire within the Night Sky environment of Google Tilt Brush.
I thought things were looking pretty good until I moved my head a bit to the left and saw "behind the painting." This was an "aha moment" for me where I realized that all my brush strokes were thin and 2 dimensional. I started moving around my painting of the fire and proceeded to liberally paint additional strokes while employing different hues of orange, yellow and red to bring the fire to life in 3 dimensions.
The author's first attempt at a 3D painting. Use the scroll wheel on the mouse to zoom in and out or grab and rotate the painting by holding the left mouse button down and moving the mouse in different directions.
Jean-Pierre Dufresne experimented with dynamic brushes during his Tilt Brush experience. He was painting with brush strokes that resembled bolts of electricity. Jean-Pierre Trudeau demonstrated that it was possible to make the drawing react to sound by activating this option in Tilt Brush. When he played some rock music, we could see J-F Dufresne's painting reacting to the beat of the bass drum in the music!
Jean-Pierre Dufresne immersed in his virtual painting experience in Google Tilt Brush.
Output Formats
Google Tilt brush allows you to upload to your creations to the Poly web site, which is part of the Google suite of tools and services and free to anyone with a gmail account. Once the file is uploaded, you can embed the file in any webpage that accepts IFRAME tags.
Tilt Brush can also take videos, create 360 degree videos as well as export artifacts to the PBX file format which can be imported into Blender (Open source) and Maya 3D animation suites. More information is available on the Google support site.
Educational Applications
At Selwyn House, they have a digital imaging art class where Adobe Photoshop is used extensively, but at least one of the assignments involves using Tilt Brush, according to Media Teacher Bill Bedard. Bill said that one of his faculty colleagues noted that the creative movements in Tilt Brush are more akin to the types of movement you would see in sculpture rather than painting.
Rather quickly, I could see many possibilities for the use of Tilt Brush.
Among some of the programs that I could foresee benefitting from the use of Tilt brush:
Arts programs
Fashion design (there is a pre-installed "Dress form" in Tilt Brush for designing clothes)
Video game design and production (Tilt Brush plays well with the Unity environment)
Industrial design programs (rapid prototyping)
Given the immersive and all-encompassing experience, I wondered if Google Tilt Brush could be used as a tool to manage anxiety or for students with special needs.
I also couldn't help but to think how powerful the tool would be if you were able to collaborate with other users as we are able to do with other tools in the Google suite - a feature that was teased a while ago by Google, but never made available to the public.
A Brave New World to Be Discovered
I was fortunate to be accompanied by 2 techno-pedagogical wizards during my initiation to Google Tilt Brush, but once I was inside the environment, it felt very natural and unintimidating.
My first experience with Google Tilt Brush was very positive and I hope that more teachers will have the chance to try it out in 2019 - especially if they belong to one of the departments I mentioned above!
If you would like to learn a bit more, Google has created a number of tutorials to initiate us to some of the more advanced aspects of using Tilt Brush.