Articles
Published May 29, 2018
| Multidisciplinary
Facilitate Team Meetings and Presentations in the Cloud With Mastermind Manager
In today's online ecosystem, free cloud-based video chat platforms abound (e.g., Skype, Zoom, Join.me, and Mumble). While none of these have been specifically designed with education settings in mind, some platforms offer useful features for teachers. If you supervise students in a distance learning context or use a project-based learning approach in your courses, you may wish to have a closer look at Mastermind Manager, which offers interesting functionalities for team work and structured discussions.
The Mastermind Principle
The idea of working as part of a Mastermind group isn't quite as recent as videoconferencing technology. The concept was coined in 1937 by Napoleon Hill, who defined it as "a coordination of effort and knowledge […] between two or more people for the attainment of a definite purpose." To me, that very much sounds like the essence of any team project or assignment we might assign to students!
Hill based his concept on historical think tanks such as The Junto (B. Franklin), the Inklings (C.S. Lewis and J.R.R. Tolkien) and the Nine Old Men (W. Disney). 3 key principles, each of which Mastermind Manager provides specific functions for, are:
Having a clear, predetermined meeting structure to increase efficiency
Setting precise goals to work on and specific roles to attain them
Keeping track of decisions and accomplishments
Getting Started
Before taking advantage of Mastermind Manager's features, all participants first need to create a free account. Once this step is completed, only one member should create a new group and then invite other members to join. At this point, it is important to consider which role you wish to play in your students' group(s). The individual who creates the Mastermind group automatically becomes its administrator, whose responsibilities include:
Inviting or removing members
Starting video chat sessions
Defining meeting agendas
Controlling the agenda during a session
In other words, setting up groups will allow you to keep more control over them, but also requires you to actively take part in all of the groups' meetings. To avoid this, it may be more practical to designate an administrator in each team. They can then add you as a contributing member if you wish to follow up on the group's progress, or you can get student groups to work autonomously.
The person who creates a new group becomes its administrator. After choosing a group name and description, he can add other members.
Upon creation, it is possible to name the group and add a description, as well as adding and deleting members. It is possible to manage or be a part of several groups at the same time. Each group is organized around 4 content tabs:
Goals
Session
Chat
History
Goal-Setting
Goal-setting is essential to the Mastermind principle; in fact, the goals and objectives set by a group represent its entire raison d'être. The first tab from the left-hand menu allows the group members to define an overall goal, which can be broken down into smaller milestones. These can be associated with a due date.
Group members set a shared goal and determine milestones to achieve it.
Members can easily visualize the progress they are making in their project when they mark milestones as complete. Goals and milestones can be added or edited at all times. While this feature of the platform does not offer as many possibilities as other project planning apps, it allows team members to easily keep track of what still needs to be done in the project, by whom and by when.
When group members mark milestones as complete, they can track their progress toward the overall goal.
Structuring Meetings
While the platform offers a chat feature for informal text-based exchanges, its interactive component is developed around the Session tab. Sessions are structured video chat meetings that have a predetermined agenda. Different group members can be allotted speaking time referred to as the "hot seat."
This feature is particularly useful to ensure everyone speaks up during a team meeting or can even be used for oral presentations or debates with specific time constraints. Using this particular structural framework can actually help students become more effective when working on team assignments in a face-to-face setting.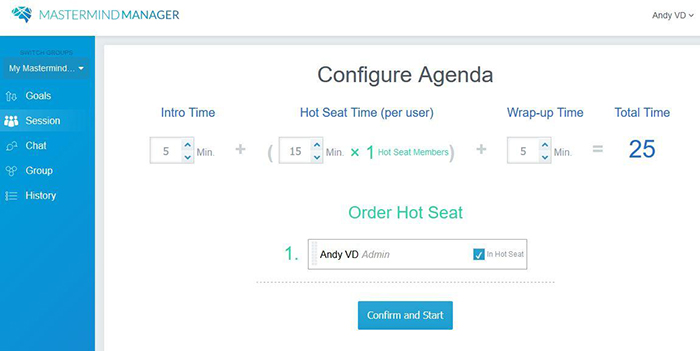 Before starting a video chat session, the administrator needs to determine the agenda and allocate speaking time to the participants.
Video chat sessions come with common functionalities such as the ability to:
Use a text-based chat window to share links or notes
"Raise your hand" to get speaking rights
Share your screen
Moreover, a status bar at the bottom of the screen allows the speaker currently in the hot seat to easily keep track of time. By clicking on the Agenda button at the bottom of the screen, the speaker can request additional time, or end his turn and move on to the next speaker before the end of the allocated time.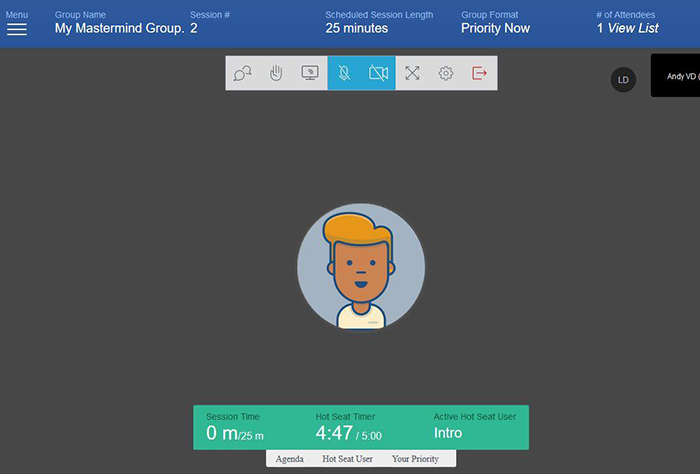 The video chat window integrates time management features that encourage the speaker to respect the allotted time.
Keeping Track
To support the 3rd pillar of the Mastermind principle, the History tab stores entries for completed video chat sessions. Here, group members can consult the agenda of those meetings, as well as a record of all the notes and links that were shared using the text chat function.

The History tab offers an overview of past video chat sessions and automatically stores notes and links that have been shared.
Effective Simplicity
The fact that Mastermind Manager does not come loaded with a myriad of features makes it especially suitable for use with and by students. The learning curve is very low, and the Mastermind Manager website offers many tutorials should the need arise. By focusing on 3 key principles and providing the tools to focus on them, this platform has the potential to make students more effective and better at brainstorming, planning, collaborating and presenting. And that's not a small feat!