Articles
Published June 6, 2016
| Biology
Exploring Student Assessment Systems: Part 2 – Socrative, Google Forms, Spiral, Piazza, and more!
The last time I spoke with Anna Dera, Biology Teacher at CEGEP Champlain-St. Lawrence, she was thrilled to be sharing her experience about using Learning Catalytics, which you can read about in the Profweb article Exploring Student Assessment Systems: Part 1 – Learning Catalytics. At that time, she expressed her desire to try out some free platforms, as Learning Catalytics requires a student subscription fee. Anna's research lead her to create a short list of free platforms to experiment with including Socrative, Google Forms, Spiral, and Piazza. A few students also used Quizlet on their own for studying purposes.
Considering the vast array of possibilities with Learning Catalytics, Anna hoped to find similar options in these other platforms. She examined them all for:
Their user-friendliness
The variety of question types that could be programmed
If there was immediate feedback or team possibilities
If students could return to the quizzes to review the material
Student appreciation
All of the response systems were tested in the Microbiology course given in winter 2016 semester. From her short list of platforms, Anna did some initial investigating and consideration which led her to experiment with the four platforms described below.
Socrative
According to the results from the student survey, the Socrative platform was the easiest to use. Anna also found this platform user-friendly and she also appreciated the immediate feedback given after each question is answered. The limited variety of question types was a short falling, but when used for quick quizzes Anna found it to be an efficient tool. The students felt that the quizzes on Socrative helped their understanding of the class content. Anna would continue using Socrative for courses that do not have complex content and concepts to teach.
Google Forms
Although the students found Google Forms easy to use, one thing in particular did not allow it to be used in the same manner as the other platforms. Anna wanted to be able to measure student comprehension during a lesson and to do this she required a system that provided immediate feedback after each question. Google Forms provides feedback only after all of the questions have been answered. Anna instead found it useful for sending surveys to the students that could be completed outside of class time and for peer evaluations.
Spiral
The creators of Spiral are based in Europe and there are some aspects of this platform that are not adapted to our North American school system, but nothing that Anna couldn't work around. In addition, she has been in contact with the creators and they are very open to her suggestions. As with Socrative, the teacher using Spiral has a class code that is provided to the students for their login purposes. From the students' point of view, Spiral helped their understanding and to review the course material. Although the variety of types of questions that can be used are limited, there are several additional functions that make this platform very interesting.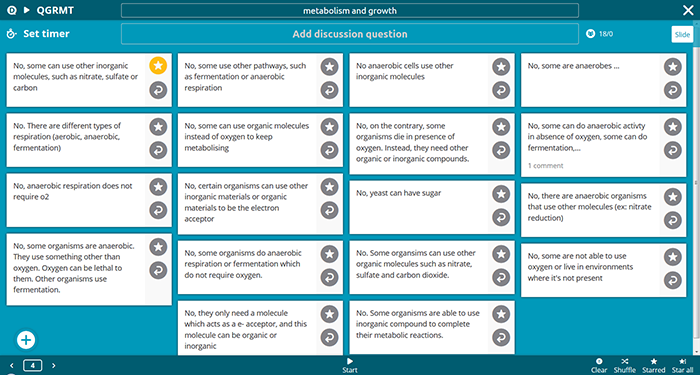 Spiral offers the possibility for all answers from students to be displayed on the screen. A class discussion can evolve from addressing the answers and students can learn how to improve their own responses. The teacher can also give a star to correct answers (example in the top left-hand corner). Students then receive feedback that they got the correct answer.
One noteworthy feature Spiral has is the ability for the teacher to display the answers from all students without showing names. The teacher has control over which responses are shared, which can prevent inappropriate answers from appearing. This can be a great way to generate class discussion. Anna really enjoyed this feature and she has not seen it in other platforms. There is also a team function, where teams can be created and group answers submitted. The platform supports the integration of other tools and therefore team answers can be elaborated on by adding a PowerPoint or an Excel table. Anna will definitely be using this platform again mainly for the team function and for generating class discussion.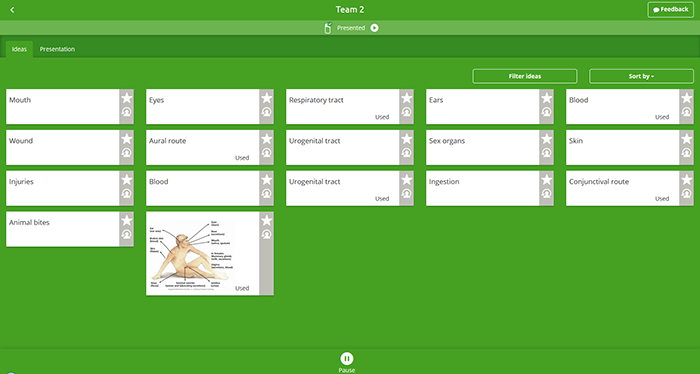 The team feature in Spiral allows the ideas from all of the team members to be displayed on a single screen. The team can then decide which ideas to incorporate into the presentation (second tab available in this feature). The teacher controls the order of the team presentations.
Piazza
Piazza is a basic response system with a wiki style format and similar features to other class management platforms. One element that Anna really liked was the forum feature. The forum allows for categorized questions, which in turn does not create a thread of questions and answers that is never-ending. Anna realized that she could use this platform as a means of answering students' questions about a similar topic, instead of replying to each MIO individually. After 2 weeks of referring students to Piazza for answers to their questions, she had hardly any repetitive MIOs for the rest of the semester! She will definitely be using this platform again for the forum feature.
The Piazza forum categorizes topics of questions in tabs listed at the top of the screen as well as being grouped together on the left-hand side of the screen. This example shows the topic chosen and how the thread of questions and answers are displayed.
Quizlet
Some students tried Quizlet on their own as a way to study terminology for the course. It is an interactive study guide, where games and practice tests can be used to help students learn.
Students who had used Learning Catalytics in the past with Anna said that it was truly the most complete platform. And she would have to agree with them. From her experimentation, only Learning Catalytics allows students to review modules after class, which is very helpful for studying purposes. However, Anna did not find it a problem to use different platforms for diverse purposes and the students did not find it confusing either. Most of these platforms have simple login measures for students and by providing the students with the correct link for the desired activity on LEA, there were no problems or confusion. As mentioned in the paragraphs above, Anna will continue using the various platforms for different pedagogical approaches in order to enhance her teaching strategies and assess student learning. Although she has not found a complete free replacement for Learning Catalytics, she had made some interesting discoveries of online response systems that have each found a place in her pedagogical tool box.
Have you explored any similar platforms that you find interesting? If so, tell us about them in the comments section below.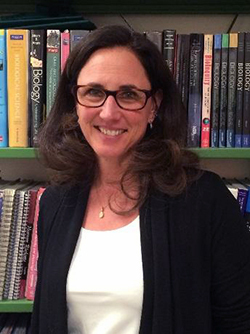 Anna Dera