Articles
Published May 24, 2016
| Multidisciplinary
EDUQ.info: Your Open Archive of the College Network
The Centre de documentation collégiale (CDC) is proud to present EDUQ.info, your open archive of the college network!
But ... what is an open archive?
Technically, it can be described as a digital repository of documents where all the content, including the full text are freely accessible and which can be queried using a search engine.
The new open archive EDUQ.info replaces the CDC library catalog while keeping the usual features of a catalog, but also offers the possibility to:
Conduct full text search within thousands of documents
Create alerts
Easily access the collections of different organizations, CEGEPs or private colleges
Deposit your own publications
EDUQ.info is part of the international movement for free access to scientific research and articles, to foster access to research results and knowledge sharing.
The CDC's open archive, powered by the open source software DSpace, guarantees the sustainability of the intellectual output that is contributed to the archive through the use of permanent URLs. The documents that are deposited to EDUQ.info are attributed a hyperlink that will be permanently activated and never change.
Okay ... But what can EDUQ.info do for me?
Are you a college teacher, a researcher working in the domain of college education, an education advisor, college manager or partner of the college network? EDUQ.info will help you to:
Access all of the CDC's heritage and research collection, which constitutes more than 35,000 documents that cover the period from the creation of CEGEPs up until now. The thematic coverage of the open archive mainly focuses on:

Teaching
Learning
Techno-pedagogy
Institutional development at the college level

Conduct a full text search within more than 5,000 documents
Deposit documents on teaching and learning in the college network for which you own the distribution rights:

Articles
Theses
Research reports
Institutional policies
Etc.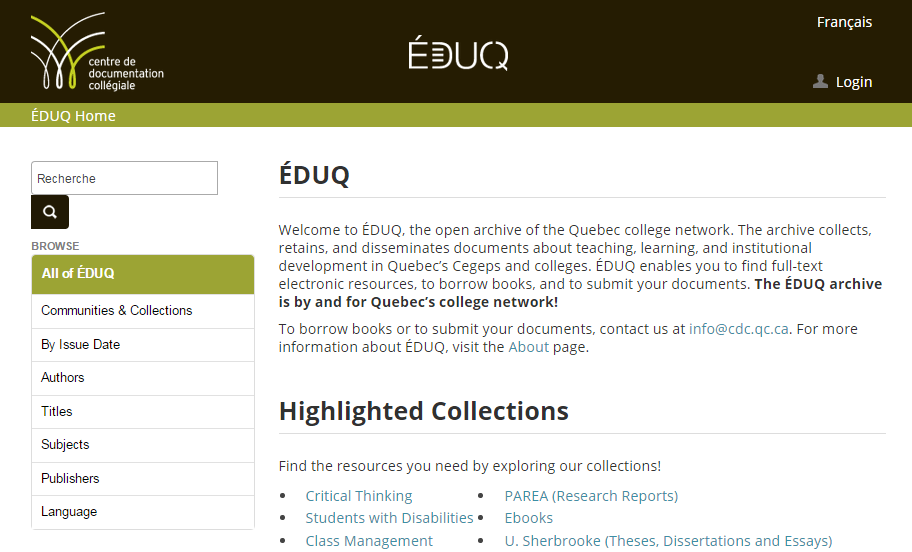 The EDUQ.info home page
Even so ... Why deposit my documents in the open archive?
An open archive allows you to:
Ensure permanent access to your resources (permanent URLs).
Increase the visibility, impact and number of citations for your publications.
Access usage statistics for your documents.
Foster knowledge sharing between the various CEGEPs, private colleges and network organizations.
Group publications within communities: colleges, organizations and even communities of practice.
Take advantage of the powerful and interoperable search engine to locate your documents.
EDUQ.info is available without registering. However, connecting to your CDC account allows you to create alerts that inform you when new resources are added to your favorite communities, to deposit your publications as well as providing many other benefits! Visit our new website for more information: cdc.qc.ca.
The Centre de documentation collégiale's home page.
Our ambition for EDUQ.info is to proudly showcase the documents produced by the Quebec college network, reflecting the vitality of this network. We strive to meet this goal through encouraging the exchange of ideas and expertise on different college teaching practices.
We invite you to share your comments about EDUQ.info. E-mail us at info@cdc.qc.ca!