Articles
Published September 10, 2021
| Multidisciplinary
Distributing H5P Content Across Platforms or Directly to Students
H5P is a plugin for existing publishing systems that allows you to create interactive content, such as quizzes, puzzle games, questions embedded in a video, etc. Maybe you have previously created H5P content, for example on Moodle, and wish to distribute it to students elsewhere? Or maybe you are new to H5P and are looking for an easy way to share interactive materials and exercises with your students? Either way, in this article, you will find some useful tips to easily share your content in the way that best fits your preferences and needs.
Reusing content created with the H5P plugin
H5P is available as a free plugin for Moodle and WordPress. This makes creating content within one of those platforms very intuitive:
On Moodle, choose "Add an activity or resource," then select "H5P"
On WordPress, choose "plugins" and add the "H5P" plugin, which will then become available in your editor menu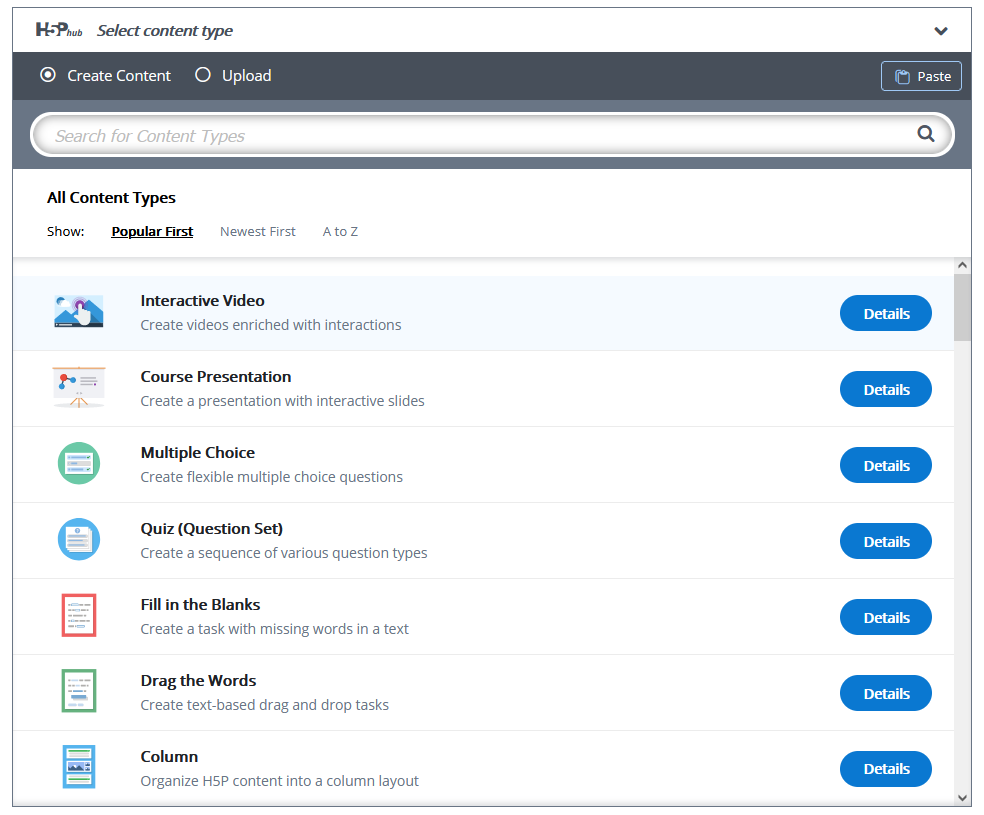 The H5P content creation menu
However, did you know that once created, you can also reuse your content elsewhere, for example on a different Moodle instance? You can even copy your content from Moodle to Wordpress, or vice versa.
This is useful, for example, if you created asynchronous content when teaching remotely, and wish to share it with the students of a face-to-face course without having to set up a complete Moodle structure for them. To do so, complete the following steps:
Navigate to your H5P content.
Ensure that the toolbar at the bottom is visible.
If you don't see the H5P logo at the bottom right of your content, edit the settings of your H5P module.

On Moodle, choose "edit settings" from the "administration" menu and ensure that the "display action bar and frame" box is checked in the display options.
On WordPress, open the "H5P content" menu, select the activity you wish to reuse, and ensure that the "display toolbar below content" box is checked in the display options.

On the toolbar underneath the H5P content box, click the "reuse" icon.
Select the "download as an .h5p file" option. Save it on your computer or in the cloud.
Create a new H5P component on your page as explained in the previous list. At the top of the "select content type" menu, choose "upload" (rather than "create content") and upload your saved .h5p file.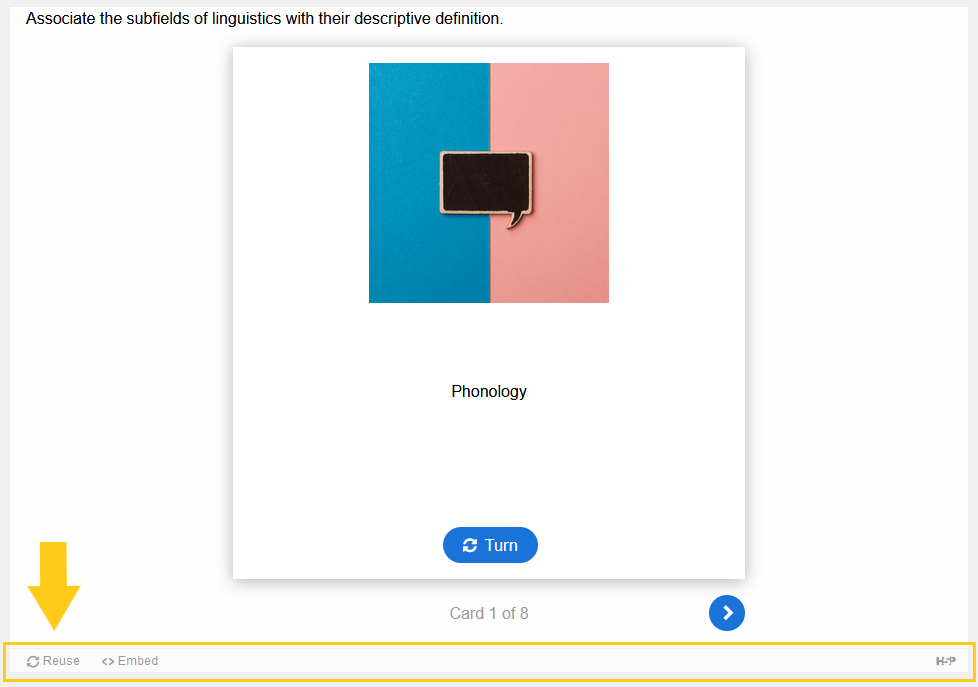 The "reuse" function on the bottom toolbar allows downloading an activity as an .h5p file, which can then be distributed elsewhere.
Distributing H5P content directly to students using Lumi
Lumi is a free and open-source desktop app that allows you to create, edit and view H5P files directly on your computer (PC and Mac) without the need for a Moodle or WordPress page. This is particularly useful if you want to occasionally share H5P content with students, without the need for an online space to organize the content.
Lumi offers the same possibilities as the H5P plugin in terms of content creation. You can save an activity as an .h5p file (which you can then upload to WordPress or Moodle), but the advantage of Lumi lies in its "export" function, which allows you to create a standalone html file that students can open and interact with directly on their computer.
Once you have saved your newly created activity, or opened an existing .h5p file, open the "file" menu at the top left and choose "export."
Select "all-in-one HTML file."
Slide the "include reporter" button to the "off" setting. If you wish to be able to follow up on your students' results, adding H5P to Moodle offers more options and is more user-friendly.
Click "export now" and save the resulting .html file on your computer or in the cloud.
Distribute the page to your students as an attached file by email, MIO, on Teams, or wherever you communicate with them. They will be able to view and complete the activity by double-clicking the file and choosing "open in browser" if prompted.

Lumi's "export" function allows you to save an H5P activity as a standalone HTML page.

H5P is a powerful and versatile authoring tool for interactive content. Being able to reuse activities on different platforms or distributing directly using Lumi only adds to this versatility. What types of activities do you like to design with H5P and how do you share them with your students? Let us know in the comments!