Articles
Published September 19, 2019
| Multidisciplinary
Discovering Technopedagogical Projects of Colleges Funded Under the Digital Action Plan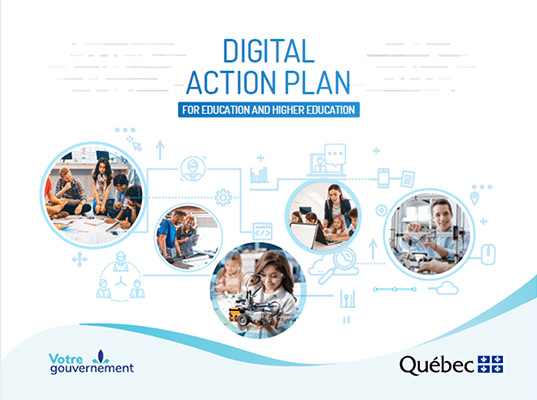 The implementation of the Digital Action Plan (DAP) in education and higher education has been an opportunity for several institutions in the college network to develop innovative projects to support the integration of digital technology into educational practices.
In a desire to spread these initiatives, Profweb will distribute, during the year 2019-2020, a series of articles presenting the digital innovation projects of colleges that aim to support the acquisition of digital skills, perseverance and educational success of students.
From blended learning to virtual reality: creative projects for student success
Digital technologies can dramatically improve educational practices and enable a wide variety of teaching and learning strategies. In a world where technology is increasingly becoming an integral part of the educational, professional and personal spheres, it is essential to support the acquisition of digital literacy among students.
Through the DAP, the Ministère de l'Éducation et de l'Enseignement supérieur (MEES--Ministry of Education and Higher Education) wishes to support the shift to digital throughout the education system. To this end, it provides financial support to higher education institutions to carry out digital innovation projects aimed at equipping students throughout their school career and supporting their success.
The list of projects funded in 2018-2019 [PDF, in French] is available online.
Profweb wants to showcase these innovation projects in order to make them known throughout the college network. Our editorial team has invited several people involved in these projects to share their experience in an account of practices or an article presenting the progress of the project. These publications, which will be published during the fall 2019 and winter 2020 semesters, will cover a variety of topics that will certainly capture the interest. For example:
Massive open online courses (MOOC) ​​and distance learning
Blended learning and flipped teaching
Serious games and simulations
Virtual reality
By offering a showcase for the realisations of colleges, Profweb hopes to contribute to the reach of these innovative projects and recognize the contribution of people who, through their creativity and pedagogy, contribute to the transformation of educational practices in the digital age.
Call for collaborations to document 2019-2020 projects
Digital innovation projects funded under the DAP in 2018-2019 were selected by means of a call for projects. In 2019-2020, college institutions received funding to support digital innovation projects. In collaboration with the Bureau de la mise en oeuvre du Plan d'action numérique [Digital Action Plan Implementation Office], Profweb has given itself the mission of promoting the innovative practices that emerge in the context of these projects.
Are you aware of projects being developed or implemented in your college? Do you lead or participate in such a project and would you like to share your experience? Contact us!
Our publications featuring digital innovation projects at colleges