Articles
Published November 17, 2016
Discover the Profweb Team (and their tips to keep spirits up during November)
The Profweb team will share their tips (serious or not) to get through the month of November. In addition, you will discover how they fuel themselves professionally. You will see the team's true colours. Some members of the team are weekly contributors, while others combine several jobs and provide us with their expertise.
What are your tricks or simple pleasures to help you get through the month of November (and your piles of corrections)? Participate in our Facebook contest by adding your own suggestions or by selecting an emoticon that corresponds to one of choices from the team, for the chance to win a $20 gift certificate for iStore or Play Store (your choice).
Melissa Philippe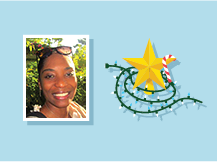 Simple pleasures of November: decorating a Christmas tree
It's a pleasure which I cannot go without. As a matter of fact, I could spend the whole summer decorating Christmas trees ... but since traditionally I only do that once in the year, I have a whale of a time doing so! And when I look at the sparkling lights, I am overcome with emotion!
Professional interests:
Project management of instructional design
Adult education
Interpersonal relationships and leadership
Catherine Rhéaume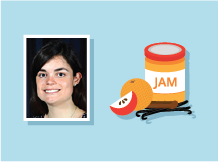 Simple pleasures of November: make homemade jams
During this month of November, I started making my own delicious and comforting jams. I am currently working on a mix of apples, oranges, vanilla and cinnamon guaranteed to help me get through the shorter days of autumn!
Professional interests:
I am a Physics teacher at Cégep Limoilou, where I also teach job preparation skills to students in the Work-Study Program. I often work with students in the Springboard Program, in both the remedial courses and the program specific courses of the springboard program (such as courses to plan their educational and career path and to adapt to college studies).
I am a student in the Graduate Diploma in College Teaching program at PERFORMA. My essay will focus on students' perceptions of digital slideshows by their teachers.
I am a co-author for 2 workbooks for secondary students: Kaleidoscope for Sciences and Technologies in Secondary IV, and Delta, for the teaching of Physics in Secondary V.
Audrey Corbeil
Simple pleasures of November: make the most of autumn
Take my small chihuahua for a walk, listening to the crunching sound of our footsteps on the dead leaves that cover the ground… then coming back home and savouring a hot chocolate topped with lots of marshmallows!
Professional interests:
I take great interest in lifelong learning and online education, as well as in continuing education.
I love providing pedagogical accompaniment.
I enjoy using my expertise to develop storytelling and serious games.
Ryan W. Moon
Simple pleasures of November: vintage Commodore computers
In December of 2015, I became a member of TPUG (Toronto Pet Users' Group), an organization that regroups users of vintage Commodore computers (PET, Vic 20, Commodore 64).
Professional interests:
Distance Education (in its many modes)
Using Free and Open Source Software
Conversing with teachers that are constantly innovating in their practice!
Angela (Angie) Stevens
Simple pleasures of November: tea from David's Tea
The flavourful teas are comforting and they warm me up, which is very important as I am always cold in the winter!
Professional interests
As a teacher, in the Bilingual Tourism Management Program with CEGEPs Limoilou and Champlain-St. Lawrence, I love experimenting with new pedagogical approaches.
I have a strong interest in active learning, ICTs and collaboration projects.
Alexandre Dal-Pan
Simple pleasures of November: dance to give yourself energy!
In November, despite the limited amount of daylight and quantity of assignments to correct, I stay happy and positive! Why! Because I do different styles of dance such as Salsa or the Lindy Hop...and I wholeheartedly accept it! The dance-floor is MY remedy against the mid-term and the arrival of winter!
Professional interests:
The optimal use of new technologies in Sciences has become a passion.
Neuroscience studies, especially the brain's function and the processes of memorization related to it, highly stimulates my curiosity.
Professional discussions with my colleagues from the college network are fantastic and they are greatly enriching, day after day.
Guillaume Vachon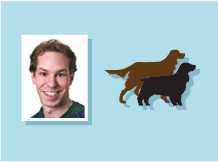 Simple pleasure of November: taking my 2 spaniels for a walk
I have two 7-year-old spaniel dogs and they still have as much energy now as they had when they were 3 years old. Taking them for a walk in the woods allows me to get a good dose of fresh air while waiting for the snow (which they appreciate more than I do, by the way!).
Professional interests:
I studied in both Graphic Design and Computer Science (Imaging and Digital Media Sciences at the Université de Sherbooke).
I'm particularly interested in user experience and interface design.
I enjoy ''getting my hands into the code''.
Andréanne Turgeon
Simple pleasures of November: DIY projects
In November this year, I'm having fun repainting or doing furniture makeovers to bring more warmth and coziness to my new home before winter. I have many DIY projects in mind to get through the greyness of November while expressing my creativity!
Professional interests:
A quote that describes me: ''There are no problems, only solutions.'' I like to analyze a problem from different angles to find solutions or compromises. I think it's one of my strengths for collaboration.
I have a Master's degree in History. I take great interest in Western socioreligious history. During my studies, I enjoyed reading moral theology books: they offer insight on an era's core beliefs, its customs and its conflicts. It's a world of its own and it will never cease to amaze me!
I am a lifelong learner. I feel very lucky to work in an environment that allows me to nourish my curiosity every day!