Articles
Published April 20, 2008
DECclic - A Community of Practice
DECclic launched the French version of its online forum in L'Espace des profs three weeks ago. You are now just a click away from sharing professional information with 1,450 profs who use DECclic in 40 colleges in Quebec. The English version of the forum in The Staff Room will be up and running in Fall 2008 says Brent Reid the DECclic spokesperson for the English community.
Once the ice was broken, en français teachers and educational advisors from Montreal to Sept-Iles were talking about teamwork, log-books, using forums and text messaging, etc. Supervising practical training (stages) has garnered the most interest to date. Mireille Hubert, Bruno Lavoie and Nathalie Bastien have unveiled inspiring secrets.
Do you want to know how your francophone colleagues are using DECclic with their students? Are you looking for new ideas, or new pedagogical scenarios using IT? It's worth a look! Perhaps, you'll want to share your teaching successes and failures as well.
Broadcasting information, evaluations and course content, DECclic has become the crossroad of a true cooperative community with a growing number of members. Profs teaching different subjects, such as French and Social Work, exchange tips on how to use DECclic's features. The Staff Room has been created expressly for teachers using DECclic. This is your ticket for online help, news of changes to the platform, models for questionnaires in Exam Studio, help files and resources of all kinds.
In collabortive resources, a database to which all users are invited to contribute, there are videos on how to use the platform as well as Word documents which can be reused and modified to your requirements. The material is in French for the moment. The DECclic Users' Guide (Guide d'utilisation de DECclic) which has been created by Bernard Gagnon of Saint-Félicien is a 110 page long document lavishly illustrated with screen captures which covers all important aspects of DECclic. Coming up is the Tamtam of Monique Tardif which is a series of instructions on how to use the platform from the viewpoint of the student.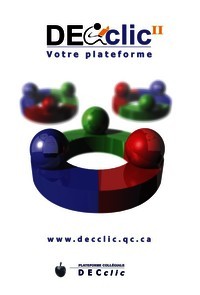 DECclic website
If the idea of a pedagogical forum seems daunting, audacious or utopian, the forum on technical support already has 80 contributors who have published more than 900 articles organized into 186 subjects. There are mostly questions and answers on how the platform functions, but also a large number of helpful suggestions which have been submitted to our consulting committee and could eventually be realized. In another vein, these academic discussions could eventually become the basis of a story or scenario in Profweb!
If you've never paid DECclic a visit, contact your local administrator for more information. Is your school a DECclic member? Let us give you an access code to take a look around.
Brent Reid, DECclic coordinator, will be presenting a workshop on virtual help centres at the RASCALS convention on May 30. Use our reader response feature below to reach Brent should you have any questions or comments.