Articles
Published April 26, 2019
| Multidisciplinary
Creating a Community of Practice: Starting Small but Dreaming Big
Rachel Faust and Maggie Livingstone teach physics at Marianopolis College. Their shared passion for teaching motivated them to learn how to do it better by getting together with other teachers to share best practices. This is the story of their grassroots collaboration to create a community of practice.
The spark
One project inspired them to start the community. A small group of physics teachers decided as a team to flip the Mechanics course in the winter of 2016. This project really sparked something and brought about a renewed interest in pedagogy. The aspects Maggie and Rachel particularly enjoyed:
Working with colleagues and sharing teaching resources
Getting ideas from colleagues
Trying new strategies and talking about them later
Receiving feedback; as they were trying similar things but not necessarily getting the same results.
Coming together as a group and talking about why something went well or not so well
Doing a lot of ongoing work that made everybody's teaching better
This collaboration within the physics department made Maggie and Rachel realise that they always work in silos. They see colleagues on a daily basis but don't often have the occasion to talk about what they do in the classroom.
The impulse
Maggie and Rachel loved the "collaboration within the physics department" experience. They enjoyed the feeling of working as a team and wanted to reproduce that feeling. They saw there was an opportunity to get ideas from people who might be concerned with subjects other than physics. It would be good to get a broader base of people who might be interested in sharing and talking about teaching.
In the fall of 2018, Maggie and Rachel decided that the timing was right to establish a community of practice. The first active learning classroom at the college had just been launched, so they started holding informal meetings with the teachers who had volunteered to teach in the new environment. Next, they invited teachers that they knew had a strong interest in pedagogy, especially in active learning. They also met with administrators about the initiative and secured official support and a nominal amount of funding for their meetings (enough for coffee). After a few meetings, the community decided it was ready to grow and extended the invitation to entire faculty.
Teachers sharing and talking about teaching. Photo attribution: Margaret Livingstone
How to tap into the potential of community, Maggie and Rachel's recommendations
Start slowly and talk to a lot of people before starting
Ask for advice from people both inside the college and from other colleges.
Even though Maggie and Rachel want the community to be teacher driven, they collaborate very closely with the pedagogical counsellors and benefit from their expertise.
Rachel and Maggie have gotten a lot of input from colleagues at Dawson College that has well-established communities of practice.
Create a safe environment for participation and learning
Maggie and Rachel believe people engage more readily when they are in the right frame of mind to be talking about teaching. Teachers should be able to opt in and neither feel pressure to attend nor to speak up. Teachers share what didn't work well just as willingly as what worked well. They are as happy to accept advice, as they are to give it.
Foster dialogue
From the very beginning they made sure it was a teacher-driven or grassroots initiative. They met with the members of the community to set up a schedule and had an online survey to decide on the topics for discussion. They thought it was important to let everyone be involved in that process. It gave everyone a sense of ownership.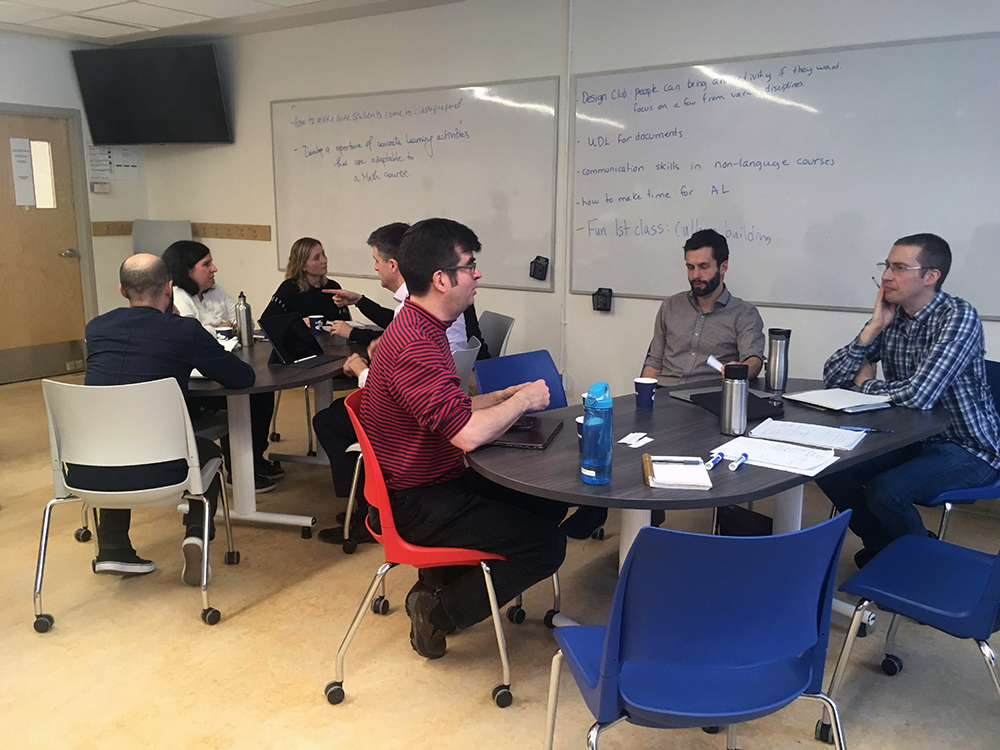 A meeting of Marianopolis' community of practice. Photo attribution: Margaret Livingstone
Adjust to the members' interests
So far the community has discussed various topics such as:
Managing groups in an active learning classroom or in a classroom with whiteboards
Creating a positive classroom environment from the beginning of the semester
Getting students to prepare before class
At their last meeting, they talked about Lightboard technology. Marianopolis has recently received a SALTISE mini grant to build a lightboard to make videos. The specific focus will be to make interdisciplinary videos (particularly in science). The Science Program is currently undergoing a revision, and the new version is expected to include several interdisciplinary requirements.
Keep meetings fun and informal
Maggie and Rachel believed that teachers should be "hanging out" rather than having formal meetings. If it's enjoyable, teachers will not have the feeling that it is something that they "have to" do. Make sure the meetings keep the grassroots feeling as much as possible which makes them fun to go to. Request some funds to serve coffee and cookies. Schedule some time for conversation before the meeting starts.
Everyone belongs
Make it accessible to everybody, from new teachers to teachers with 30 years of experience. Being a new teacher can be intimidating and isolating and so having a place to go and hear, "I tried something new and it didn't go well, but life didn't end" feels very good at any stage of your career, but especially when you are just starting out.
Your turn!
Members of the Marianopolis community of practice have said that they really look forward to the meetings, which are not only enjoyable but really worth the time. Maggie and Rachel also find their initiative extremely rewarding.
They would be happy to discuss their ideas with other teachers in the network. They would also like to hear from other communities. They would like to learn the perspective of various disciplines and find out what topics other communities discuss.
Let us know in the comments.