Articles
Published November 2, 2014
| Multidisciplinary
Connecting Classrooms Across the Border with Technology
Knowledge comes from many sources and through a wide range of human experience. In today's increasingly interconnected world, internationalization and globalization link the local to the global, multiplying the sources of knowledge and making intercultural interactions an increasingly significant aspect of our professional and personal lives. Today's students not only need to have access to knowledge, but must also be equipped to understand the many contexts and cultural points of view that give meaning to what they know in order to apply their knowledge effectively and sensitively. For that reason, cross-cultural competence has become a key skill in the 21st Century.
Recognizing the growing importance of cross-cultural competence, many institutions have sought ways to internationalize their classrooms and campuses by adding intercultural or global dimensions. This includes study abroad which has been a primary way students gain direct exposure to other cultures. However, according to estimates from the Institute of International Education (IIE) less than 3% of higher education students in the USA study abroad, compared to a much better but still low 12% in Canada based on data from the Association of Universities and Colleges of Canada (AUCC). The numbers are substantially lower when looking at the Community College sector in the USA and the Cegeps in Québec. As a result, the vast majority of North American undergraduate students do not benefit from learning that takes place from direct interaction with individuals from other countries. This substantially hinders those students in developing cross-cultural competence.
However, an innovative and cost-effective approach to internationalization has developed in recent years that takes advantage of the substantial investments in campus technology that can also allow for integration of faculty and students from other cultures into classrooms. This approach has become known by several names including globally networked learning, virtual mobility, Collaborative Online International Learning (COIL), as well as Virtual Team Teaching (VTT) within the Québec context. Whatever the name, the key is that this is an ongoing development of new teaching and learning methodologies that foster meaningful exchange between faculty and students with peers abroad through networked classrooms utilizing Internet-based communication tools.
Networked classrooms utilizing Internet-based communication tools
About the SUNY COIL Center
The State University of New York (SUNY) COIL Center is a leader in this emerging field and has developed an institutional-based faculty-driven approach to develop multicultural learning environments linking classes in different countries. The courses are team-taught with professors working closely with international peers to generate a shared syllabus based on solid academic coursework emphasizing experiential and collaborative student learning. The classes may be fully online, or more often, offered in blended formats with traditional face-to-face sessions taking place at both schools, while collaborative student work takes place online. Courses utilizing the COIL Center's model provide an opportunity to reinvigorate curricula at campuses and convey deeper understanding of ideas and texts while also providing students new venues in which to develop cross-cultural competence. You can view short interviews with students from SUNY's Ulster County Community College about their experiences.
An Infographic Illustrating the Basic Principles and Pillars of Support Behind the COIL Center's Model
The COIL Center's Relationship with Québec
Although international education activities often look towards far away exotic locations for partnerships, there are opportunities closer to home that should be considered. One of our recent goals at the COIL Center has been to look to our neighbors in North America. There are added benefits in a COIL context to this proximity, including reduced complexity of time differences for synchronous activities, and the possibility of more easily adding physical mobility amongst students and professors. These benefits are particularly true between New York and Québec.
As close neighbors, Québec and New York share many economic, cultural and political connections that also led us to launch collaborations between universities in the two regions. We have benefited from the emerging number of COIL-related projects developing in the Québec. With support from the Grants for Major Academic Initiatives from the Ministère des Relations internationales et de la Francophonie (MRIF), we have seen the creation of several new partnerships between regions, two of which are outlined below.
One of these has been the growing relationship between several SUNY campuses, including the College at Brockport and the College at Old Westbury and Champlain College – Saint Lambert. These partnerships have been greatly facilitated by the enthusiasm and efforts of Professor Gabriel Flacks through his collaborative blogging platform, NewsActivist.com which has been covered previously on Profweb. You can view a video presentation with Professor Flacks and Professor Kaldor from Brockport about their project from the 2013 COIL Conference.
In 2014, the COIL Center formalized a Global Partner Network (GPN) of higher education institutions around the world interested to create COIL courses with SUNY and other members of the consortium. We were pleased that Vanier College agreed to become the first Canadian member of the GPN. Vanier College is an ideal partner as they have developed an innovative parallel model to COIL with their Virtual Team Teaching (VTT) which has also been featured on Profweb. The leadership of Vanier's Eric Lozowy and Nathan Loewen has already contributed to several new partnerships between Vanier and SUNY, including with SUNY Cortland.
How to Learn More
One of our missions at the COIL Center is to help our field continue to evolve and expand by encouraging and supporting the development and implementation of collaborative online international courses at SUNY and around the world. To meet that goal, we have a growing number of resources we make freely available which includes a Faculty Guide for COIL Course Development and case studies from a recently completed large-scale international project.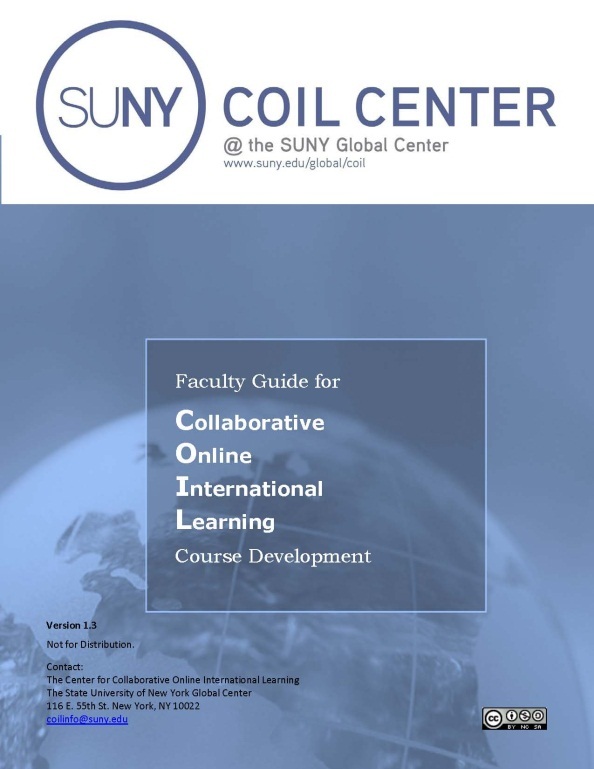 Faculty Guide for COIL Course Development (email coilinfo@suny.edu to get a free copy of the guide)
We also host the leading international conference in the field which brings together 250+ faculty, instructional designers, international programs staff, and senior administrators to share their experiences and projects, and to network to form new partnerships. The next event will be held March 19-20, 2015 in NYC. More details can be found at http://coil.suny.edu/conference.
We hope to continue expanding our work with institutions in Québec in the coming years and we encourage you to visit our website for more info or email us at coilinfo@suny.edu.
We would like to learn more about the work being done at other institutions in Québec. Please use the comment section to answer these questions:
How much importance does your institution put on internationalization and/or developing globally competent graduates?
What ways are you or you institution using technology to add international and/or intercultural elements to your classrooms?