Articles
Published April 10, 2014
| Multidisciplinary
Bridging Differences - The ACPQ Pedagogical Workshops
Profweb's readers are invited to participate in the pedagogical workshops being held by the ACPQ (Association des collèges privés du Québec) on May 26 and 27, 2014, at the Manoir des Sables in Magog under the theme Unir les différences or "Bridging Differences". Registration is now open at www.atelierspedagogiques.net.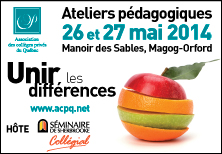 Announcing the 2014 Pedagogical Workshops!
32 Communications
Of course, given the theme of the conference, the workshops are important places to learn about teaching students with disabilities and the benefits that can be derived from technology to better serve " different " students. Workshops deal with the following themes :
Universal Design for Learning
Computerized planning assessments for adapted services
Special needs students and standardized tests
Learning strategies for students with disabilities
Alternative education and diversity in professional training
The program also contains educational workshops dealing with the use of technology in a teaching context. Although not all offered in English, the subjects covered include :
The 2014 ICT profile for college students
The social web for teachers' professional development
The construction of a teaching sequence with Netquiz Web
Technology and emerging practices
Conferences
Two keynote papers will be presented in a plenary session at this meeting.
At the opening session, Nathaniel Lasry, Professor at Cégep John Abbott College will question three common assumptions in education concerning the desire to learn. He will show the limits of these assumptions in a dynamic and interactive communication which enhances the role of the teacher.
Finally, in the closing conference, Brigitte Harrison, co-founder of Concept ConsulTED, will share her thoughts on adapting organizations to the needs of people with autism. She challenges participants to " discover the immense adaptability of autistic people and their successes living well in a world that they do not know. "
In total, besides the two lectures presented in plenary, the program includes 32 papers, eight in each schedule slot including one or two papers in English.
To Learn More
The bilingual program is available in PDF format on the ACPQ website. For additional information, you can also contact the pedagogical workshop administration at info@atelierspedagogiques.net or by phone at 514-776-8891.
Le Manoir des Sables offers hotel and dining packages at a special rate for all participants. This offer is valid until April 25 2014. Complete information about these options is in the Pedagogical Workshops program.
The Séminaire de Sherbrooke, which is hosting these two days of examination of the training and mentoring of students, extends a warm invitation to all of Profweb's readers to attend.